Vegan scrambled Tofu recipe
Jump to Recipe
This vegan scrambled tofu is very aromatic and absolutely delicious. The recipe is very similar to traditional scrambled eggs not only because of the consistency but also taste. The spices are very important for this dish. This recipe is an all-time favorite for breakfast!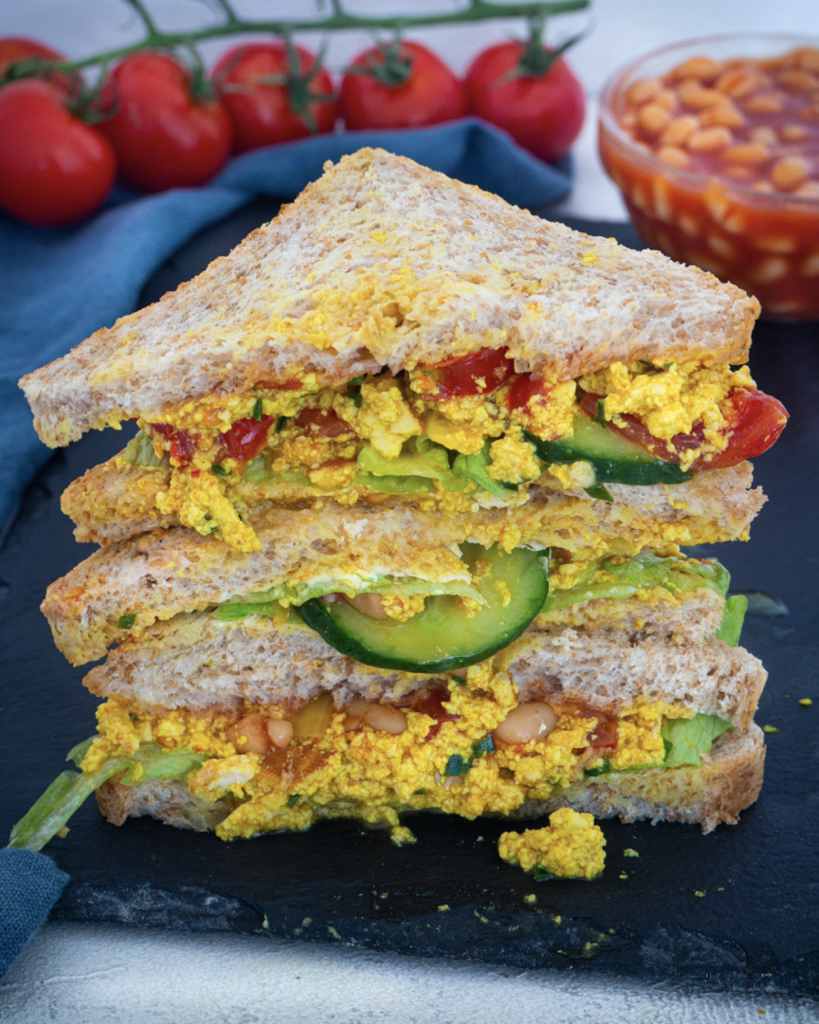 I must confess, I have eaten this recipe so many times in the last weeks and there is no end in sight. Unfortunately, I have had problems with my throat lately and so I have been wondering which filling and savory dishes I can eat for breakfast. So I had the idea to make scrambled tofu again. Last time my own recipe did not convince me, so this time I added some other ingredients and it worked well with silken tofu. The consistency is most similar to traditional scrambled eggs. But the best thing is to mix normal tofu with silken tofu which gives the perfect consistency! If you are looking for a healthy savory alternative for breakfast then you should definitely try this recipe. It is also very quick and easy to make.
Which ingredients do you need for this vegan scrambled tofu?

For this recipe you need the following ingredients:
Tofu: I prefer the mixture of smoked tofu and silken tofu. If you only use silken tofu the scrambled tofu becomes very wobbly and if you only use normal tofu it is rather too firm. If you like it that way then you can only use one kind of tofu. Many recipes are only made using natural tofu and it also tastes delicious. Because I am a big fan of scrambled eggs, the consistency of the vegan scrambled eggs must be right! 🙂 The tofu makes the breakfast rich in protein, so it is a real power breakfast.


Spices: Spices are very important for this breakfast! Kala Namak makes the egg-like taste. Kala Namak is a black salt from the Indian kitchen. The smell of sulfur is very intense… So the experience is very authentic just like scrambled eggs :-D. By the way, turmeric makes the scrambled eggs yellow and the spice is also very healthy. Nutritional yeast and soy sauce add even more aroma to the scrambled tofu. The combination is super delicious. Of course, salt and pepper are also a must-have!


Other ingredients that you can replace or skip as you wish: chives, garlic, onions, and tomatoes.

If you try another variation of this scrambled tofu, please let me know in the comments!
How can I serve this Scrambled Tofu?
How about a British breakfast? Scrambled tofu would be served with baked beans, toast, fried mushrooms, and tomatoes. Like the photos, you can also make a sandwich and enjoy the scrambled tofu with salad and tomatoes. Lately, I love to add baked beans!

Meal Prep Scrambled Tofu
The recipe is also very suitable for Meal Prep. You can keep this dish up to 5 days in an airtight container in the fridge. I eat the dish much too quickly, though, it would not last that long :-D.
More delicious and healthy plant-based breakfast ideas that you might also like:
How do you like this scrambled tofu recipe?
I would be very happy to get feedback from you! If you try this Scrambled Tofu recipe, please leave me a comment with a ⭐️ rating. Are you active on Instagram? If you post a picture of this recipe, please link it to me with @plantiful.heart so I can see your creation! ?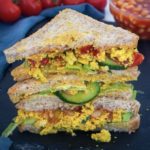 Ingredients
1/2

Smoked Tofu

1/2

Silken Tofu

1

Onion

2

tbsp

Nutritional Yeast

1

tbsp

Soy Sauce

3

Tomatoes

1

tsp

Turmeric

1

tsp

Kala Namak

Other Spices: Salt, Pepper, Garlic

Chives

As you like
Instructions
Cut onions and tomatoes into small pieces.

Drain the tofu and mash smoked tofu with a fork.

Fry onion and tofu in a bit of oil for a few minutes in the pan.

Add turmeric, nutritional yeast, and soy sauce. Mix everything well and let it simmer for a while.

Now add the remaining spices, tomatoes, and chives. Let everything simmer briefly, add Kala Namak and your scrambled tofu is ready!
Are you active on Pinterest? and do you like this recipe? Then you can pin the following picture ? You can find the Pinterest Button under the picture.