Healthy Baked Banana Oatmeal
Jump to Recipe
Baked Oatmeal is a warm breakfast casserole consisting of oats. This breakfast is quick to make and already a great start to the day. Baked Oatmeal is healthy, delicious and perfect for meal prep.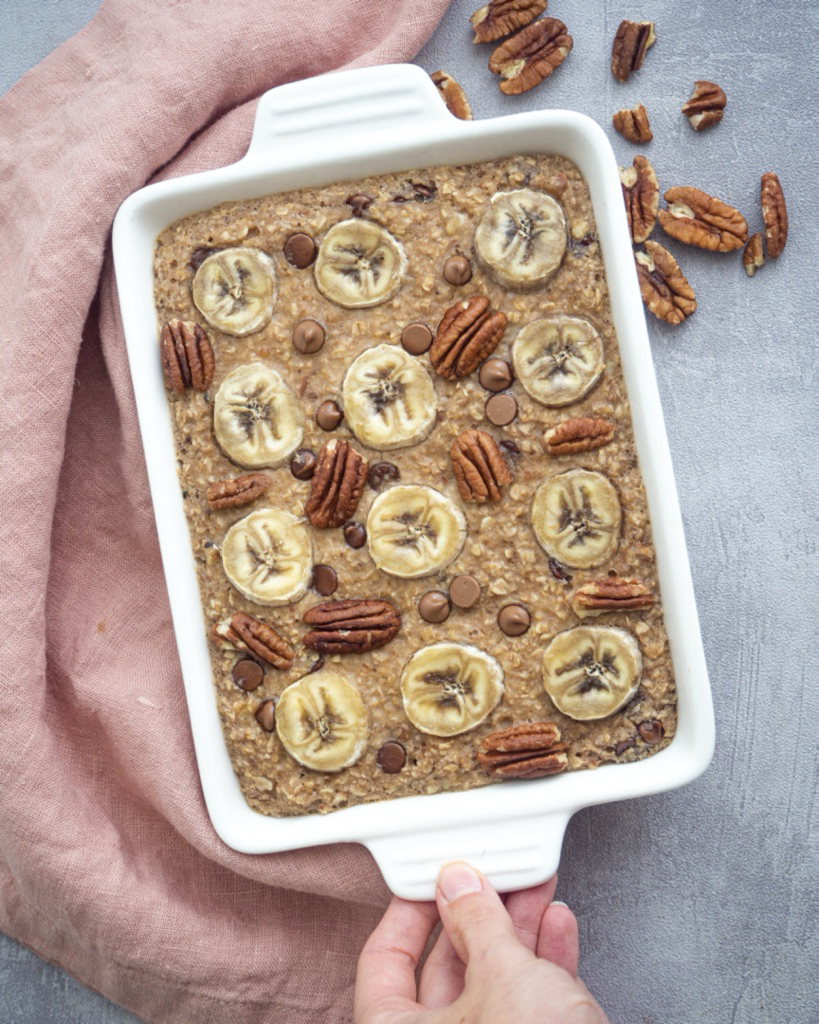 I love baked oatmeal for breakfast. It is healthy, delicious and very simple to make. Today I have a banana-based Baked Oatmeal for you and this recipe is also completely sugar-free. I have already prepared two other Baked Oatmeal variations that do not contain banana. If you prefer to try one without banana, you might like the Baked Oatmeal recipe with raspberries or the summerly Baked Oatmeal with strawberries. What I like most about the Baked Oatmeal is the creamy consistency particularly in combination with the bananas and that you can mix the breakfast casserole any way you like. Furthermore, the breakfast is very satisfying and also perfect as a healthy snack for in between. Simply garnish it with a few sugar-free chocolate drops and the desire for chocolate or candy is satisfied.
Baked Oatmeal Basic Recipe with Banana

For this baked oatmeal recipe with banana, you only need a few basic ingredients. The basic recipe is very quick and easy to make. Besides, this baked oatmeal only contains healthy ingredients.
Oats: You can use either rolled or quick oats or you can mix the two together. I prefer to use rolled oats. If you would like to prepare the recipe gluten-free then I recommend you use gluten-free oats.


Plant-based milk: Essential for this recipe is plant-based milk. It does not matter which one you use. I used unsweetened oat milk for this recipe. Delicious plant-based gluten-free varieties are for example almond or soy milk.


Bananas: Bananas already have a natural sweetness, so you don't need to use extra sweetness for the breakfast casserole. It's best to use overripe bananas as this makes the baked oatmeal even sweeter.


Agave syrup: If that's not sweet enough for you, just use a sugar alternative. I love to use agave syrup but coconut blossom sugar, maple syrup or date syrup are also very good substitutes.


Nuts/seeds: Nuts make the baked oatmeal particularly nutritious. Add nuts and seeds as desired. For this recipe, I have picked pecan nuts.


Coconut oil: Coconut oil adds a delicious coconut note to the recipe. Grated coconut also creates a delicious coconut flavor.


Seeds: In general, I always add chia seeds to my standard oatmeal recipe. Vegans and vegetarians need an extra portion of omega-3 fatty acids and that's why I regularly eat chia seeds. Alternatively, I like to use flax seeds or hemp seeds.


Spices: Cinnamon, ginger or a little turmeric make the oatmeal even healthier and cinnamon makes your breakfast even more delicious!
Storage: Prepare your breakfast casserole directly for a few days because Baked Oatmeal is very suitable for Meal Prep. Whether hot or cold, you can eat it the way you like it most. You can keep it chilled, in a closed container, in the fridge for a few days.
If you try another variation of this Baked Oatmeal, please let me know in the comments!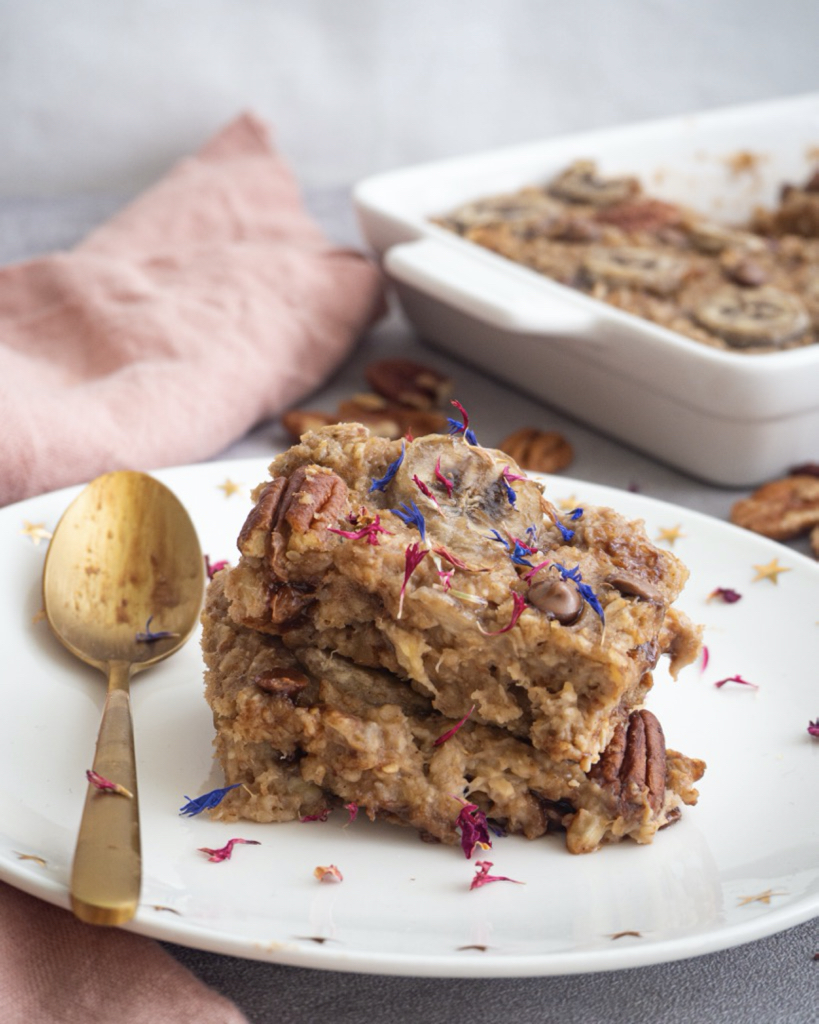 Baked Oatmeal – A healthy start to the day

Starting the day with a healthy breakfast gives the body power and energy for the whole day. Many people have not much time in the morning and often skip breakfast but there are such simple dishes that can be prepared the day before and then enjoyed quickly and easily the next morning.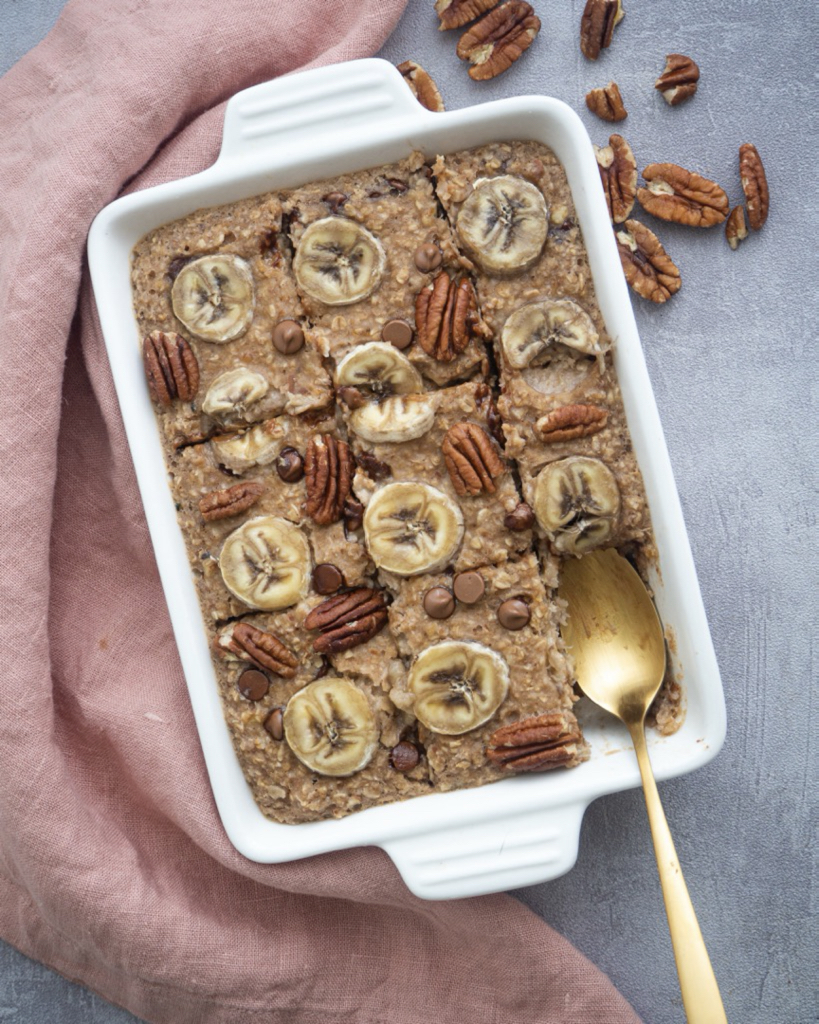 Do you want to try other vegan banana recipes? Then be sure to try these delicious snack/breakfast recipes: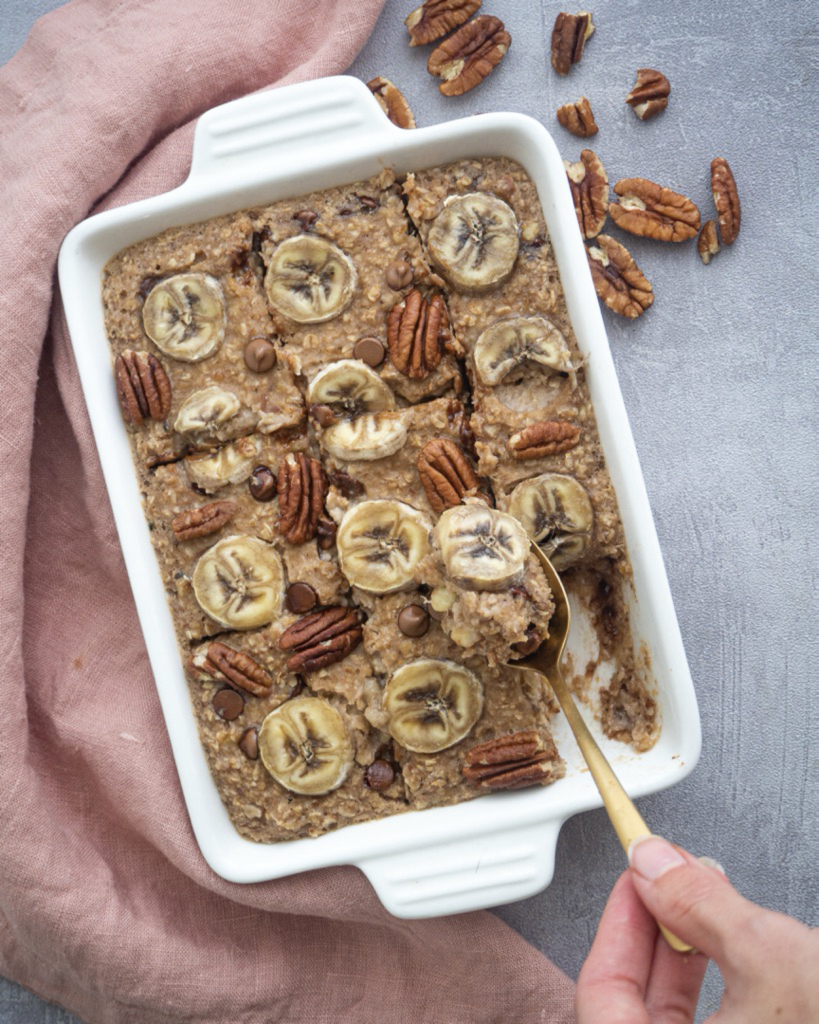 I would be very happy to get feedback from you! If you try this baked banana oatmeal recipe, please leave me a comment with a ⭐️ rating. Are you active on Instagram? If you post a picture of this recipe, please link it to me with @plantiful.heart so I can see your creation! ?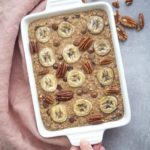 Ingredients
150

gr

Oats

250

ml

Oat Milk

20

ml

Agave Syrup

25

gr

Chocolate Chips

preferably sugar-free

2

Bananas

20

gr

Pecan Nuts

ground nuts and as topping whole nuts

2

tbsp

Coconut Oil

1

tbsp

Hemp Seeds

1

tsp

Ginger and Cinnamon
Instructions
Mix oats, ground pecans, hemp seeds, cinnamon, and ginger together in a bowl.

Mash the bananas and add them with the oat milk, coconut oil, and agave syrup into the mixture. While stirring add the chocolate chips.

Place the oat mixture in a casserole dish.

Bake the oatmeal in the oven for about 20 minutes (until it is golden brown).
Are you active on Pinterest? and do you like this recipe? Then you can pin the following picture ? You can find the Pinterest Button under the picture.