Chocolate Coconut Energy Balls (No-Bake)
Jump to Recipe
These Chocolate Coconut Energy Balls are ready in 5 minutes. The snack is so easy to make, healthy, and delicious. The Energy Balls taste like a praline, so they are a good substitute for sweets. By adding cashews as well as dates they are also very filling. This power food is completely without dairy products and sugar. The recipe is also gluten-free.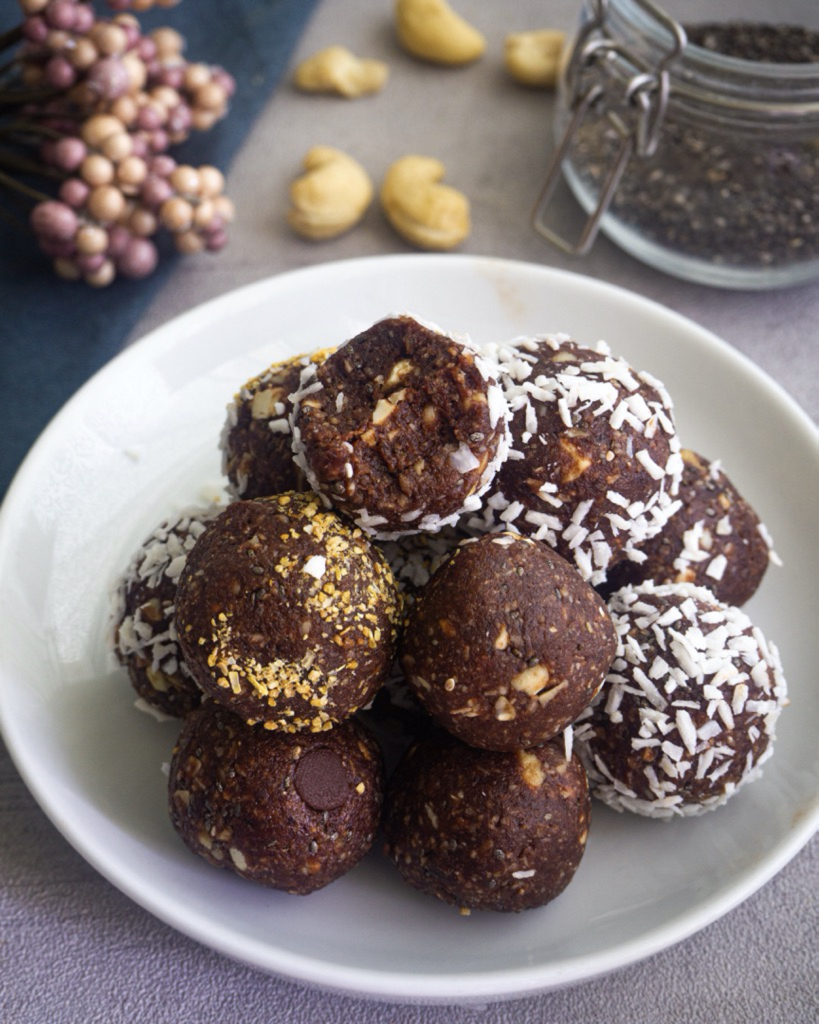 Last week I already shared with you a recipe for healthy peanut butter cookies and today I have another recipe for a delicious healthy dessert. These energy balls are also a great snack to-go. When you prepare them, you have a good amount of healthy snacks for the week. You usually get 15 balls out of the dough depending on how big you form them. What is the best thing about these Energy Balls? That you don't have to bake them, that the balls are ready in 5 minutes, and in addition, they taste like pralines because of the chocolate coconut combination. Who can resist that?! I will show you a basic recipe in which you can change the ingredients as you like and simply replace them with your favorites. I think this is also a big advantage of this delicious power food! Are you a fan of fruits in Energy Balls? Then I can highly recommend the Energy Balls with raspberries!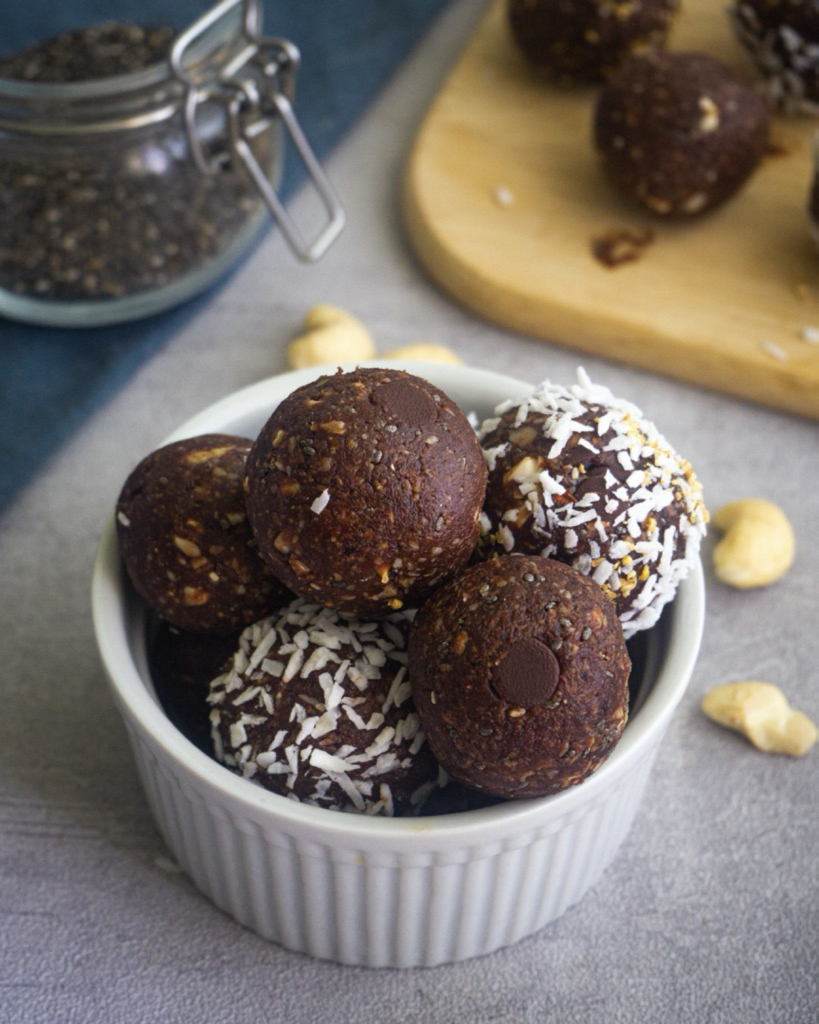 Basic Recipe Healthy Energy Balls

The Chocolate Coconut Energy Balls are so easy and quick to make with only 6 ingredients. You can change the ingredients as you like. The basic ingredients are dates and nuts. These are the main ingredients for the energy balls.
Dates are not only super delicious but also very healthy. The natural sweetness of dates is much healthier than other sugar alternatives. Therefore I can only recommend trying sweet recipes with dates more often. In addition, they taste like caramel. When you buy dates, they should be juicy so that you can use them directly in the blender. If the dates are too dry, you will have to soak them in water. By the way, the dates are more than enough to give the Energy Balls lots of sweetness!+


Is it also possible to replace the dates? Yes, you can mix oats with nuts and use a different fruit. You also need the dates for the natural sweetness. So you can use a sugar alternative.


Nuts give the balls a firm consistency. They also make the recipe more filling due to their fat level. In addition, nuts are full of nutrients and so healthy! I used cashews for the recipe but you can also add a completely different type of nuts.


Seeds contain important nutrients. I have added chia seeds because they contain omega-3 fatty acids. But you can also add sesame, flaxseed, sunflower seeds, or pumpkin seeds.


Cocoa powder / Fruit powder / Protein powder also fit perfectly into the Energy Balls! Do you want to add extra proteins? Then use protein


Other ingredients: Shredded coconut and lemon juice for a refreshing taste.

If you try another variation of the energy balls, please let me know in the comments!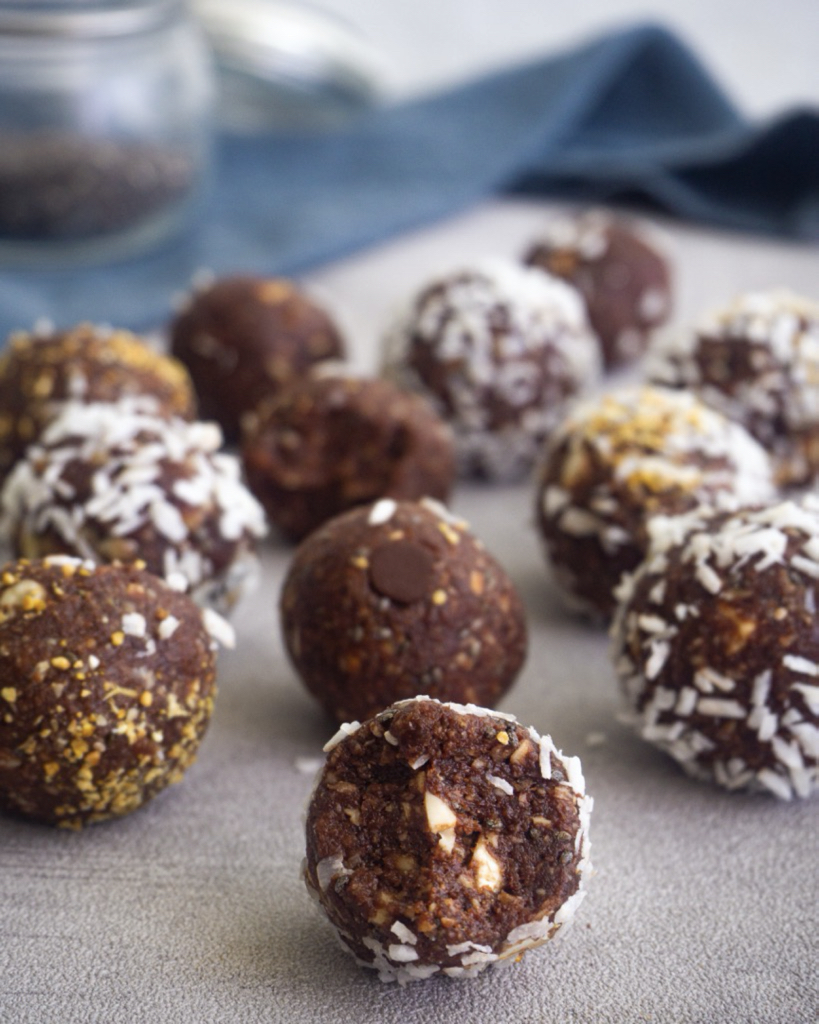 Storage Vegan Energy Balls

You should store the Energy Balls in an airtight container in the fridge. They can be stored for up to two weeks. In the freezer, the balls can be kept much longer about up to 4 months. Don't you want to eat the Energy Balls chilled? Then it is no problem to store the balls in the kitchen during the day.
Try these healthy Chocolate Coconut Energy Balls because they are

Ready in 5 minutes!
Vegan
Simple to make
Sugar-free
The perfect snack to-go
Raw food
Like pralines
A pleasure for the whole family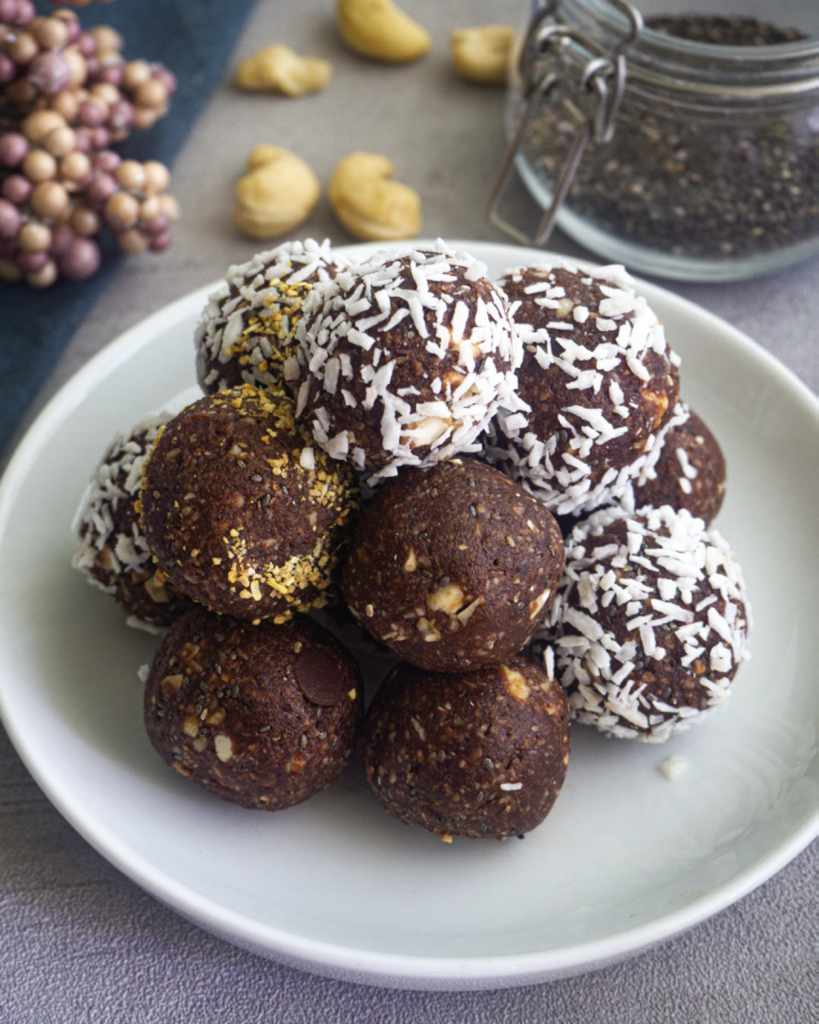 Are you looking for more healthy snacks? Then be sure to check out the following recipes:

How do you like this recipe?

I would be very happy to get feedback from you! If you try these Energy Balls, please leave me a comment with a ⭐️ rating. Are you active on Instagram? If you post a picture of this recipe, please link it to me with @plantiful.heart so I can see your creation! ?
Chocolate Coconut Energy Balls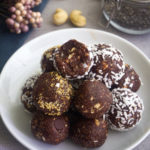 Ingredients
200

gr

Dates

100

gr

Cashews

50

gr

Cocoa Powder

40

gr

Shredded Coconut

5

gr

Chia Seeds

2

tsp

Lemon Juice

20

gr

Chocolate Chips

OPTIONAL
Instructions
Place dates, cashews, cocoa powder, shredded coconut, chia seeds, and lemon juice in a mixer and blend until it becomes a sticky mixture. You should be able to squeeze the mixture easily between your fingers.

Add a few more chocolate chips and form balls from the dough. Roll the balls in shredded coconut, fruit or chocolate powder, or in lemon zest for a little more refreshment.

Put them in the fridge for an hour or preferably overnight, so that they get a little firmer.
Are you active on Pinterest? and do you like this recipe? Then you can pin the following picture ? You can find the Pinterest Button under the picture.