Creamy Sweet Potato Curry Recipe
Jump to Recipe
This is my new favorite curry! This creamy sweet potato curry is super tasty and healthy. It is also quick and easy to make. A feel-good dish that you have to try!
I love sweet potatoes and I am very happy to present you my first recipe with sweet potatoes! Especially by adding Indian curry paste the dish has turned out very flavorful. I am a big fan of this meal and it will definitely be served more often 🙂 You can add the vegetables you like most. The mixture with spinach makes the curry even creamier and chickpeas are a must-have in my curry. The dish is very mild and very simple to make like my yellow Thai curry recipe. If you prefer spicy curry I recommend adding chili or you can try the green Thai curry.
Ingredients Sweet Potato Curry


For this healthy sweet potato curry you need the following ingredients:
Sweet potatoes: Sweet potatoes are essential for this recipe. Alternatively, you can also use regular potatoes. I also like to use them in all my other curry recipes. Sweet potatoes are also rich in vitamins A and E and beta carotene. That's why sweet potatoes are a real power food and if you like the sweet taste, I recommend including them more often in your diet!


Curry paste: For this recipe, curry paste is very important but it doesn't matter which one you use. I like this dish best with an Indian curry paste. In this case, I used a Madras paste which is very mild. But I also find the yellow curry paste perfect for the dish.


Coconut milk: I prefer to use coconut milk with a full-fat content as the dishes get richer and creamier.


Spinach: Spinach is a very low-calorie vegetable and at the same time very healthy. Spinach is high in iron and vitamins. Spinach makes the curry even creamier and super delicious. But you could also add broccoli or cauliflower. Especially roasted cauliflower tastes heavenly in curry.


Chickpeas: Of course the proteins should not be missing. Legumes are rich in protein and also very delicious. I normally put chickpeas in all my curry recipes. Fun Fact: As soon as I cook the curry half the can is usually empty… 😀


Tomatoes & Spices: Garlic cloves, onion, turmeric, and cumin. You can add a few delicious spices as you like. Do you want to make the curry hotter? Then use chili or chili powder.

The dish is also perfect for Meal Prep. You can store it for a week in a closed container in the fridge or freeze it and take it out of the freezer as needed! 🙂
If you try another variation of this sweet potato curry, please let me know in the comments!
Be sure to try this creamy sweet potato curry recipe because it's

Quick to make
Vegan
Healthy
Feel-good food!
Creamy
Flavorful
Gluten
Gluten-Free
How do you like this Sweet Potato Curry recipe?

I would be very happy to get feedback from you! If you try this Sweet Potato Curry recipe, please leave me a comment with a ⭐️ rating. Are you active on Instagram or Facebook? If you post a picture of this recipe, please link it to me with @plantiful.heart so I can see your creation! ?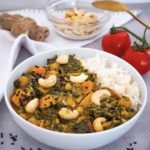 Ingredients
2

Sweet Potatoes

250

gr

Spinach

200

gr

Chickpeas

4

Tomatoes

500

ml

Coconut Milk

2 – 3

tbsp

Curry Paste

In this case: Indian Curry Madras

2

Garlic Cloves

1

Onion

1

tbsp

Ginger

Spices: Cumin, Turmeric, Salt, Pepper

Basmati Rice

EXTRA
Instructions
Cut onions, garlic cloves, tomatoes, and sweet potatoes into small pieces.

Fry the onion, garlic cloves and spices for a few minutes.

Add sweet potatoes and fry everything briefly.

Now add the coconut milk and curry paste. Mix everything to a creamy mixture.

Stir in the tomatoes, spinach, and chickpeas and let everything simmer for 10-15 minutes until the sweet potatoes are well cooked.

Now you can dd some more spices if you like. Serve the food with rice, nuts or sesame.
Are you active on Pinterest? and do you like this recipe? Then you can pin the following picture ? You can find the Pinterest Button under the picture.