Easy Chili Recipe With Beans (gluten-free)
Jump to Recipe
This vegan chili recipe is real comfort food. Even without meat this dish tastes super delicious, especially with beans and a vegan meat substitute. The recipe is also very quick and easy to make. It is low-fat, gluten-free, healthy and so delicious because of the spices.
I am a big fan of chili and therefore this recipe should be part of my blog. I could eat this vegan Chili Sin Carne every day. This is real comfort food. Mainly because of the chili and the spices this recipe is very aromatic. The beans and the meat substitute give this Chili recipe a special touch. You can replace the vegetables as you like and use a different meat substitute. I used vegan minced meat from the supermarket. You can also add crumbled tofu, as in my taco recipe, or soya chunks. Also, you can enjoy this chili not only with rice but also with bread, potatoes, or pasta.
Easy Chili Recipe – Ingredients

For this Chili recipe you only need simple basic ingredients which you often already have at home.
Tomatoes – The soup consists mainly of tomatoes. Either you buy passata or you make it from fresh tomatoes. All you have to do is cut the tomatoes and let them simmer for a while. I mixed tomato passata with a can of chopped tomatoes.


Meat substitute – You can get creative and try different meat substitutes. I used vegan minced meat because I love the consistency of the minced meat and I think it fits perfectly into this Chili Sin Carne but also soya chunks or tofu tastes very good with this chili recipe. You can also use legumes like lentils as a natural meat substitute.


Chili – Spices are very important for this dish. Of course, chili is a must whether fresh, from the glass, or as a seasoning. Everything can be used! I prefer to use chili and chipotle spice. Other spices I have used: Paprika, coriander (preferably fresh), garlic.


Beans / Vegetables – Beans are definitely important for this Chili Sin Carne. Beans make the dish even tastier and healthier especially black beans and kidney beans are my favorite in this chili dish. I have also added corn. Of course, you can also add other vegetables like chickpeas, carrots, zucchini, or peppers.


Other ingredients – vegetable broth, onions, spring onion, crème fraîche, basmati rice.
If you try another variation of this Chili Sin Carne, please let me know in the comments!
How to make Chili Sin Carne

While you prepare the soup, you can let the rice simmer. I have a rice cooker and I don't want to miss it anymore! I put 1 cup of rice with 2 cups of water into the rice cooker. That is enough for 2 people. Do you want to prepare the dish as Meal Prep? No problem, just prepare more rice directly.
Now you take care of the Mexican soup. Chop the onion and garlic finely. Prepare the meat substitute (if you are not using vegan minced meat). Then fry onion and garlic in some oil. Add the meat substitute and fry everything together for a few minutes. Stir in the vegetable stock and the tomatoes. Add the vegetables and the spices and let everything simmer for 15-20 minutes. The longer the better because the spices will unfold even more.
Serve the Chili with some coriander, spring onion, and crème fraîche or yogurt. This makes the vegan chili a little bit more creamy and removes some of the spiciness. You can also slice an avocado and put it on your chili as a topping. You can store the Chili Sin Carne up to one week in an airtight container in the fridge. The dish is also very good as meal prep.
Chili Recipe with Beans – Healthy and Delicious

The Chili Sin Carne is not only delicious but also healthy. Beans not only contain a high amount of protein but also other nutrients such as calcium, iron, vitamins, and potassium. Beans are therefore a good natural meat alternative. Not only in the chili but also in many other dishes I use beans because they are satisfying, tasty, and healthy. For example, the filling of my vegetable lasagna consists of white beans or in curry beans also taste very tasty.
Eating Tomatoes regularly is definitely worth it because they contain a lot of vitamin C as well as B vitamins. This improves concentration. Tomatoes also contain important nutrients such as potassium and folic acid. The lycopene contained in the tomato skin is particularly good for us because it has a positive effect on heart health.
Not only the beans but also chili is very healthy! Chilies contain three times as much vitamin C as citrus fruits, and they also make you happy because the body releases endorphins when you eat them. That's why you should eat chili more often ? Interested in more Chili recipes? Then try my Pesto Calabrese recipe!
More delicious and easy recipe ideas for lunch or dinner:

How do you like this recipe?

I would be very happy to get feedback from you! If you try this Chili recipe, please leave me a comment with a ⭐️ rating. Are you active on Instagram? If you post a picture of this recipe, please link it to me with @plantiful.heart so I can see your creation! ?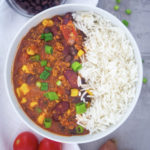 Ingredients
1

can

Diced Tomatoes

Alternative: Fresh Tomatoes

300

ml

Vegetable Broth

200

gr

Tomato Passata

1

pack

Vegan Minced Meat

Alternative: Tofu, Soya Chunks

1/2

can

Kidney Beans

1/2

can

Black Beans

1/2

can

Corn

2

Garlic Cloves

1

Onion

1

Bunch of Coriander

1-2

tbsp

Spices: Chili, Chipotle, Paprika

As you like
Instructions
Cut onion and garlic into small pieces.

Then fry onion and garlic briefly in a bit of oil. Add meat substitute and fry everything together for a few minutes.

Stir in vegetable broth, diced tomatoes, and tomato passata.

Add beans and corn, coriander and spices. Let everything simmer for 15 – 20 minutes. The longer the better because the spices will unfold even more.
Are you active on Pinterest? and do you like this recipe? Then you can pin the following picture ? You can find the Pinterest Button under the picture.