Easy Vegan Pad Thai Recipe
Jump to Recipe
Pad Thai is one of the most popular and well-known dishes in Thailand. However, a common Pad Thai dish is often prepared with eggs and fish sauce. This dish can be easily changed into a vegan variation and it is so delicious! I especially like the mixture of noodles, vegetables, tofu and the delicious sauce, which tastes sweet and salty at the same time. Pad Thai is also a great alternative if you don't like to eat spicy food.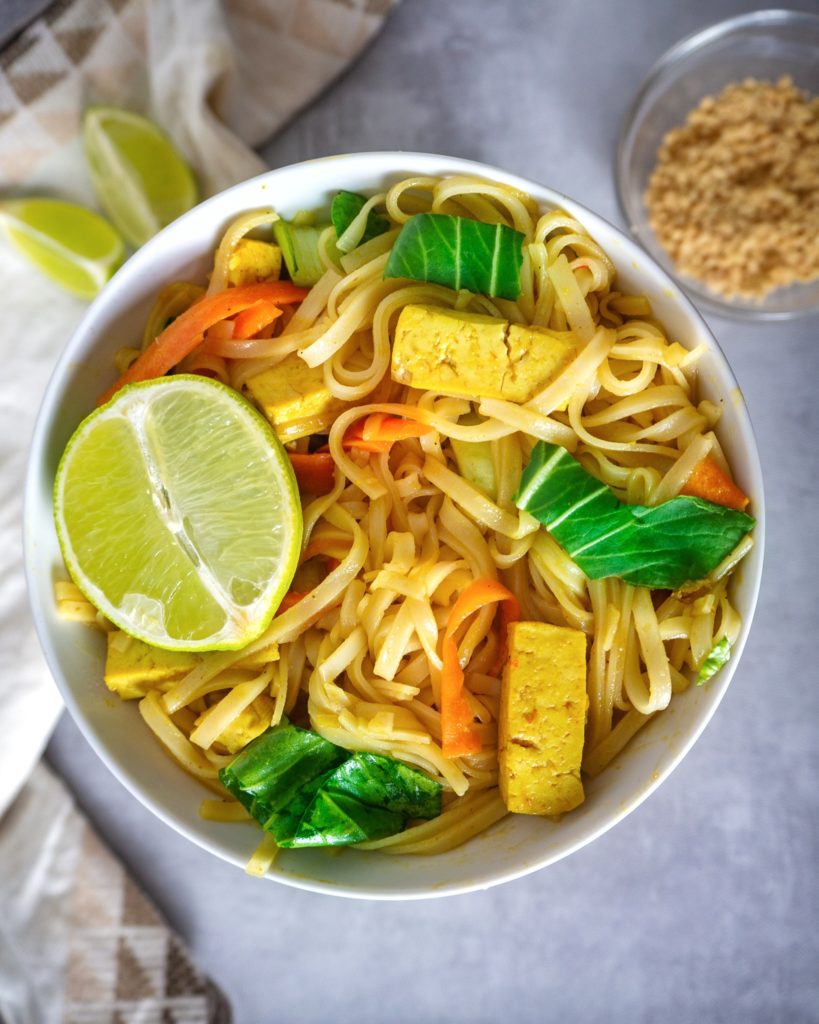 Why is this vegan Pad Thai recipe so special?


Pad Thai is so special because of this delicious vegan homemade sauce, which consists of tamarind paste, sriracha, agave syrup, chili garlic and soy sauce. Very important is the tamarind paste because it gives the dish it´s fruity, sour taste. For Pad Thai it is essential to add the right mixture of sweet, sour and salty.


Furthermore, Pad Thai can be prepared very easily and quickly! Only the tamarind paste may not be available at your place, then you can buy it online. Otherwise, you can get the paste in the Asia shop. It's the same with Sriracha and Chili Garlic but you don't necessarily need both in Pad Thai. But we love to add these two ingredients to our Thai dishes.


I'm a big fan of Thai cuisine. On the one hand, the dishes are very delicious, on the other hand, they are healthy. Pad Thai is also gluten-free as this dish is prepared with rice noodles. You can also find other delicious vegan Thai dishes on my Blog. I already made a yellow curry variation with tofu or with roasted cauliflower. Or do you prefer Indian curry?


Tip: If you want to prepare this dish Low Carb I recommend to use Konjac noodles.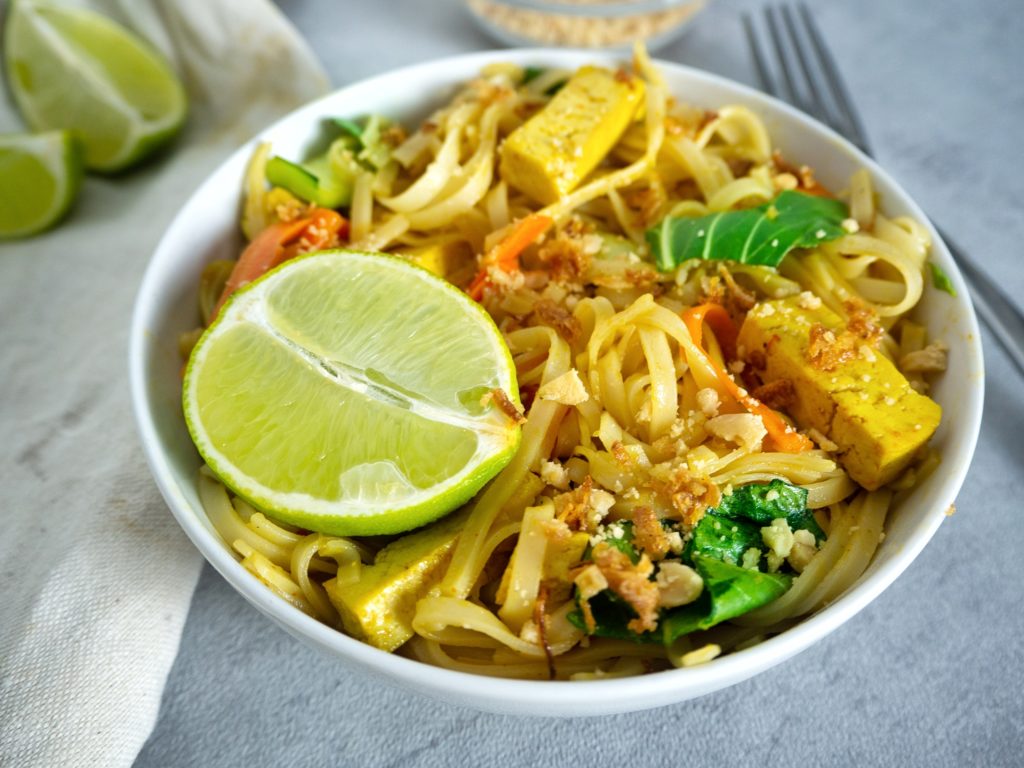 Preparation of vegan Pad Thai


Pad Thai is best prepared in a wok but you can also use a pan. If you prepare the dish with a wok, you have the advantage that the edge areas, unlike pans, also heat up. Therefore, first put the ingredients that need to be cooked the longest into the wok. Preparation in a wok usually only takes a few minutes.


Important for the Pad Thai is not only the sauce but also the peanut topping. I ground the peanuts finely in a mortar. Then you use it as a topping. It is very tasty!


You can also prepare a large amount of Pad Thai directly and have plenty of it for the next few days. You can store it for about two to three days in the fridge or freeze it.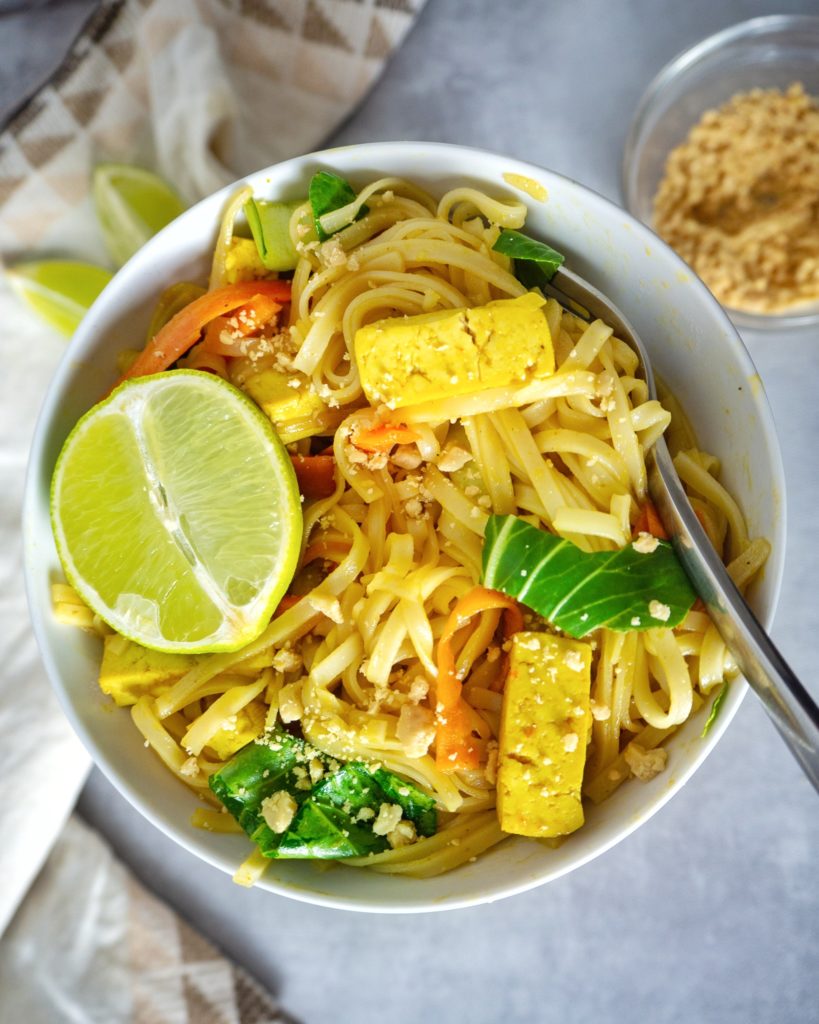 Good reasons to try Pad Thai:


A popular dish from Thailand
It's healthy
It's gluten-free and vegan
The tasty mix of sweet and salty
It's not too spicy
The dish is made quickly
Easy Vegan Pad Thai Recipe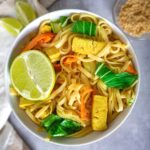 Ingredients
For the sauce:
8

tsp

Tamarind Paste

1

tsp

Sriracha

12

tsp

Agave Syrup

1

tbsp

Soy Sauce
For the meal:
500

gr

Rice Noodles

3

Shallots

2

Garlic Cloves

1

Carrot

1

Pak Choi

1

Tofu

1/2

tsp

Chili Garlic

25

gr

Peanuts

unsalted

1/2

Lime
Instructions
Soak rice noodles in hot water for about 7 – 10 minutes.

Mix ingredients of the sauce extra in a bowl together.

Cut shallots, garlic into small pieces. Also cut the carrot, pak choi, and tofu into pieces. Grind peanuts finely.

Heat oil in a wok. Fry garlic and shallots briefly. If you have Chili garlic and Sriracha add it.

Add tofu pieces and vegetables, fry everything for a few minutes.

Mix rice noodles in your wok and mix the ingredients together with your Pad Thai sauce. Boil everything together for a few seconds.

Serve the dish with lime and ground peanuts.