Roasted Cauliflower Recipe with Curry (Vegan)
Jump to Recipe
I've been planning to make roasted cauliflower for a long time. You can see cauliflower everywhere, especially when you're looking for inspiration on Pinterest or Instagram. You just can't get past roasted or cauliflower wing. At first, I thought what's so special about it?! To be honest, I've eaten cauliflower rarely before. Simply because I'm a big broccoli fan and have always chosen this one.


How to roast cauliflower?


If you find your cauliflower as boring as I did, be careful, because the roasted cauliflower is anything but boring. On the one hand, the roasted cauliflower becomes crispy and develops a delicious nutty taste. On the other hand, the cauliflower becomes tender from the inside.


In addition, roasted cauliflower is prepared very quickly. You just have to spice it up as you like, for example with oil, salt, and pepper. Then simply put the cauliflower wedges in the oven. You should take the cauliflower out of the oven after 25 to 30 minutes and it is the perfect snack or side dish.


You can also roast the whole cauliflower without cutting it. Simply remove the stem and leaves of the cauliflower. Then spread oil and spices on the cauliflower. Roast it in the oven for about 60 minutes.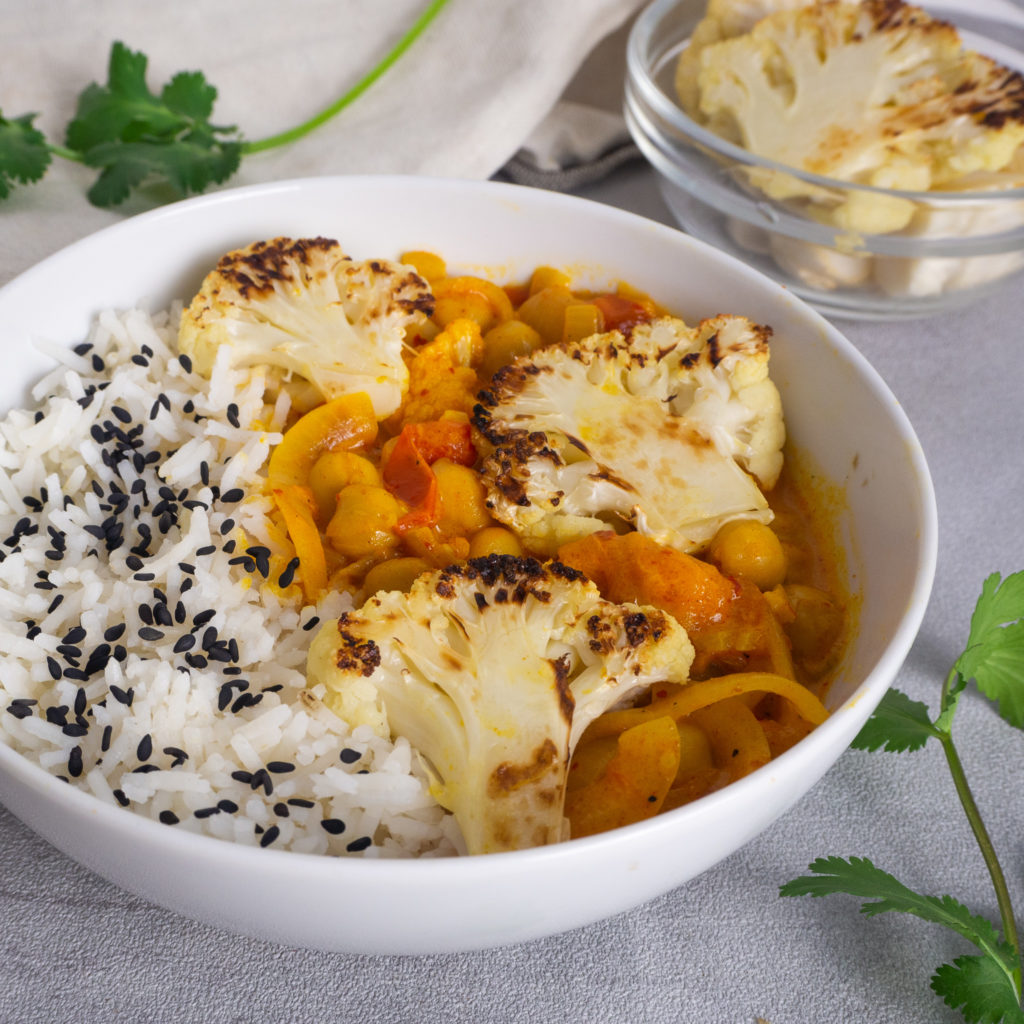 Why is cauliflower so healthy?


Cauliflower is also very healthy. Why? Cauliflower contains some minerals such as magnesium, calcium, phosphorus, and potassium. The cauliflower also contains many B vitamins, vitamin C and vitamin K. It hardly consists of any proteins or carbohydrate.


Tip: The bloating effect of cabbage can be regulated by adding a little fennel or caraway seeds. Another method is to freeze the cauliflower one or two days before cooking. This also works with other types of cabbage.


Roasted Cauliflower with Curry


I didn't just want to prepare the cauliflower as a snack, I wanted to put together a complete dish. So I thought about what would go best with cauliflower? Definitely Curry! As you already know I am a big curry fan and I think this is the best combination. So I prepared a yellow curry with roasted cauliflower. I have already introduced you to my yellow Thai Curry with Tofu and my Indian Curry Madras. Now I'll show you how to prepare this dish completely.


Tip: You can also prepare delicious dips for the roasted cauliflower. I will show you some dip suggestions in another article!


Roasted Cauliflower with Curry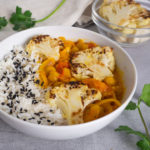 Ingredients
1

Cauliflower

2

Garlic Cloves

2

Onions

1/2

can

Chickpeas

1/2

can

Coconut Milk

1 – 2

tbsp

Yellow Curry Paste

1

tsp

Sriracha

a

few

Coriander leaves

1

little piece of

Ginger

1 – 2

tsp

Spices like: pepper, salt, turmeric chili

1/2

tsp

Chili Garlic
Instructions
Cut the cauliflower into even wedges (cut off the stems and leaves).

Place the wedges on a baking tray covered with a baking sheet and brush the wedges with oil, salt, and pepper (spread generously).

Now put the cauliflower in the oven (200°) for about 15 to 20 minutes.

For the Curry: Heat olive oil in a large pan, add onions and garlic and fry until translucent.

Add chickpeas, coriander, ginger and chili garlic, fry for a few minutes.


Then stir in the paste with coconut milk and the remaining spices. Simmer for a few minutes.