Easy Avocado Pesto with Pasta
Jump to Recipe
This avocado pesto not only tastes very creamy and delicious but is also very quick and easy to make. It is also nutritious, filling and flavorful because of the addition of roasted pine nuts. By the way, this recipe tastes extra delicious with Tortiglioni!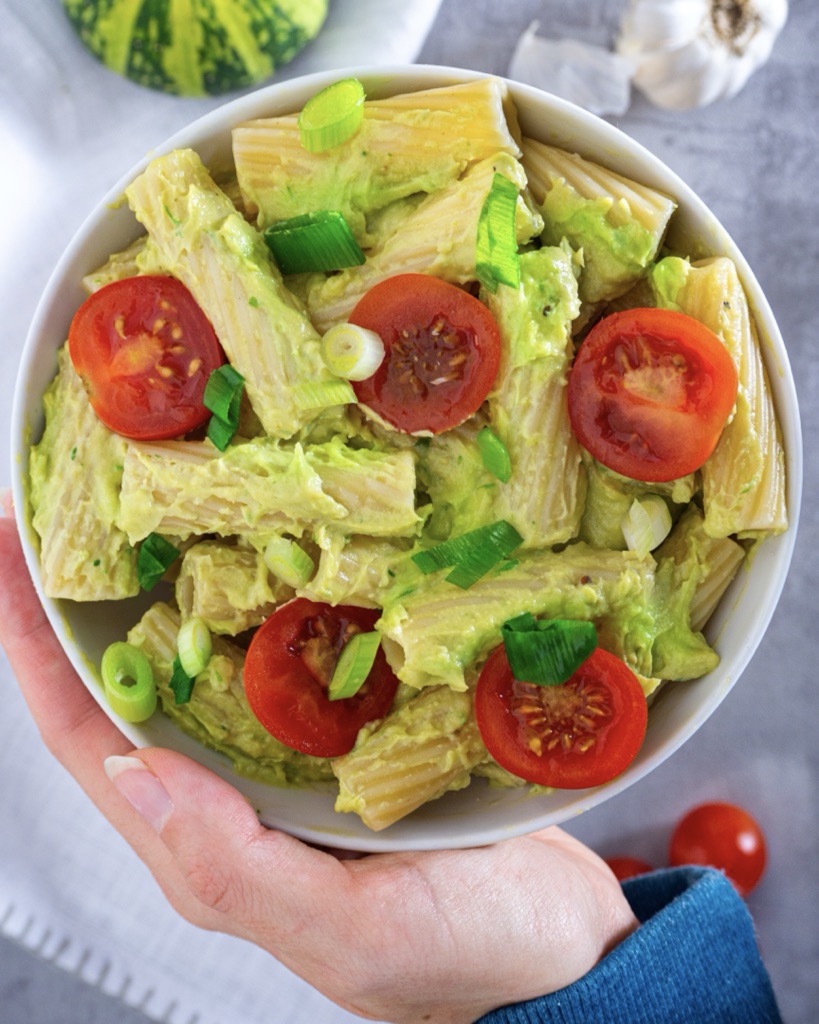 First of all, Happy New Year! I hope you had a good start into the new year. The holidays are over and from now on I will create a lot of healthy vegan recipes on my blog. I want to focus even more on health and especially on healthy recipes. This year I would like to try out some gluten-free and sugar-free dishes. Nevertheless, I will continue to create dessert recipes because I am still a big chocolate fan 🙂 So I start the first blog post of the new year with an avocado pesto recipe. Avocado is one of my favorite fruits (Fun Fact: Avocado is actually not a vegetable). Avocado is an important part of my vegan diet. On the one hand, it is healthy, filling and on the other hand, it is absolutely delicious! Whether for breakfast, as a snack or in a dish.
What ingredients do you need for this vegan avocado pesto?

You only need 6 ingredients for this avocado pesto. Essential for this recipe is, of course, the avocado. The avocado shouldn't be too hard because then it is not ripe enough. That way the recipe doesn't get creamy. I always make a pressure test in the supermarket. If the avocado softens with slight pressure on the skin, it is ripe enough.
Roasted pine nuts give the pesto a super delicious nutty taste. Besides, the pine nuts unfold their full flavor through roasting.
I have added nutritional yeast for a light cheesy taste. Nutritional yeast is also very healthy and contains important nutrients. Therefore I highly recommend adding it to your dishes more often.
An important flavor carrier in this pesto is garlic. I am addicted to garlic and I have also put a little more into this pesto. Of course, you can vary it.
Other ingredients you need are lemon juice, oil, salt, and pepper.
Optional: I have added some roasted spring onion to this pesto. But you can also add basil because basil also fits perfectly into this avocado pesto. Unfortunately, I didn't have any basil at home, otherwise, I would have added it.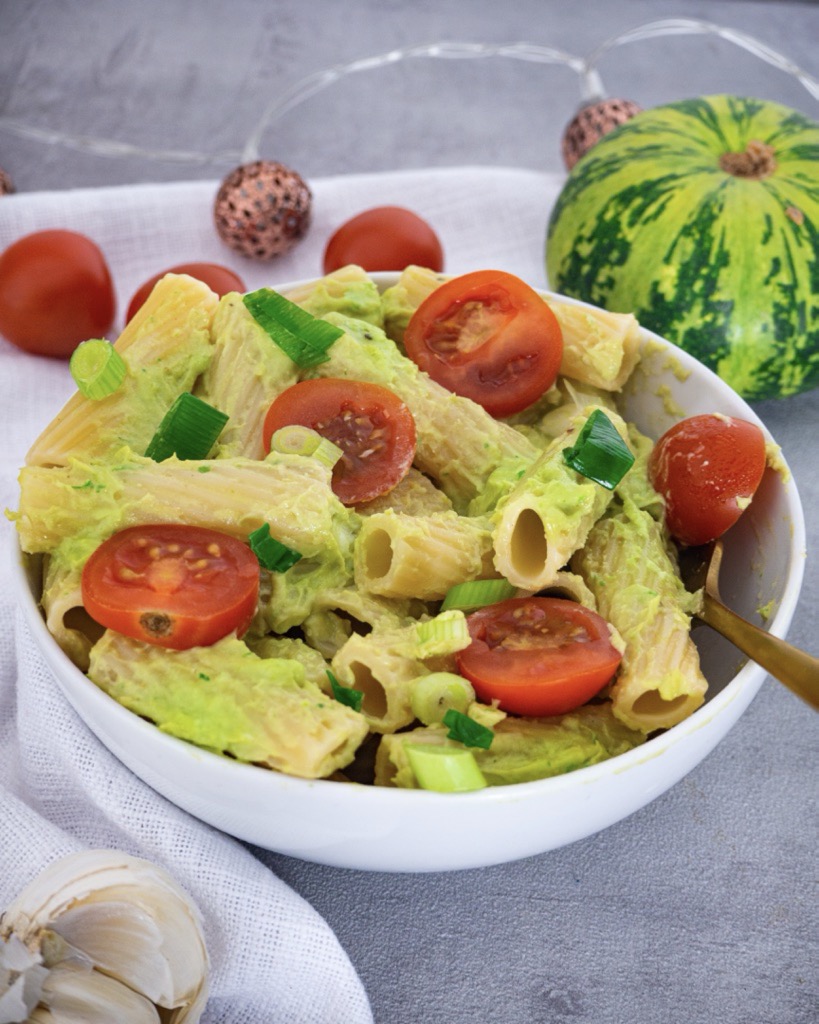 Health benefits of this Avocado Pesto

Avocado is a real power fruit. It not only contains many important nutrients but it is also rich in potassium and folic acid. The avocado is also known for being particularly rich in fat. This is a good thing because first of all it is very filling and this fat has a positive effect on heart health.


Pine nuts are also very healthy and rich in nutrients. In combination with avocado, this dish is a real health bomb. They are rich in omega-3 fatty acids (important for nutrition as the body cannot produce them itself), calcium (strengthens the bones), iron (needed for blood building), vitamins and magnesium (responsible for the nervous system and muscles).


Garlic contains high amounts of antioxidants – these protect us from diseases


Nutritional yeast is rich in vitamin B1, B2, B5, B6, and folic acid.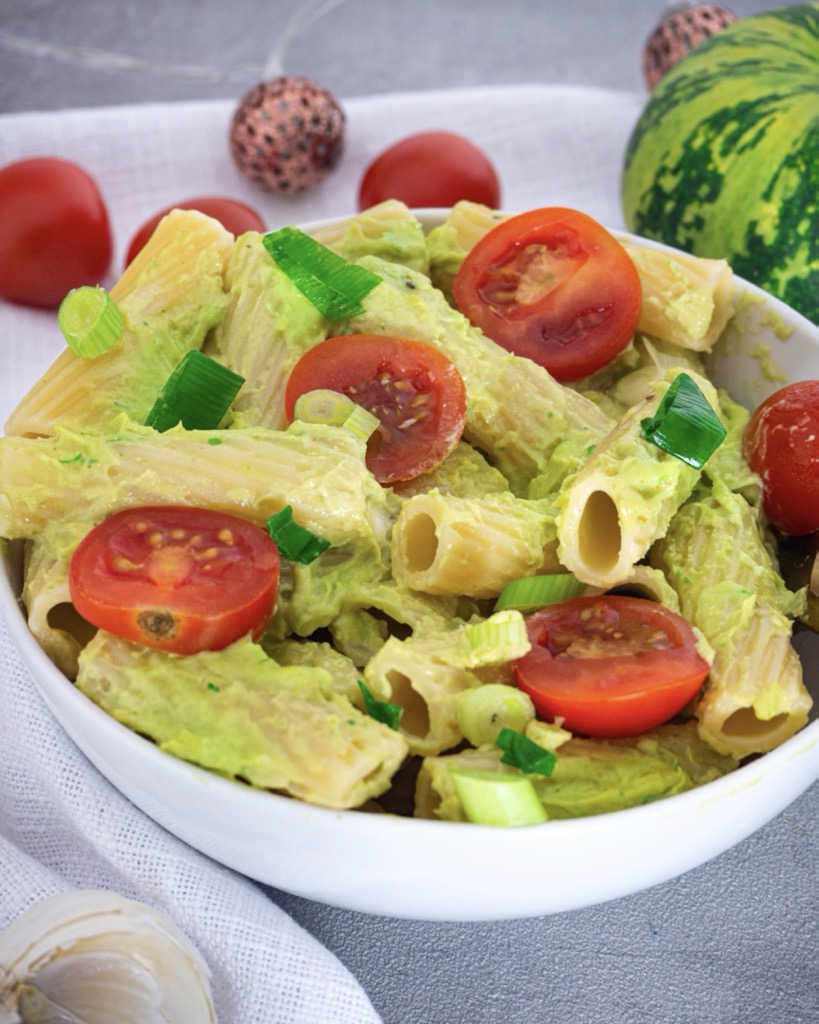 More simple vegan after-work recipes: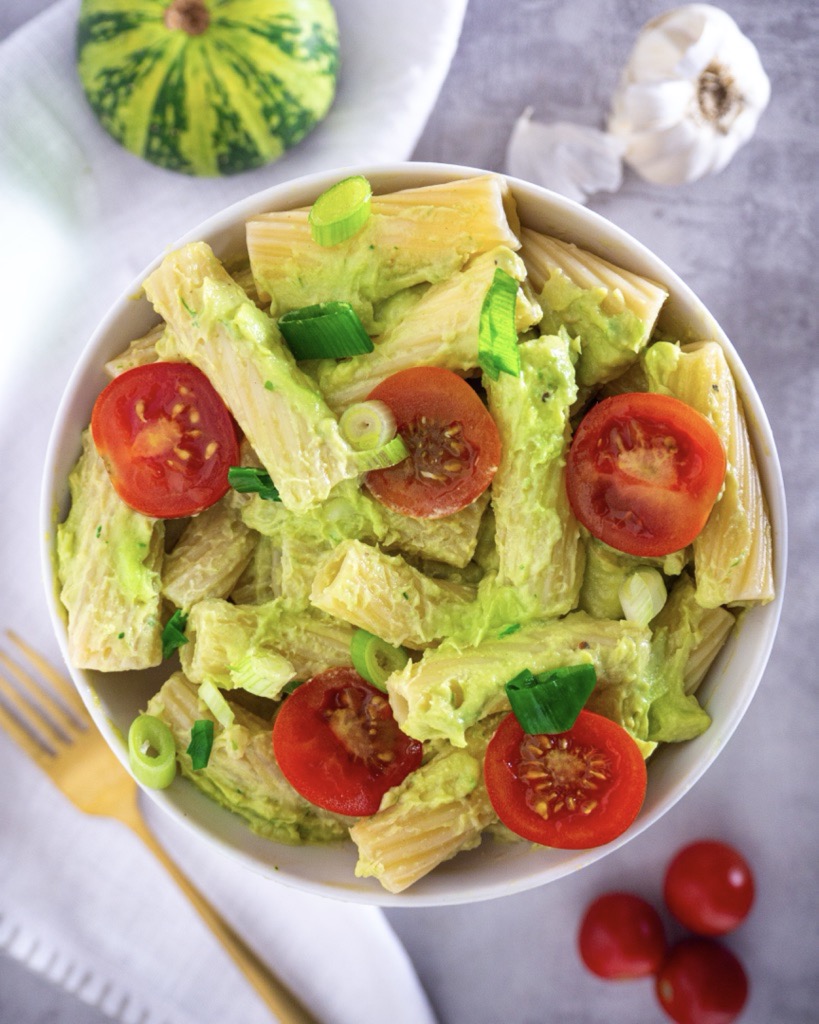 I would be very happy to get feedback from you! If you try this avocado pesto recipe, please leave me a comment with a ⭐️ rating. Are you active on Instagram? If you post a picture of this recipe, please link it to me with @plantiful.heart so I can see your creation! ?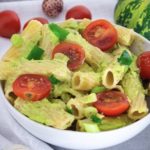 Ingredients
1

Avocado

20

gr

Pine Nuts

20

gr

Nutritional Yeast

3

Garlic Cloves

1

Spring Onion

3

tbsp

Oil

1

pinch

of Lemon Juice

Salt & Pepper
Instructions
Heat olive oil in a frying pan. Add the pine nuts and roast them for a few minutes over medium heat until they are golden brown. Additionally, fry some sliced spring onion.

Cut the garlic cloves into small pieces. Halve the avocado, remove the core and separate the flesh from the skin with a spoon.

Now put the pine nuts, garlic cloves, avocado, spring onion and lemon juice into the chopper or blender and mix everything to a creamy mixture.

Add nutritional yeast and olive oil, stir well and season to taste with salt and pepper.
Are you active on Pinterest? and do you like this recipe? Then you can pin the following picture ? You can find the Pinterest Button under the picture.