Easy roasted red pepper Pesto (alla Calabrese – Vegan)
Jump to Recipe
Finally, there is my first pasta recipe on this blog. Actually, I'm a big pasta fan and I also eat pasta very often. Nevertheless, it took me so long to make my first pasta post because I admit that until recently I often didn't feel like making my own sauces. Firstly, I needed a good chopper for most sauces and secondly, pasta is my to-go food when it has to be quick. This means that I quickly cook my pasta and finally I top it with a ready-made sauce. But with ready-made sauces, I make sure that they are at least organic and do not contain too many unnecessary ingredients.
Finally, we have bought a chopper and it is perfect for making sauces. I only wanted to present you a pasta dish when I make the sauce completely myself and of course, it passes the taste test. Basically, it is super easy to make your own pesto. I can only recommend it to everyone. You can try so many different types of pesto. This pesto lasts for about 2 – 3 days. So it is also the perfect quick dish or to-go food for me ;-))
What is this roasted red pepper pesto made of?

For this paprika pesto, you need nuts. We used pine nuts combined with cashew nuts. It is important that you roast them for a few minutes beforehand because then they unfold a very delicious taste in the pesto. You can also use only pine nuts.
Of course, you definitely need red pepper for this recipe. We bought two of them. You have to core the peppers, cut them into small pieces, and put them into the mixer/chopper. Since the Pesto Calabrese is generally slightly hot, we didn't want to miss that. So, therefore, we added two red Jalapenos. These jalapenos are milder.
Normally Pesto Calabrese is not vegan as it usually contains a lot of cheese. As a cheese substitute, you can simply add nutritional yeast. It adds a cheesy, nutty flavor to any dish and it´s also a healthy alternative to cheese. Isn´t that great?! 🙂
Also, these ingredients are very important: 1 – 2 garlic cloves, salt, pepper as well as olive oil. For the extra kick add a little Sriracha 🙂 And of course, don´t forget the matching pasta!
Fun Fact: By the way, I made this recipe in cooperation with my boyfriend…. So don't be wondering why I always speak of "we" :-)))
Health facts about this roasted red pepper pesto – alla Calabrese

Nuts contain healthy fats and high-quality vegetable protein.
Pepper is rich in vitamins and contains zinc, magnesium, calcium, potassium.
Yeast flakes are rich in vitamins B1, B2, B5, B6, and folic acid.
Chilies contain three times as much vitamin C as citrus fruits. In addition, they also make you happy (the body releases endorphins when you eat them).
Garlic contains high amounts of antioxidants – these protect us from diseases.
Olive oil contains unsaturated fatty acids – protection against heart diseases.
That's an amazing combination, isn't it?!
If you are interested in other recipes with chili then have a look at my yellow Thai curry with tofu (mild) or should it be hotter? Then maybe my green coconut Thai Curry is something for you.
Which pasta is best for this dish?

So far I have tried many different pasta varieties and I would like to give you a direct tip for this Pesto. Personally, I think that Penne, Tortiglioni, or Fusilli would go best with this pesto.
Lately, I've been buying spelt or wholegrain noodles a lot because they are richer in nutrients. This means that wholegrain noodles keep you satiated longer. They are also not as addictive as wheat noodles. In addition, insulin production is much lower.
If you want to prepare this dish completely gluten-free, just use legume pasta or gluten-free pasta.

How do you like this recipe?
I would be very happy to get feedback from you! If you try these Peanut Butter Cookies, please leave me a comment with a ⭐️ rating. Are you active on Instagram? If you post a picture of this recipe, please link it to me with @plantiful.heart so I can see your creation! ?
Roasted Red Pepper Pesto (alla Calabrese)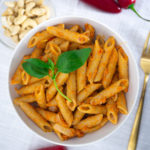 Ingredients
50

gr

Cashew Nuts

50

gr

Pine Nuts

2

Red Peppers

30

gr

Nutritional Yeast

2

Red Jalapenos

80

ml

Olive Oil

2

Garlic Cloves

2

tbsp

Sriracha

Salt and Pepper
Instructions
Remove the seeds from the peppers and jalapenos, chop them into small pieces. Cut the garlic cloves into small pieces too.

Now put nuts, peppers, garlic, and jalapenos in the chopper and chop everything finely.
Notes
Keep the pesto in an airtight glass. Cover it with a layer of olive oil, so you can keep it longer in the fridge. You can even store it in the fridge for up to 4 weeks.
Are you active on Pinterest? and do you like this recipe? Then you can pin the following picture ? You can find the Pinterest Button under the picture.