Vegan Yellow Curry with Tofu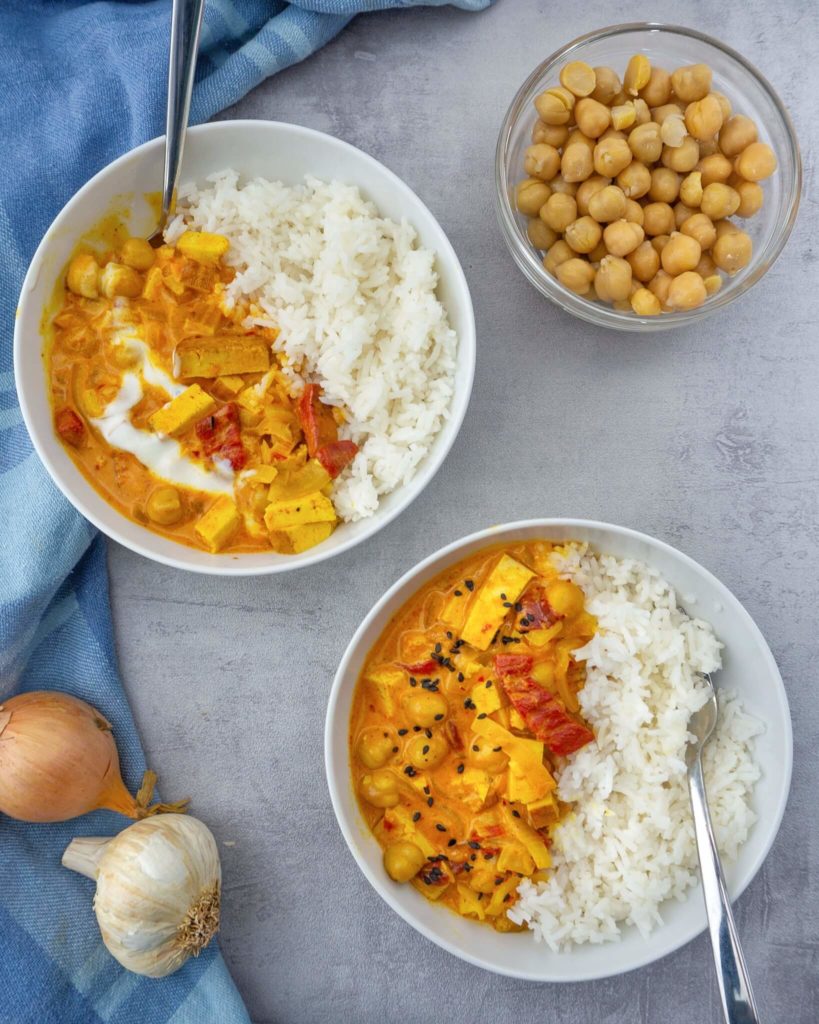 Curry has become my absolute favorite food. I never would have thought that. I used to eat only standard dishes and I actually did not know any international dishes. Fortunately, that has changed. Nowadays I try a lot of different meals.
What is so special about this yellow curry with tofu?
The curry is very quick to make. Of course, you prepare your ingredients first but after that, you just put everything together in a wok or pan. So you've cooked a fast, healthy dish that tastes great! You really can't do anything wrong with that, can you?!
The addition of tofu and vegetables is also very special about this curry. Both in combination with the paste and coconut milk taste very delicious and creamy. I can only recommend it! I love tofu in every curry. It saturates very well. Tofu is also a high-quality source of protein for vegetarians and vegans.
Yellow, Green or Red Curry Paste
This yellow curry is a mild one and in my opinion a good way to get to know the Thai cuisine. The green curry is (or should be) the hottest of the three curries. The red curry is still quite hot but a little bit milder. They are very delicious too. However, it should not be too hot for me.
I didn't make the paste myself though. I buy mine mostly in Asian shops or also in supermarkets. These pastes taste very good. Vegetarians and vegans should pay attention to the ingredients because they could contain fish. On the one hand, you can make the paste yourself but I haven't tried that yet. On the other hand, you can only use spices. For example, we have a Thai spice mixture at home but it has been too spicy for me so far.
Or do you prefer Indian curry?
Meal Prep
This curry is also perfect for Meal Prep. The next day it usually tastes even better. By the way, I feel the same way with most dishes too, do you know that feeling? 😀 The best thing is to prepare a large amount of curry for yourself and have some of it for the next few days. You can store it in the fridge for about five days or freeze it. I'm very happy when I don't feel like cooking or if I don't have the time to simply get my finished dish out of the fridge 🙂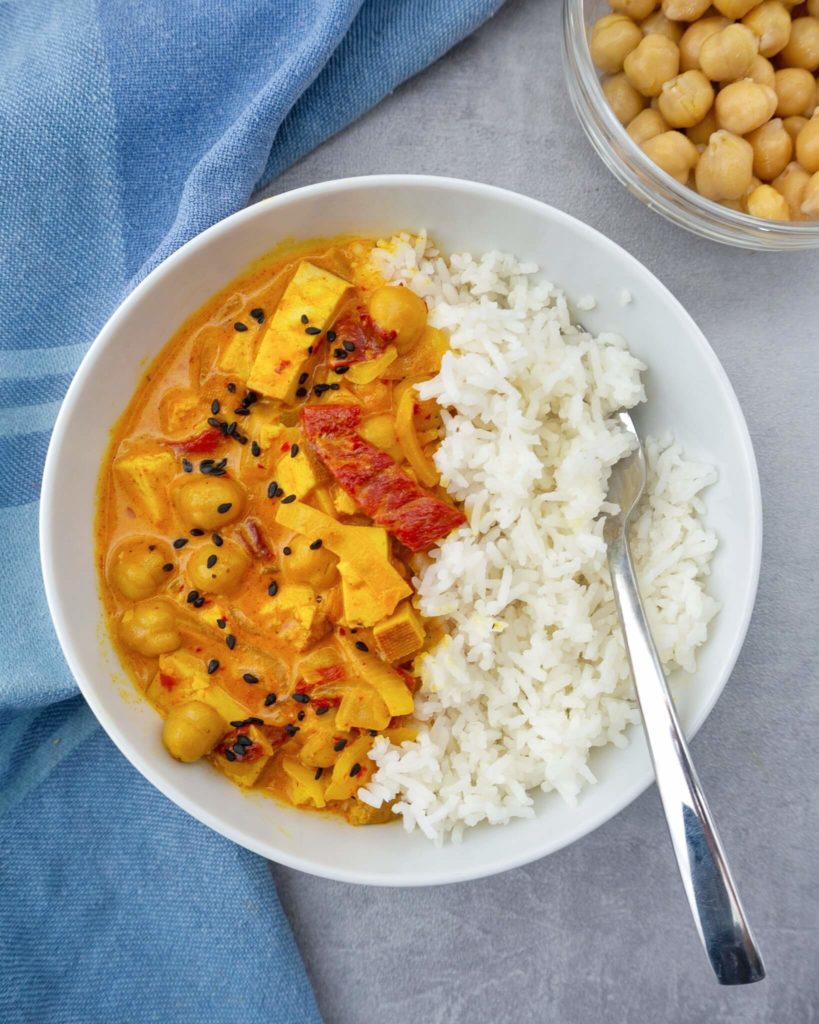 This Recipe is:
gluten-free
sugar-free
egg-free
without milk
in 15 minutes ready
mild
vegan
healthy
with Tofu and chickpeas 🙂
and absolutely delicious!
Are you interested in more quick and delicious meals? Then check out my other plant-based recipes!
How do you like this recipe?
I would be very happy to get feedback from you! If you try this recipe, please leave me a comment with a ⭐️ rating. Are you active on Instagram or Facebook? If you post a picture of this recipe, please link it to me with @plantiful.heart so I can see your creation! ?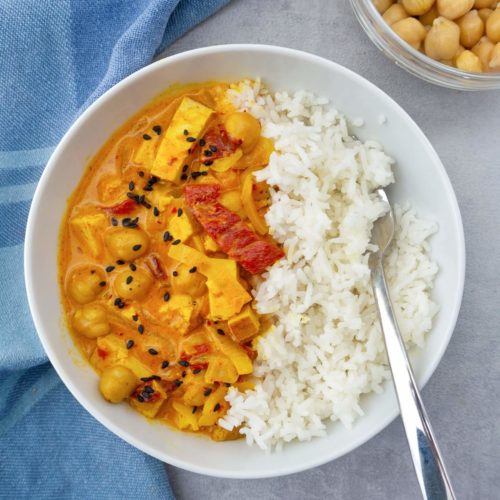 Ingredients
500

ml

Coconut Milk

1

can

Chickpeas

1

block

Tofu

2 – 3

tbsp

Yellow Curry Paste

1

Garlic Clove

1

Onion

1

tsp

Fresh Ginger

1 – 2

tsp

Spices: Pepper, Salt, Turmeric

1

tsp

Sriracha

OPTIONAL
Instructions
Heat olive oil in a large pan, after that add onions and garlic and fry them until translucent

Add tofu, pepper and chickpeas (or other vegetables you like), fry everything for a few minutes

Then add all the spices (1 – 2 tsp each – as you like), cook it for a minute

After that stir in paste with coconut milk then let it simmer for a few minutes
Video
Are you active on Pinterest? and do you like this recipe? Then you can pin the following picture ? You can find the Pinterest Button under the picture.