Easy Vegan Lasagna Recipe
Jump to Recipe
This easy vegan lasagna recipe consists of a veggie filling with a spicy tomato sauce (including a bit of red wine) and in combination with a creamy béchamel sauce, it tastes incredibly delicious. This healthy casserole is simple to make and can be combined in many different variations. You can also use this dish perfectly as Meal Prep, as the lasagna consists of several portions. This lasagna is the perfect comfort food and I can only recommend it!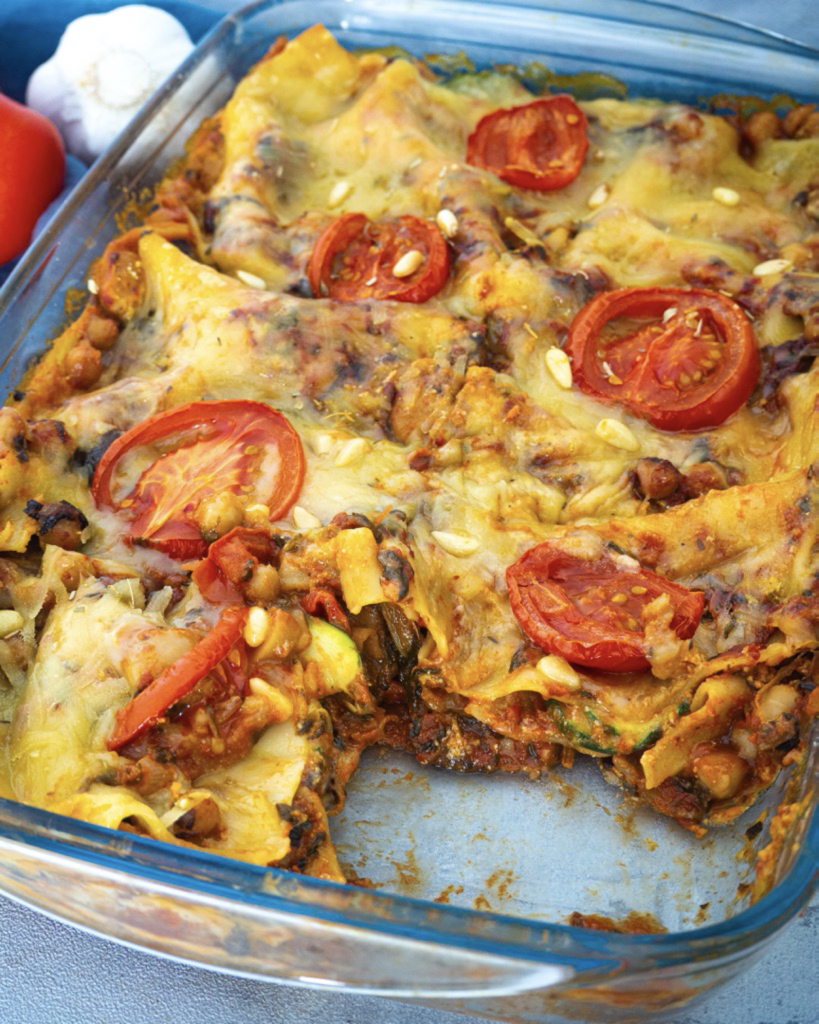 I am a big fan of pasta and of course, the lasagna should not be missing. The pasta casserole tastes so delicious when combined with vegetables, a creamy béchamel sauce, and tomato sauce. That's all you need for this dish. You can vary the vegetables according to your taste. There are no limits. The lasagna tastes great with beans, spinach, zucchini or even a tofu minced meat variation. All you have to do is crumble, fry and season the tofu, just like my taco recipe. The recipe is perfect for lunch or dinner. As you have several portions leftover, it is also perfect for Meal Prep and you can still enjoy this delicious lasagna for the days ahead. But with us, it usually doesn't last that long because we often can't get enough of it.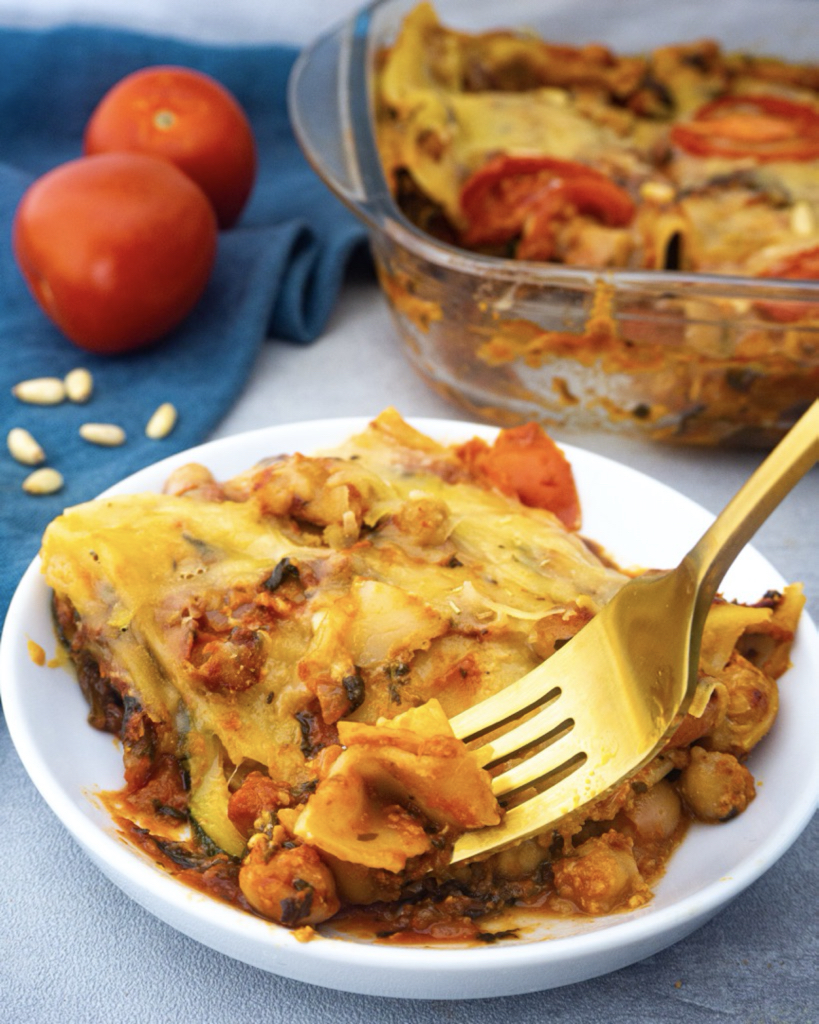 Which ingredients do you need for this vegan lasagna recipe?

For the vegetable lasagna, you only need simple ingredients that you often already have at home. Besides, the sauces are very versatile. You can use the tomato sauce for a pasta dish. This makes it very easy and quick to make because you don't have to put the pasta in the oven afterwards. Or you can use the creamy béchamel sauce for a completely different casserole with potatoes and vegetables. By the way, the sauce also tastes very delicious with asparagus!
You need the following ingredients for this lasagna:
Chopped and tomato passata or just one of both – I am a big fan of tomatoes, so I love to have chopped tomatoes in my sauce. Either use a can of chopped tomatoes or chop fresh tomatoes.


Vegetables – You can add your favorite vegetables or the vegetables I used. I like the mix of beans, spinach, and zucchini, especially for this recipe. You can also add broccoli, pumpkin, peppers or mushrooms.


Spices – Spices are particularly important in the plant-based kitchen. I used basil, oregano, salt, pepper and a chipotle spice (alternative: chili spice) for the recipe. Fresh basil tastes extra tasty in this sauce. I also added a lot of garlic and onion.


Red wine in the sauce? – At my boyfriend's request, I added some wine to the sauce. Wine adds a special and delicious aroma to the sauce. It is also very yummy in a classic Bolognese sauce.


What does a béchamel sauce consist of? – You need some flour for the sauce as well as butter, plant-based milk, nutritional yeast. Spices: nutmeg, salt, and pepper. Nutmeg completes the sauce. Tip: The sauce thickens when you add some vegan grated cheese or plant-based cream. It is not necessary but the result was even better!
If you try another variation of this lasagna, please let me know in the comments!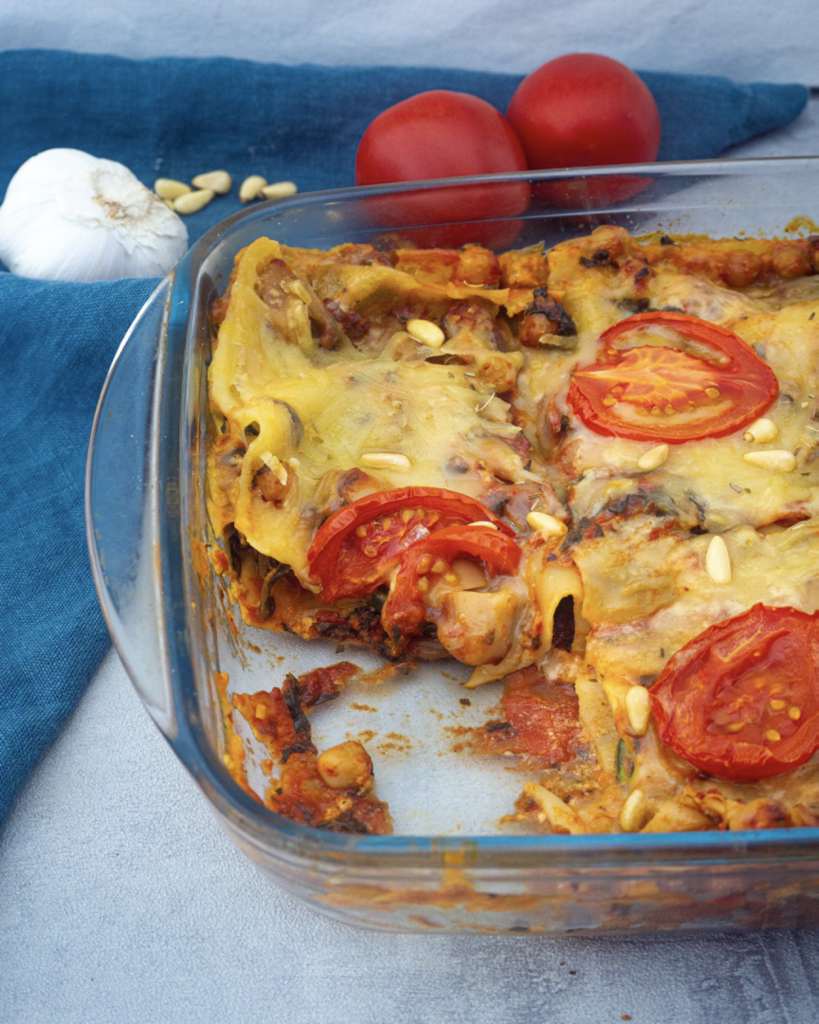 Lasagna – A healthier option

This recipe is similar to a classic lasagna with the exception that this recipe is healthier because cream, meat, and cheese are often used in standard recipes. This way you can enjoy a large portion of this lasagna without guilt. As a healthy meat substitute, you can use legumes or tofu. Both varieties are rich in protein and taste delicious in this lasagna.
Tomatoes contain a high amount of vitamin C and numerous B vitamins. Green vegetables are especially good for your body because they are also rich in vitamins. Green vegetables also contain chlorophyll. This is responsible for the green colour and it contains magnesium, iron and antioxidants.
How can you make the recipe healthier or even gluten-free? To make the lasagna gluten-free you can use zucchini slices and not lasagna sheets at all. You can also simply use a creamy cashew sauce instead of béchamel sauce. I used this sauce for my broccoli potato casserole.
You can store the freshly prepared lasagna in an airtight container in the fridge for up to 4 days. Lasagna can also be kept frozen for several months! Prepare lasagne in advance? You can prepare the sauces the day before and store them in the fridge.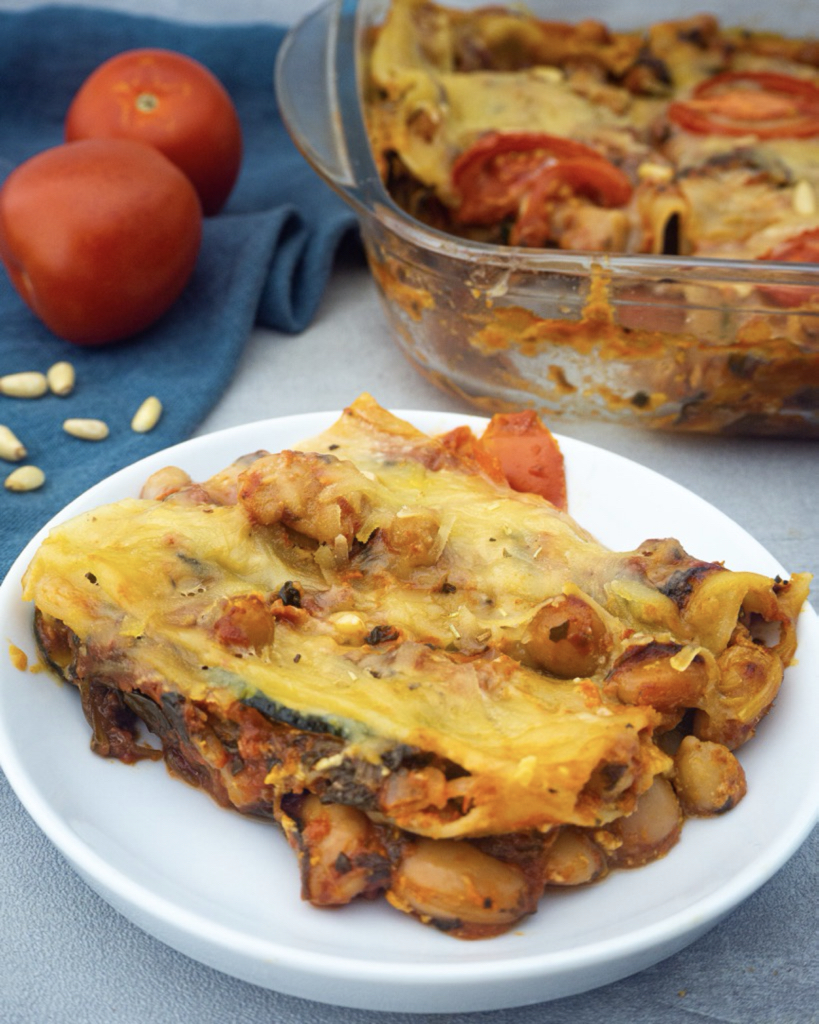 Are you looking for more plant-based pasta dishes? Then you might also like the following recipes:

How do you like this recipe?

I would be very happy to get feedback from you! If you try this Lasagna, please leave me a comment with a ⭐️ rating. Are you active on Instagram? If you post a picture of this recipe, please link it to me with @plantiful.heart so I can see your creation! ?
Lasagna with Béchamelsauce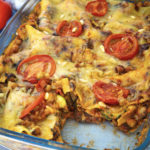 Ingredients
Tomato Sauce
1

box

Lasagna Sheets

250

gr

Diced Tomatoes

250

gr

Tomato Passata

or just 500 grams of Tomato Passata

500

gr

Spinach

250

gr

White Beans

250

gr

Chickpeas

1

Zucchini

is not included in the cooking

1

Onion

2

Garlic Clove

1

tbsp

Olive Oil

Spices: Basil, Oregano, Salt, Pepper, Chipotle or Chili

50

ml

Red Wine

OPTIONAL
Béchamel Sauce
25

gr

Spelt Flour

25

gr

Plant-Based Butter

300

ml

Oat Milk

3 – 4

tbsp

Nutritional Yeast

Spices: Nutmeg, Salt, Pepper

a little bit of vegan cheese

OPTIONAL

or vegan oat/soja cuisine

that also makes the sauce a little thicker
Instructions
Tomato Sauce
Peel and chop onion and garlic. Cut zucchini into slices.

Heat oil in a pan and fry onion and garlic.

Add the beans and fry everything again for a short time. Deglaze everything with the tomato passata and the chopped tomatoes. Add the spices, red wine and the rest of the vegetables and simmer for about 10-15 minutes.
Béchamel Sauce
Melt the butter in a pot, add flour and mix well. Then slowly add the milk while stirring. It is important to stir everything so that no lumps form. Then add spices, some nutritional yeast and if necessary vegan cheese/cuisine. Let the sauce simmer for about 10 minutes, then stir again.
Lasagne Layers
First, pour a portion of the tomato sauce into the casserole dish, then place the zucchini slices on top. Now add the lasagna sheets and make sure that you press them well into the sauce so that the slices are well done. Spread some of the béchamel sauce on the lasagna sheets and layer the lasagna this way. Finish the lasagne with the rest of the tomato sauce, some béchamel sauce and I have added some vegan cheese on top!

Now put the lasagna in the oven for about 30 – 35 minutes.
Are you active on Pinterest? and do you like this recipe? Then you can pin the following picture ? You can find the Pinterest Button under the picture.