Green Coconut Thai Curry
Jump to Recipe
Which one of you is also a big curry fan?! On my blog, you can already find a vegan yellow curry recipe and I decided it´s time for part 2 of my Curry series. Until now I didn't even know that there would be a curry series on my blog but that would be a good idea, right?! 😀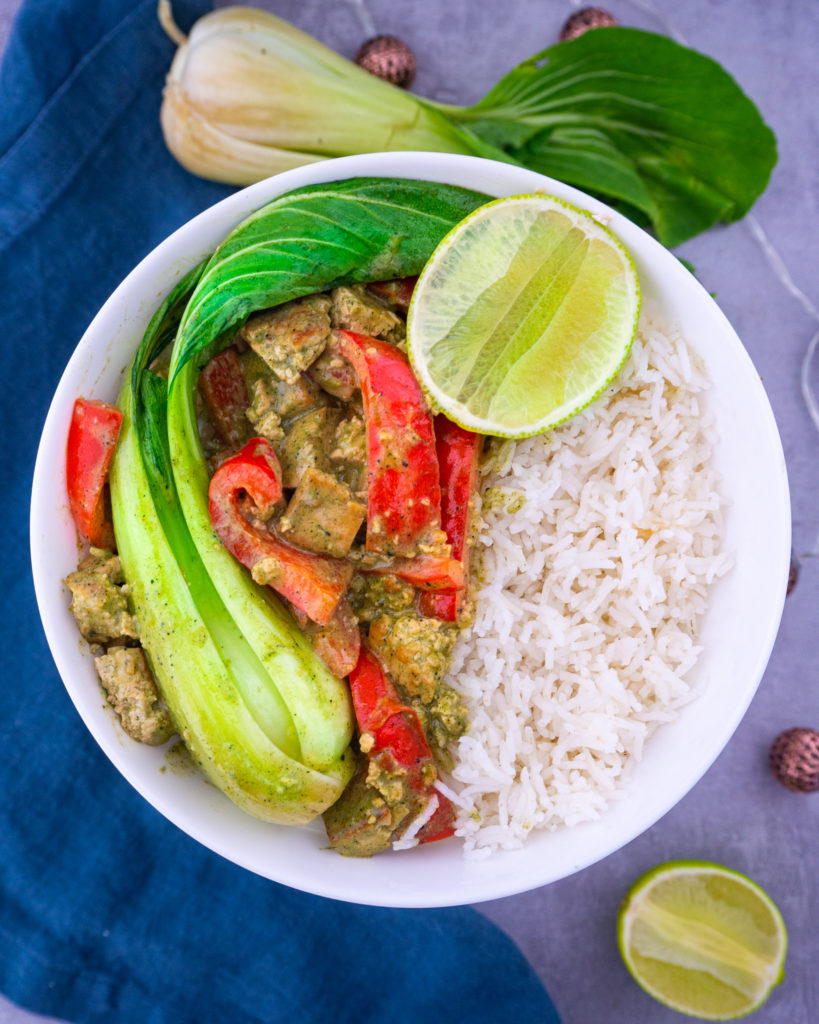 What's green Coconut Thai Curry made of?


The most important thing about green Thai Curry is, of course, the paste. However, I didn't make it myself. You can buy good curry pastes in the supermarket, Asia shop or online. Make sure that the green curry paste does not contain any unnecessary additives such as sugar.


Because the paste consists mainly of green chilies it is also hot. Contrary to the yellow curry the hotness of this curry increases significantly. For all those who react sensitively to spicy food, I would recommend to use only a teaspoon of the paste or weaken it by adding more coconut milk and/or sugar.


Or you may prefer the Yellow Thai Curry or Indian Curry Madras. These two varieties are very mild. Another simple recipe that I recommend is my Roasted Cauliflower with Curry recipe.


This paste is also vegan. Make sure it does not contain any fish ingredients. I have also added vegetables, fried tofu, and basmati rice.


Which type of rice is most suitable?


I am a big fan of Basmati rice and I love to eat this rice with my curry dishes. Basmati rice is tasteless and the rice grains remain light and grainy after cooking.


Jasmine rice is very suitable for Thai curry because this rice variation originates from Thailand and it´s also very aromatic. When cooked, Jasmin rice develops a sweet floral scent. This gives it its own subtle taste. The rice grains have a sticky consistency after cooking.


The healthiest way to eat rice is to use wholemeal. Since this rice is not washed and polished, the nutrients and fibre remain intact.


What I can highly recommend, by the way, is a rice cooker. I think it's great that you can steam vegetables too while the rice is cooking. It's not a must for the kitchen but since I have a rice cooker, I prepare rice more often (and yes, I'm also a bit lazy about that :-D).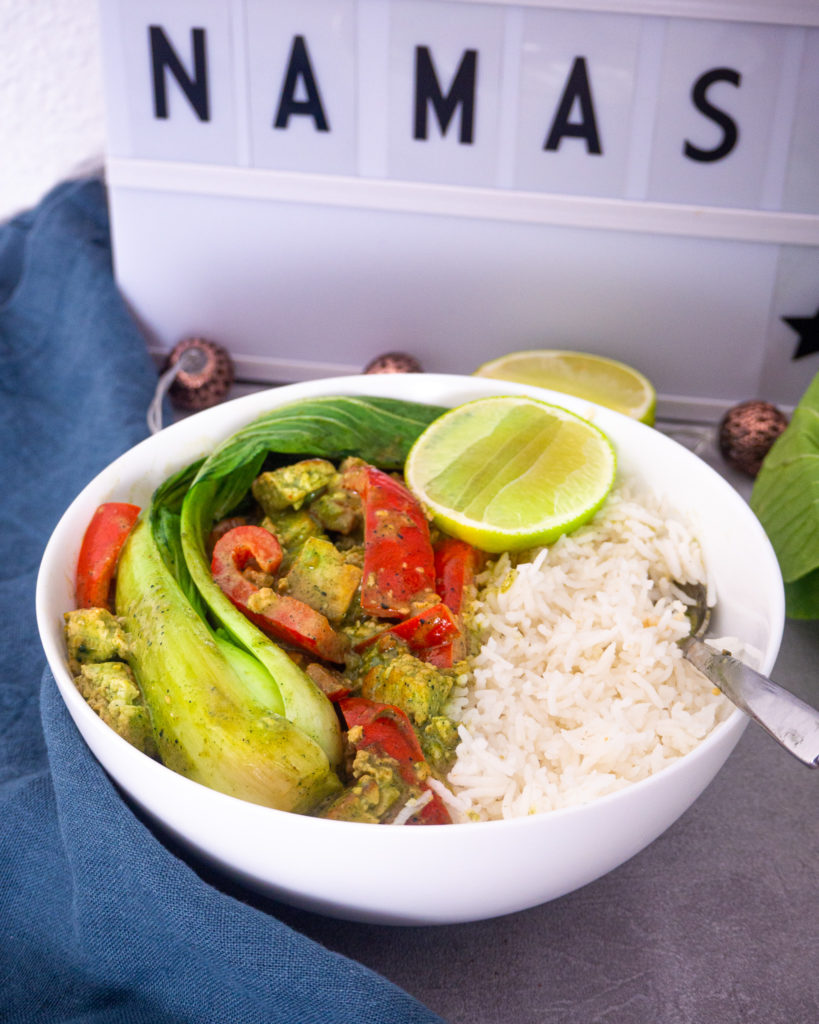 Why is green coconut thai curry so healthy?


Curry is delicious and also very healthy. If you eat curry regularly, it has a positive effect on your health. The consumption of curry should prevent civilization diseases, inhibit inflammations and even have a positive effect on diabetes. By adding tofu you'll get a lot of protein too. Tofu contains important nutrients and is rich in vitamins.


This dish is also completely gluten-free and vegan!


You have to try this green Coconut Thai Curry because it is


healthy
easy to make
ready in 15 minutes
vegan
gluten-free
sugar-free
with Coconut Milk
with Tofu
spicy :-))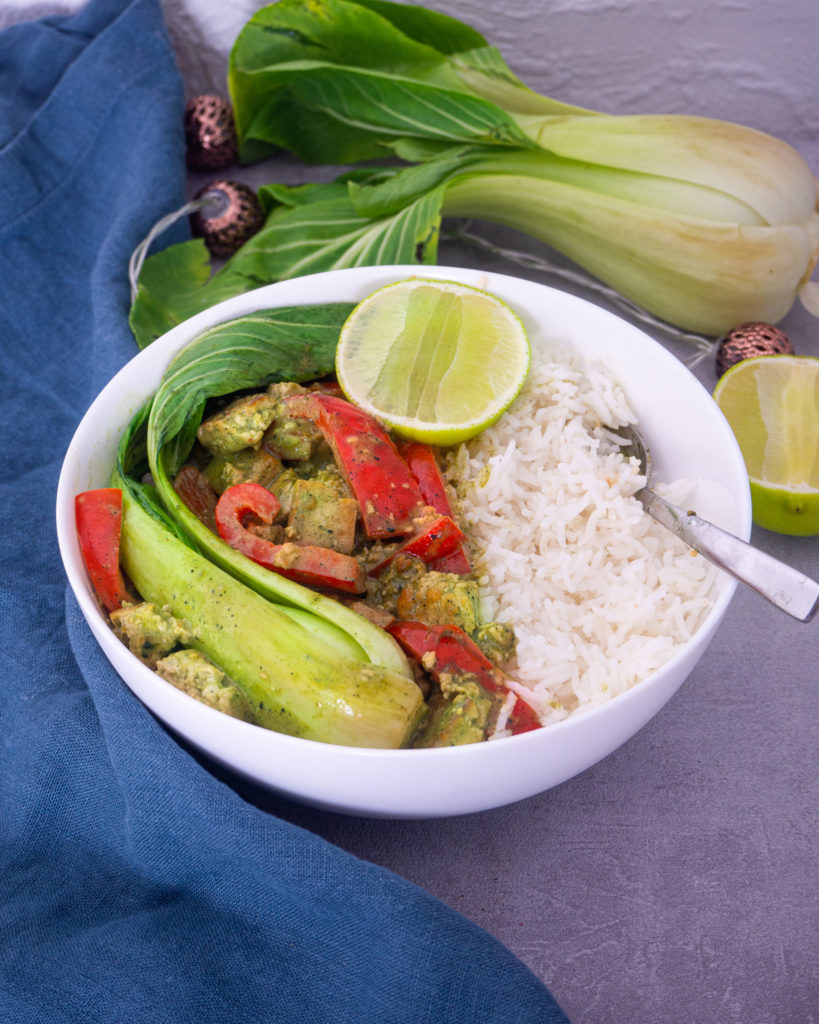 I would be very happy to get feedback from you! If you try this Green Coconut Thai Curry recipe, please leave me a comment with a ⭐️ rating. Are you active on Instagram or Facebook? If you post a picture of this recipe, please link to me with @plantiful.heart so I can see your creation! ?


Under the recipe, you'll find a picture I made especially for Pinterest to pin. With the red P (desktop view: left side, mobile phone view: bottom right) you can also simply pin a picture of your choice. If you like this recipe, you can pin it on your Pinterest board.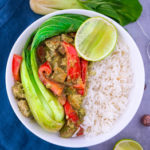 Ingredients
1

Garlic Clove

1

Onion

1

Pak Choi

1

Pepper

1

Tofu

2 – 3

tbsp

Green Curry Paste

1

can

Coconut Milk

2

tbsp

Maple Syrup

2

tbsp

Soy Sauce

1 – 2

tsp

Spices like Pepper, Salt, Turmeric, Garlic

1

tsp

Sriracha

OPTIONAL
Instructions
Cook rice in a rice cooker or in a pot.

Heat olive oil in a large pan, add onions and garlic and fry until translucent.

Add green curry paste and some coconut milk.

Then add tofu, fry everything for a few minutes.

After that add vegetables and simmer it for a while.

Stir in maple syrup, soy sauce, and Sriracha, deglaze with the rest of the coconut milk.

Add spices, season to taste and simmer for a few minutes.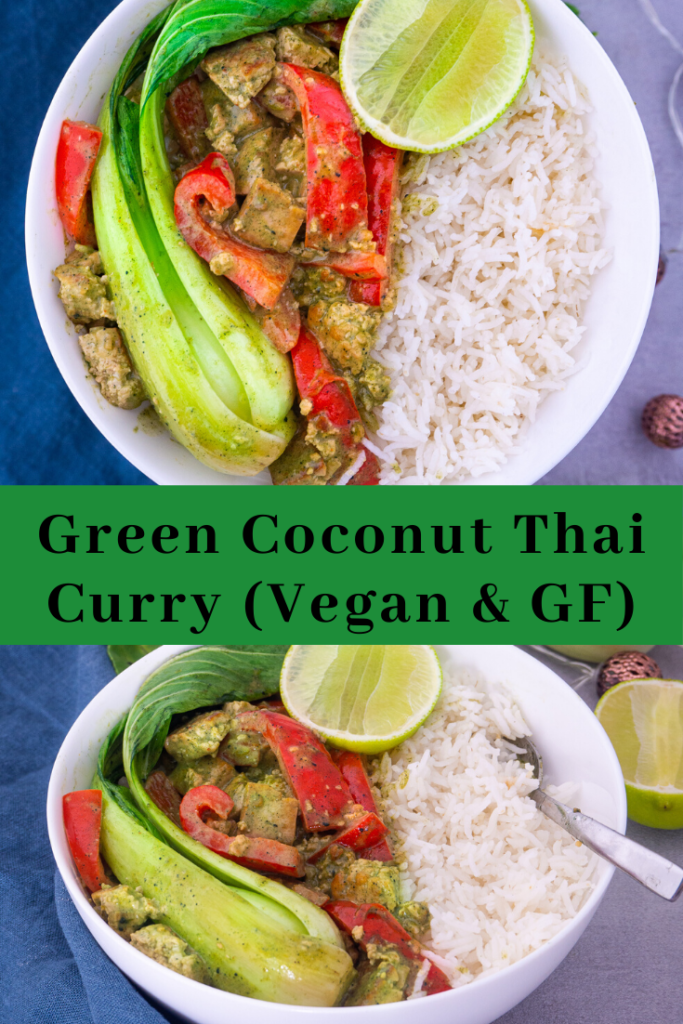 *This page contains affiliate links. When you order a product from these links I get a small commission. Of course, there are no additional costs for you.