Vegan Baked Oatmeal with Strawberries
Jump to Recipe
I currently have a new favorite breakfast: baked oatmeal. You already know that I am a big breakfast fan and I prepare Oatmeal for breakfast almost every day but now I often make baked oatmeal too. I love to try different variation and as a fan of strawberries, there has to be a version with strawberries and chocolate (very important!). This vegan baked oatmeal is not only incredibly delicious, but it also satisfies for a long time. I think it's very important that breakfast is on the one hand filling and on the other hand nutritious.
Which ingredients are necessary for this vegan baked oatmeal with strawberries?


Important for this baked oatmeal are definitely the strawberries and for me personally also the chocolate chips :-)) It tastes so juicy with the strawberries but it doesn't have such a firm consistency like my Raspberry Baked Oatmeal Recipe. You can also cut them into squares and eat them to-go which is not so easy with this recipe. I also like this creamy consistency so much. I would love to eat this baked oatmeal right now. Unfortunately, I don't have any strawberries here…. Of course you can also use other fruits. It doesn't matter if you use frozen or fresh fruits. It works very well with both. For this baked porridge I only used fresh strawberries.
Basically, you just need a few ingredients for this baked oatmeal. These ingredients are often already found at home. In addition, this recipe is also very quick to make. There are no excuses to simply try this healthy and rich breakfast 🙂 You also don't need eggs or milk at all. Of course, oats are essential for this recipe. As for my favorite Oatmeal recipe, I prefer to use rolled oats.
As a sweetener I like to use Agave Syrup or Maple Syrup. This means that this vegan baked oatmeal is completely without sugar. You can also add a ripe crushed banana to get a natural sweetness.
Also important for this recipe is plant-based milk. I prefer oat milk, on the one hand, it is very delicious and on the other hand, it is cheaper than nut milk varieties. I actually use oat milk for almost all my recipes. It is the best milk alternative for me, do you love oat milk as much as I do? 🙂
For all those who live gluten-free, I recommend almond or cashew milk. Rice milk is also an option. You should also make sure you use gluten-free oats.
Other ingredients you will need are spices for a more intense taste, such as cinnamon and ginger. I also added coconut oil. This gives the oat a roasted texture.
How to serve and store it?


I love to eat the warm baked porridge with fresh fruits. But you can also serve it well with yogurt or how about a dash of cream?! It´s so good! I can also imagine that whipped coconut cream goes very well with baked porridge. I still have that on my to-do list and I really want to try it out. Of course, I will tell you how it tasted (and probably also the recipe ;-)). You can also top this baked oatmeal with nuts, coconut chips or seeds and serve it. Autumn isn´t far away… How about combining apple and walnuts? Ok… now I digress.
You can keep the leftovers in the fridge for several days. You can simply warm it up again in the microwave and enjoy it for breakfast. However, if you add strawberries, you should eat your baked oatmeal as soon as possible. Otherwise, it will become very mushy and it won't taste that good anymore.
You'll love that vegan baked oatmeal with strawberries, cause it's

filling
very delicious
quick to make
also recommended as a healthy dessert
with chocolate
a great way to start the day
without sugar
vegan
with strawberries… what more can you ask for?!
and also a little cure for a bad mood
Maybe you also like the following ideas for dessert/breakfast:

How do you like this recipe?
I would be very happy to get feedback from you! If you try this baked oatmeal with strawberries, please leave me a comment with a ⭐️ rating. Are you active on Instagram or Facebook? If you post a picture of this baked oatmeal recipe, please link it to me with @plantiful.heart so I can see your creation! ?
Baked Oatmeal with Strawberries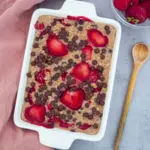 Ingredients
120

gr

Oats

250

ml

Oat milk

50

ml

Agave Syrup or Maple Syrup

1

cup

Strawberries

40

gr

Chocolate Chips

1

tbsp

Chia Seeds

2

tbsp

Coconut Oil

1

tsp

Cinnamon

1

tsp

Ginger
Are you active on Pinterest? and do you like this recipe? Then you can pin the following picture ? You can find the Pinterest Button under the picture.