Raw Vegan Blueberry Cheesecake (No-Bake)
Jump to Recipe
Today I have a delicious blueberry cheesecake recipe for you. I think this No-Bake Cheesecake is perfect for summertime because it is absolutely refreshing and delicious. What's so special about this cheesecake is that the cream consists entirely of cashews, coconut oil, and blueberries. I find it so fascinating what you can do with cashew nuts. Unfortunately, the weather isn´t so nice in Hamburg right now but you can still enjoy this cake and maybe you should enjoy it with a cup of coffee (or tea) :-))
Raw Blueberry cheesecake – How does it work?

Making a healthy cheesecake without baking?! Does that really work? Absolutely and it also tastes super delicious. At first, I was very skeptical whether a cheesecake consisting of cashews could taste like cheesecake at all. Of course, the cake tastes a bit different but the consistency is similar and creamy. This blueberry cheesecake is also a lot healthier than other alternatives, as it does not contain any dairy products, butter, or sugar.
This blueberry cheesecake is quick and easy to prepare. However, you must soak the cashews first to give the cake this creamy consistency. It is best to soak the cashews overnight in water or at least 4 hours before preparation.
For the cashew cream, however, you need a blender or crusher. I recommend you use a springform pan. I have decided to use the 26 cm baking tin. The cashew cream consists of only 4 ingredients: Cashews, blueberries, coconut oil, and maple syrup. I made the cake base from Oreo cookies in combination with butter. That means you only need 6 ingredients. If you want to make this raw cheesecake completely healthy, I recommend making a date crust. For the crust, you only need 2 ingredients: dates and almonds. But I´ll make a recipe post for it too.
As already mentioned, the cake does not have to be baked but simply stored in the fridge for about three to four hours.
Why is this cake variation so healthy?

Although nuts are also very rich in fat they contain healthy fats. Cashew nuts mainly have high-quality vegetable protein. This is a good source of protein especially for people who do not eat animal proteins. Cashews are also rich in unsaturated fatty acids. Cashew nuts are relatively low in fat compared to other nuts. They also contain magnesium and B vitamins. Therefore, these nuts are absolutely recommended. It is best to eat a handful of cashews every day 🙂 By the way, they satiate very well and are also available as cashew butter which means you could also mix cashew butter into your daily oatmeal or muesli instead of cashew nuts.
In addition, this raw blueberry cheesecake has a good amount of blueberries in it, whether fresh or frozen does not matter. I like to mix fresh and frozen blueberries together 🙂 This fruit is full of power because they contain antioxidants. That means: "Antioxidants make free radicals harmless." In this sense, they counteract the toxins of the environment.
I already have two more No-Bake recipes for you, maybe you'd rather try Peanut Butter Cups or gluten-free Cookie Dough Bites?! Or do you like coconut recipes? Then I also have a raspberry coconut chocolate bar recipe.
You have to try this raw vegan blueberry cheesecake because it is

vegan
healthy
with Oreo base (can anyone resist that?!!)
refreshing
creamy
raw
quickly prepared (with only six ingredients)
fruity
How do you like this recipe?
I would be very happy to get feedback from you! If you try this raw blueberry cheesecake, please leave me a comment with a ⭐️ rating. Are you active on Instagram or Facebook? If you post a picture of this recipe, please link it to me with @plantiful.heart so I can see your creation! ?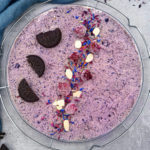 Ingredients
For the Base:
200

gr

Oreo Cookies

75

gr

Butter

melted
For the Cashew-Cream:
30

gr

Cashews

250

gr

Blueberries

100

ml

Coconut Oil

melted

100

ml

Maple Syrup

or Agave Syrup

1

tbsp

Vanilla Paste

1

pinch of

Salt
Instructions
I recommend to soak cashews overnight or at least 3 hours before use.

Crush Oreos and add butter, mix it and spread everything evenly in a springform pan. Press the mixture onto the bottom and put it in the fridge for 30 minutes.

Meanwhile, put the cashews and blueberries in a blender and mix to a smooth, creamy mass then add the coconut oil, maple syrup, vanilla paste, and salt. Mix everything well again.

Spread the cheesecake cream on the cake base and store the cake in the fridge for about 3 to 4 hours.
Are you active on Pinterest? and do you like this recipe? Then you can pin the following picture ? You can find the Pinterest Button under the picture.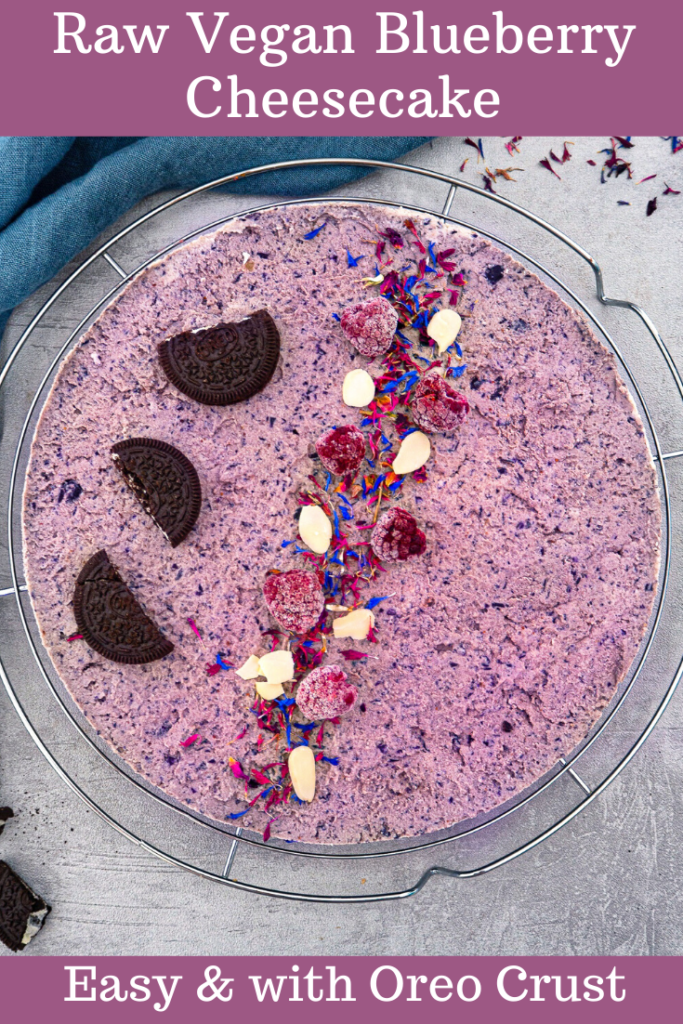 *This page contains affiliate links. When you order a product from these links I get a small commission. Of course, there are no additional costs for you.