Easy Banana Chocolate Chip Muffins
Jump to Recipe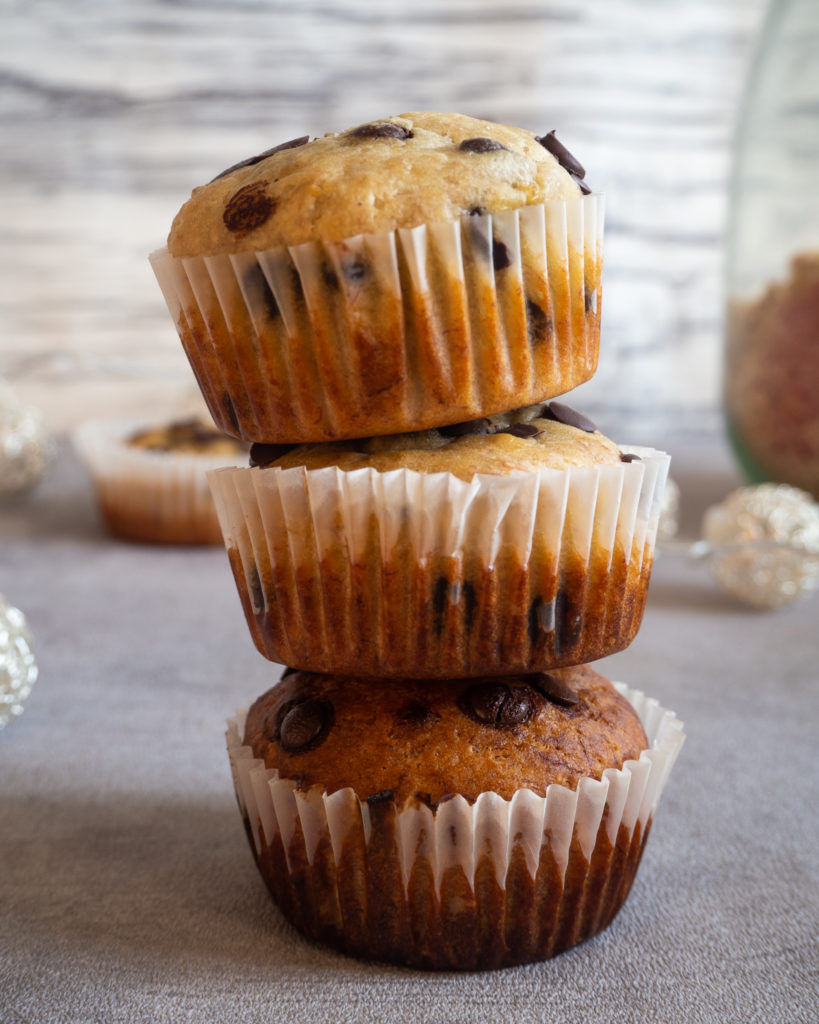 Banana chocolate chip muffins

Recently I had overripe bananas left and I thought I could try a new recipe with bananas. Banana bread is also very tasty but muffins are made even faster and you can take them to-go. This is also true for my Cookie Dough Bites.


What makes these chocolate banana muffins so special?


They mainly consist of natural sweetness from the bananas because the riper the bananas are the the muffins become sweeter. Depending on how sweet you like it you only need to add a small amount of sugar (or other sweeteners) at all. I prefer to add agave syrup, by the way.


These banana muffins don't need eggs either. In addition they consist of ingredients that almost every person has at home. You can also enjoy the snack for a few days! You can keep them in a plastic tin in the fridge for two to four days.


Does this variation taste the same as banana bread? Absolutely! They just taste a little bit more fluffy. It's also the perfect healthy takeaway snack especially for banana lovers!


Off Topic: Sugar Alternatives


White sugar is very unhealthy and above all it is addictive. Sugar in large quantities causes listlessness, fatigue, tooth decay, diabetes and obesity. Therefore only small amounts of sugar should be consumed. The best thing is to switch to healthy sugar alternatives. Unfortunately sugar is also hidden in many finished products. Especially in products in which you would not suspect sugar such as vegetables in jars, in many bars, soups, dressings or even in toast.


Healthy sugar alternatives:


Natural sweetness, as in this case bananas
Agave, maple or rice syrup, whereby maple or rice syrup belong to the healthier variations since the agave syrup consists of 90% fructose (That's why it´s only healthy in small amounts!).
Stevia and coconut sugar
Have a look at my raspberry chocolate coconut bars or Chia pudding.
These delicious snacks are also completely sugar-free.


Why do the muffins stick to the paper?


I personally used paper muffin liners but next time I wouldn't use seem. It is better to put the muffins directly into the butter-coated muffin tin or use a silicone mould. This is more environmentally friendly and the dough does not stick to the paper.


It also helps to let the muffins cool down in the paper muffin liners and to eat them the following day.


Banana Chocolate Chip Muffins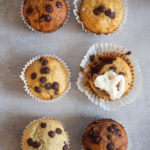 Ingredients
200 

gr 

spelt flour

2

bananas

80 

ml 

agave syrup

50 

ml 

coconut oil

1 

tsp vanilla paste

2 1/2 

tsp baking powder

60 

ml 

oatmilk

100 

gr 

chocolate chips

5 

tbsp cashew butter

1 

tsp apple cider vinegar

pinch of cinnamon and salt
Instructions
Mash the bananas in a large bowl with a fork until they are soft.

Add the liquid ingredients to the banana mixture and mix the dry ingredients separately. You have to melt the coconut oil first. Mix the liquid ingredients well!

Then stir in the dry ingredients into the liquid ingredients.

Mix the chocolate chips in the dough.

Next pour the dough into your lightly greased or lined muffin tin.

Bake the muffins in a heated oven for approx. 20 – 25 minutes or until a toothpick inserted into a muffin comes out clean.


For more delicious vegan dessert ideas check out my blog!