Healthy Vegan Tacos with Salsa Verde
Jump to Recipe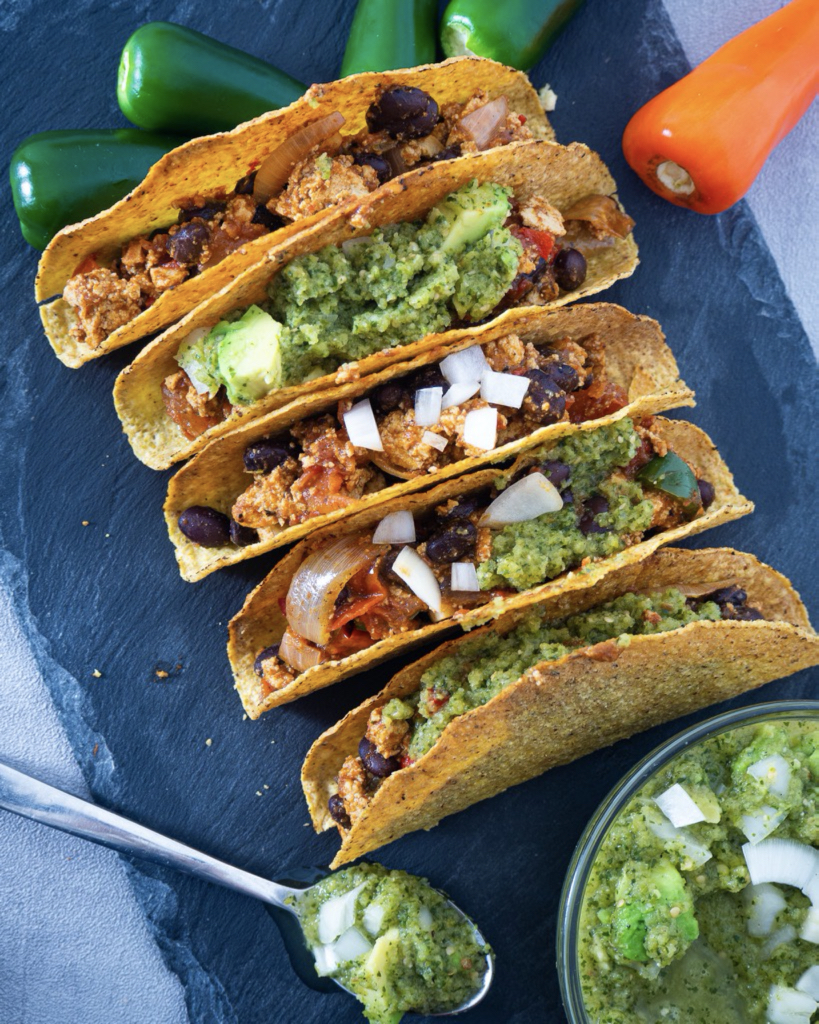 You might think I'm only a fan of Asian or Japanese food but no, there's another big love and that's Mexican food. I actually love everything that the Mexican cuisine has to offer from burritos to tacos or quesadillas. At home, I have often made burritos or enchiladas myself but always used a ready-made sauce or seasoning. There is also a whole taco package in the supermarket which also tastes very good but homemade is always the best, isn't it? 🙂 It is the first time that my Mexican food is completely vegan. It was very easy to change that because I just left out cheese and sour cream. You can easily replace both ingredients with vegan options but I didn't do that. I have to say, it was the best Mexican dish we have ever made.
Of course, we had to challenge our new food chopper right away and try out some sauces/dips. That's why I have also a super delicious Salsa Verde Dip for you. This dip is mild, vegan, and gluten-free. I highly recommend that you at least try the dip. It's also perfect for snacks like nachos.
How to make the filling of these vegan tacos?

Normally the filling is often made with minced meat. That's why I use tofu for my vegan tacos. Of course, you can also use minced meat substitutes. I also like to use this but with tofu, the filling works just as well and I personally like to use it because I find it "more natural". Tofu doesn't contain as many additives as other meat substitutes. Dry tofu briefly with kitchen paper to get the liquid out. Afterwards, simply use a fork to make crumbles. So this is your minced meat replacement.
Personally, I think that a Mexican filling should not be without black beans. They are very important for the Mexican cuisine and they taste absolutely delicious! Even if I eat a Burger Patty with black beans I have to think about Mexican food 😀 It is best to process the black beans into a bean puree (also called refried beans). Basically, you just have to mix the beans with a few spices like cumin, onion and garlic powder, chili, pepper, and salt.
It is also important that you have seasoning for your filling so that it does not taste so dry. The seasoning should consist of tomato paste and chopped tomatoes. Add onions, red jalapenos (these are slightly hot), garlic cloves, and of course spices: thyme, salt, pepper, cumin, chipotle. In order to create a roasted aroma and to intensify the taste, I recommend roasting the onions and jalapenos beforehand.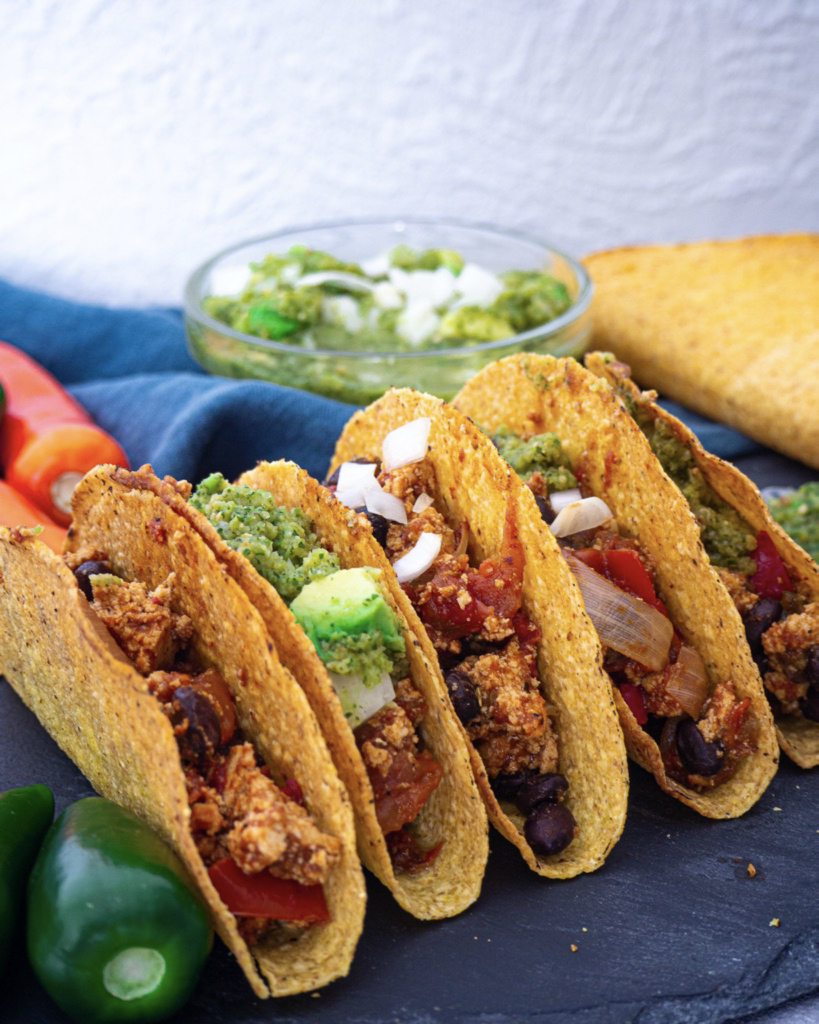 How do you prepare Salsa Verde?

The special thing about this Salsa Verde recipe is that you need Tomatillos. What is so special about Tomatillos? You might think the Tomatillo is a tomato, however, it's not. This Mexican vegetable is a member of the Physalis genus. That's surprising, isn't it?! 😀 They are indispensable in the Mexican cuisine. They are mainly used to make Mexican and Central American green sauces.
Where do you even get tomatillos from? In fact, we ordered the vegetables online. You can't find them in the supermarket or at the farmer's market. There is no other way to make this Salsa. Only with Tomatillos the Salsa tastes original and gives it a light creamy consistency. That's why you can't get past it. You can also buy seeds and grow Tomatillos yourself!
How do you make Salsa Verde? It's easy, besides the tomatillos you only need green jalapenos, garlic cloves, coriander, and onion. Roast Tomatillos and jalapenos beforehand. Then mix everything together in a food processor. That's why this salsa is really quick and easy to make.
What makes this vegan taco recipe so healthy?

Tofu is rich in vitamins, contains a lot of protein and important nutrients.
Black beans have an antioxidant effect
Chilies contain three times as much vitamin C as citrus fruits, in addition, they also make you happy (the body releases endorphins when you eat them)
Tomatoes are one of the most important food sources for cell-protecting lycopene, they also contain C and B vitamins
Tomatillos are also rich in antioxidants, they contain valuable vitamins, minerals, and trace elements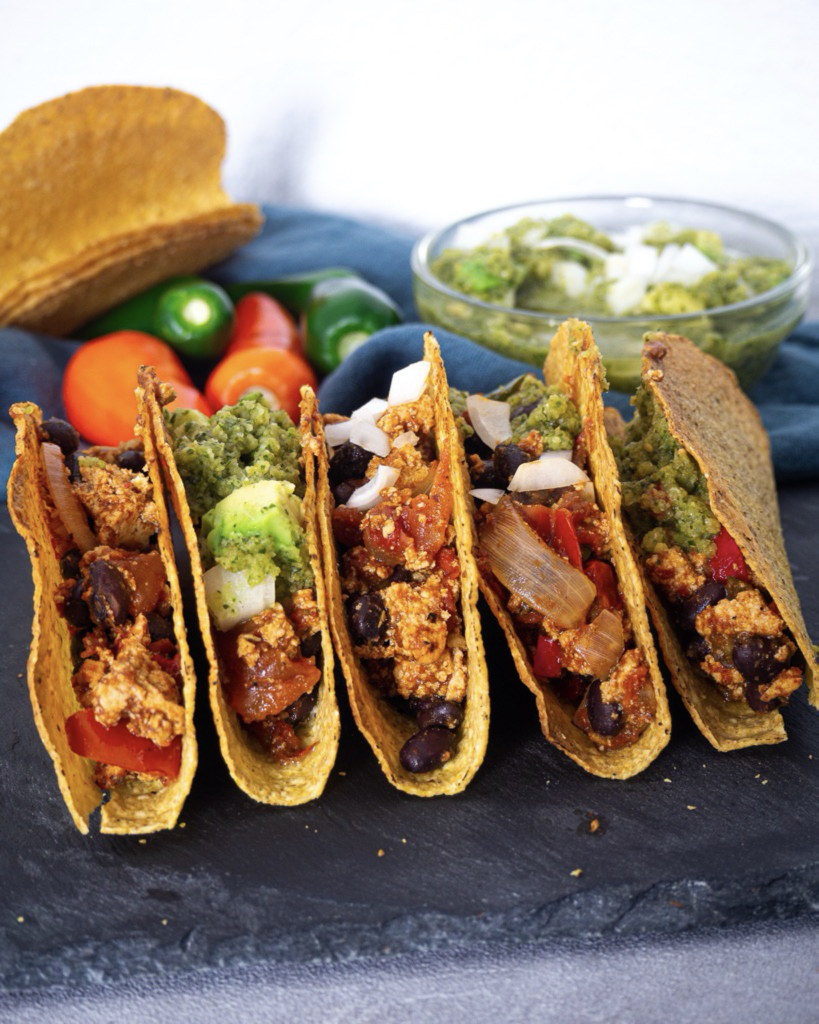 Which toppings go best with this taco recipe?
Guacamole / Avocado pieces
Vegan cheese
Salad
Jalapenos (cut into slices)
Coriander
Tomatoes
Beans
More ideas for dinner that you might like

How do you like this recipe?
I would be very happy to get feedback from you! If you try these vegan Tacos with Salsa Verde, please leave me a comment with a ⭐️ rating. Are you active on Instagram? If you post a picture of this Taco recipe, please link it to me with @plantiful.heart so I can see your creation! ?
Healthy Vegan Tacos with Salsa Verde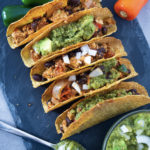 Ingredients
Salsa Verde
5

Tomatillos

1 – 2

Green Jalapenos

3

Garlic cloves

1

tsp

Coriander

1

Onion
Filling
1/2

block

Tofu

1

can

Black Beans

process into puree and season it well

2

tbsp

Tomato Paste

1/2

can

Chopped Tomatoes

1

Tomato

2

Red Jalapenos

1

Onion

2

Garlic Cloves

4 – 5

tbsp

Chipotle

1

tsp

Spices like Thyme, Salt, Pepper and Cumin
Instructions
Salsa Verde
Remove stems from tomatillos and cut them into halves. Peel onion and garlic cloves.

Heat olive oil in a pan. Roast Jalapenos, 2 garlic cloves and onion for about 10 minutes (see picture above this recipe). => This step is also for the filling (I only mentioned the ingredients for the Salsa Verde here).

Grind some sea salt with 1 garlic clove and some of the jalapeno together in a mortar.

Now put all the ingredients in the food processor, add some salt and coriander. Mix it all together.
Filling
Peel onion and garlic cloves. Mash tofu with a fork to make tofu crumbs.

Heat olive oil in a pan. Roast Jalapenos, 2 garlic cloves, tomato and onion for about 10 minutes (see picture above this recipe). => This step is also for the Salsa Verde (I only mentioned the ingredients for the Filling here).

Cut onions, jalapenos and garlic cloves into small pieces.

Now put olive oil in the pan again, fry tofu in chipotle for a few minutes.

Add tomato paste and chopped tomatoes, let it simmer a little, and add the bean puree, season well. Fry once more and your filling is ready.
Notes
Steps 1 and 2 of the Salsa Verde and the filling can easily be done together.
Are you active on Pinterest? and do you like this recipe? Then you can pin the following picture ? You can find the Pinterest Button under the picture.