Creamy Vegan Butternut Squash Pasta Recipe
Jump to Recipe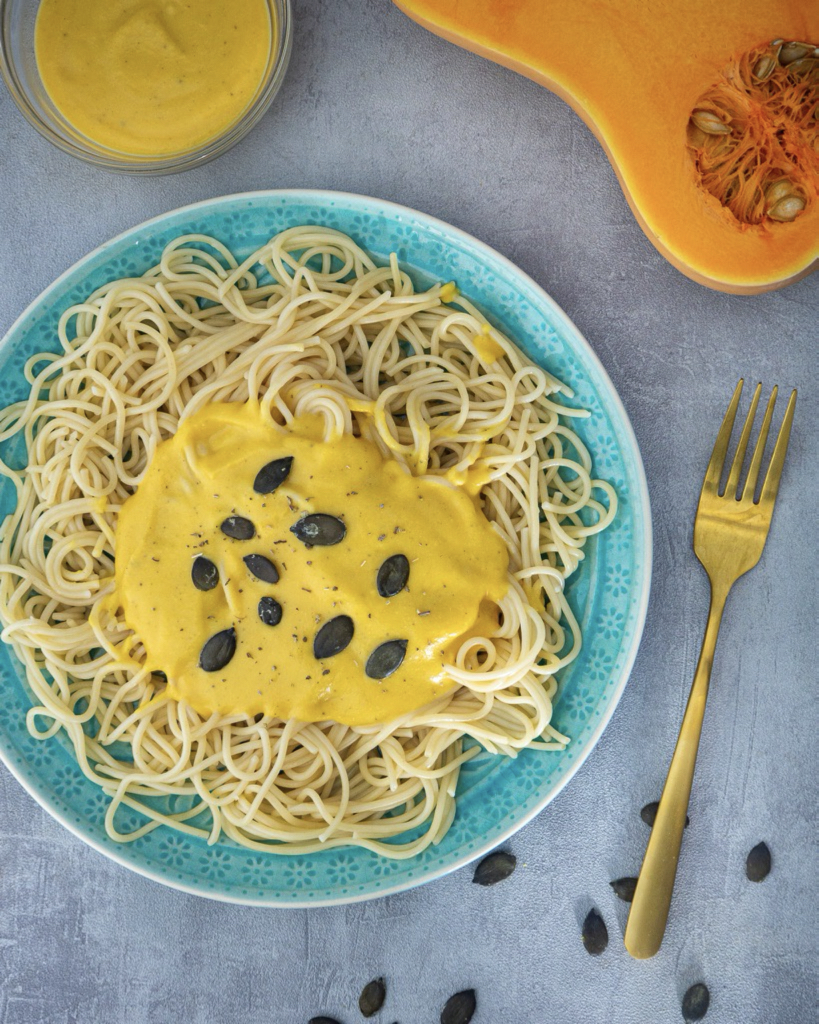 Pumpkin Everything – That is my motto this October. Since the beginning of October, I have already tried three different pumpkin recipes and one of them, unfortunately, turned out not so great. It still tasted good but I can't show you the recipe yet. Of course, you should be satisfied with it. However, this recipe turned out so good! This pasta sauce consists of butternut squash. This sauce has such a creamy texture and it also has a cheesy taste, so you could also use it as a vegan Mac & Cheese substitute. Pasta is my absolute comfort food and also fast food. Pasta is always super easy and quick to make. The sauce is also very easy to make, good for Meal Prep and very delicious. This creamy vegan butternut squash Pasta recipe is the perfect comfort food during fall.
How do you make this vegan butternut squash pasta recipe?

For this pasta sauce, you only need 7 ingredients. The sauce is ready in 10 minutes assuming the squash is already cooked. The good thing about it is that if you cook the squash completely the puree will last for several days. The puree can be kept in the fridge for about a week. You can keep the rest of the puree either for other dishes, such as desserts like pumpkin pancakes, or you can use it just for the sauce. You can store the sauce in the fridge for a few days or freeze the leftovers. I have decided to use Butternut squash but I am sure that other sorts like the Hokkaido will also work fine. I have always used it for all my recipes because you can prepare and eat it with the skin. For all other squashes, you have to remove the peel.
Tip: You can also easily slice the squash into wedges and prepare them in the oven. This is a delicious, savory and healthy snack or perfect for dinner.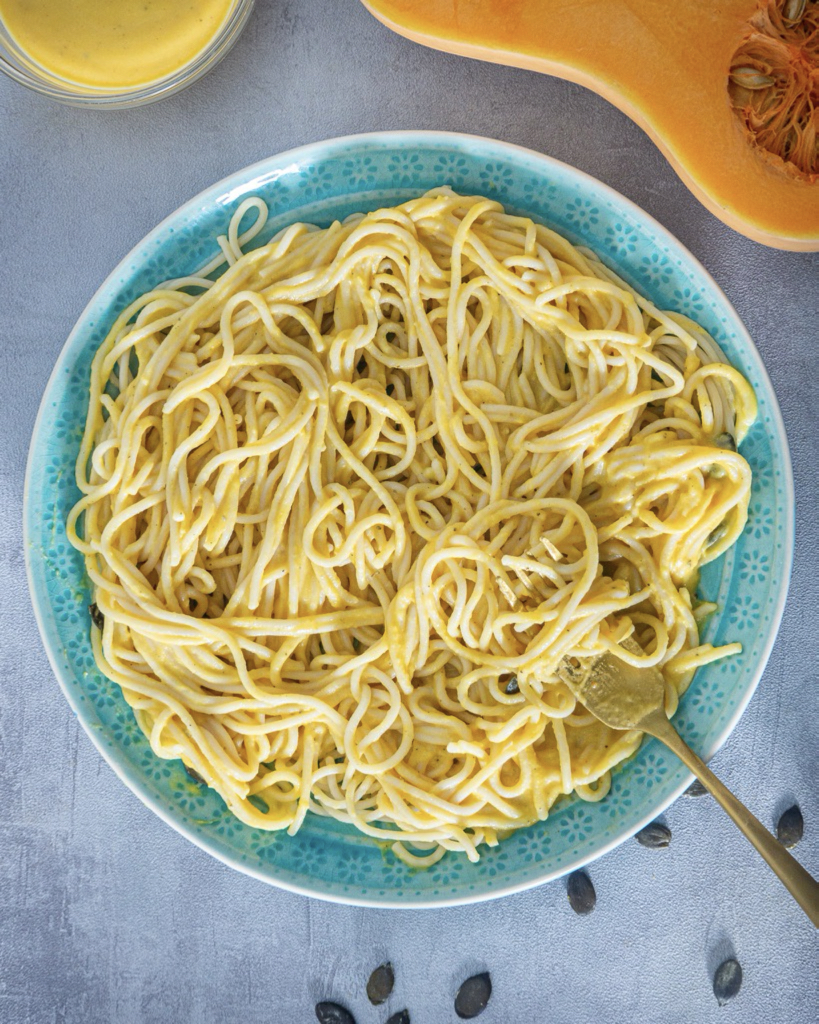 How did I prepare the Butternut squash? I used half a butternut squash for this dish. First, cut the squash into cubes and remove the peel. Then add butter in a saucepan and fry onions as well as garlic for a few minutes. Then add your squash chunks with 300 ml vegetable stock. Let everything simmer for about 15 minutes, then the chunks will be soft enough to process further.
Put your chunks in a blender and add the remaining ingredients. You will also need cream cheese or another cream for the sauce. This will make your sauce even creamier. If you also want a cheesy taste in your sauce, add nutritional yeast. For a special flavor add sage and chili spice to your sauce. I love this combination, it goes so well together. The best would be to add fresh sage to your sauce. Season it all with salt, pepper, and a little nutmeg.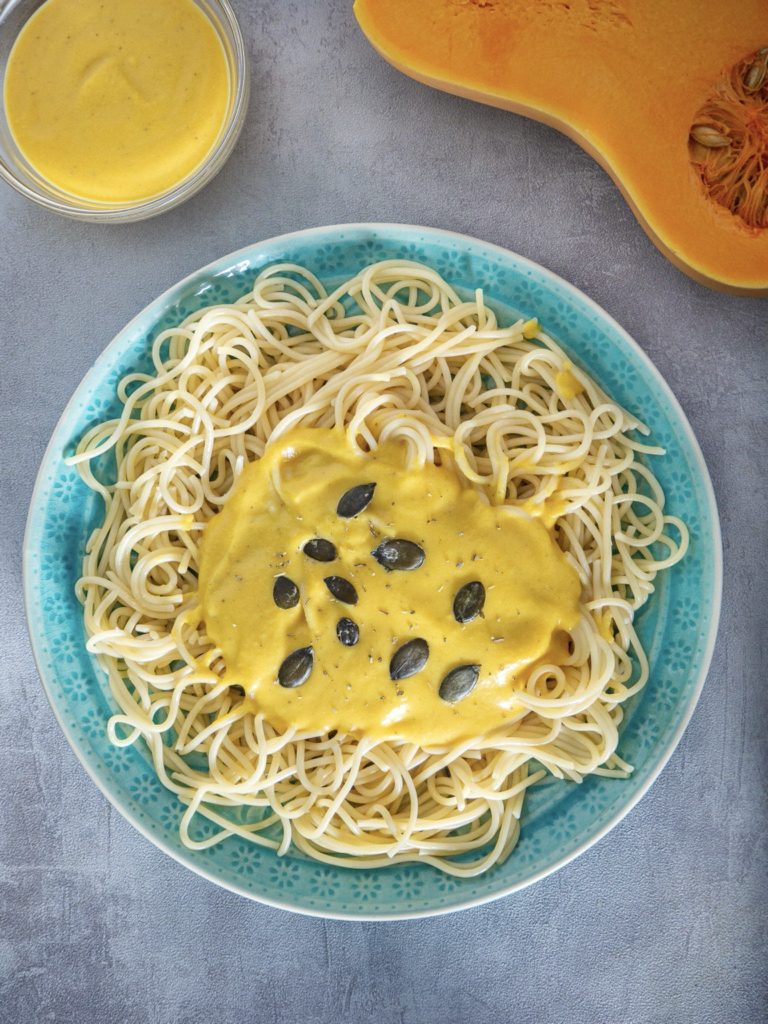 Which pasta goes best with this squash sauce? Personally, I am a big fan of spelt pasta and I find spaghetti, in particular, to go perfectly with this creamy sauce. I also recommend Penne which I also used for my roasted red pepper pesto recipe, and Maccaroni noodles because then you can use it as a Mac & Cheese substitute. Also, add some grated vegan cheese yummy I'll have to make that soon mhmm :-)))))
By the way, this sauce is completely gluten-free, so you only need gluten-free pasta for this dish.
How healthy is Butternut Squash?

You should eat squash now in autumn because it is incredibly healthy.
Butternut squash contains slightly more carbohydrates than Hokkaido squash. Butternut squash is very low in calories. In addition, squash is rich in Vitamin A / Beta-carotene. Vitamin A has a positive effect on our eyesight and our skin. The pumpkin meat is also easily digestible and helps the body to gently dehydrate through its potassium content. The pumpkin also contains minerals such as calcium and magnesium. These nutrients are important for our bones and teeth.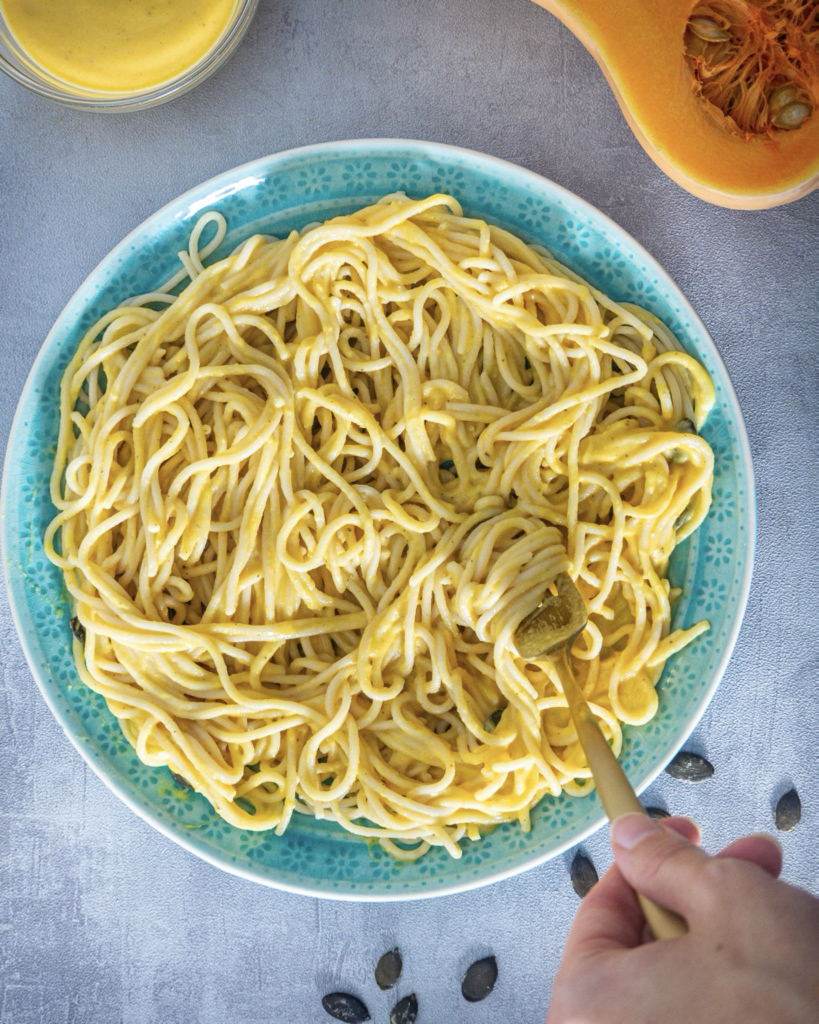 Try this vegan butternut squash pasta recipe, because it is

Healthy
Vegan
Creamy
Filling
Simple
Cheesy
Flavorful
Very delicious!
Perfect for autumn season 🙂
Are you looking for more healthy comfort food ideas? Then you might also like these recipes:
How do you like this recipe?

I would be very happy to get feedback from you! If you try this Butternut Squash Pasta recipe, please leave me a comment with a ⭐️ rating. Are you active on Instagram or Facebook? If you post a picture of this Butternut Squash Pasta, please link to me with @plantiful.heart so I can see your creation! ?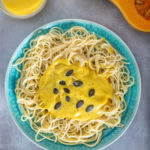 Ingredients
500

gr

Squash Cubes

1/2 Butternut Squash

300

ml

Vegetable Broth

70

gr

Cream Cheese or another Cream

3

Garlic Cloves

3

tsbp Nutritional Yeast

2

tbsp

Butter

1

Onion

1-2

tbsp

Sage

1 – 2

tsp

Spices: Chili, Nutmeg, Salt & Pepper

5

gr

Pumpkin Seeds Optional
Instructions
Peel and slice onions as well as garlic cloves into small pieces. Remove the peel from your butternut squash, remove the seeds and cut it into cubes.

Melt vegan butter in a saucepan, add sage, onions, and garlic and fry everything for a few minutes.

Add squash and fry for a few minutes, stirring occasionally.

Now add vegetable stock and bring to boil then reduce heat and simmer until squash is soft for about 15 to 20 minutes.

Put this mixture into a blender, add cream cheese, nutritional yeast, nutmeg, chili, salt & pepper and mix everything until it´s smooth.

Serve the dish with pumpkin seeds. It's best to roast them for a few minutes.
Are you active on Pinterest? and do you like this recipe? Then you can pin the following picture ? You can find the Pinterest Button under the picture.