Peanut Butter Cookies with Brown Sugar (Christmas Edition)
Jump to Recipe
These vegan peanut butter cookies are easy to make. By adding brown sugar the cookies become very soft and in combination with peanut butter very delicious. They can also be easily shaped into Christmas cookies.
My Christmas bakery is now going into the 3rd round ?. Today I have a delicious Christmas vegan peanut butter cookie recipe for you. Of course, you can also enjoy these peanut butter cookies beyond the Christmas season. Normally the cookies are rolled into balls and placed on the baking tray. Then the cookies get a criss-cross fork mark. You can cover half of the cookies with chocolate or simply sprinkle some brown sugar on them. I especially love to make this recipe at Christmas because I am a big fan of this peanut butter dough and find it perfect for making sweet Christmas cookies.
Which ingredients do you need for this peanut butter cookie recipe?

I used spelt flour for the peanut butter cookies, as I did for my vanilla crescent cookies recipe. Spelt flour is more nutritious than wheat flour and I love the slightly nutty taste. Do you want to make this recipe gluten-free? Then simply use 150 gr gluten-free oatmeal and use two Chia or flaxseed eggs. By the way, you don't even need to use butter. In the recipe healthy chocolate oatmeal cookies, you will find instructions on how to make Chia eggs. For this recipe, you generally need less flour because of the high amount of nut butter.
For this recipe, I used peanut butter in combination with butter. This mixture makes the surface crispy and golden brown. Make sure to use peanut butter without using any additives! Peanut butter and brown sugar make the cookies very flavourful. Especially the brown sugar makes the cookies very soft. That is why you should not use too much of it. Otherwise, the peanut butter cookies will break. It is best to mix brown sugar with refined sugar. If you want to make the cookies healthier replace sugar with maple syrup and coconut blossom sugar.
Are you a fan of peanut butter and chocolate, too? Then you absolutely need to try this homemade Peanut Butter Cups recipe!
Other ingredients you need for these vegan peanut butter cookies: cornstarch, baking soda, salt, chocolate, and oat milk. Optional: Christmas sprinkles.
If you try another variation of this cookie recipe, please let me know in the comments!
How to make vegan peanut butter cookies?


This recipe is quick and easy to make. Be careful to roll out the dough a little thicker and not too thin. Otherwise, the shapes will break and in the end, the Christmas cookies will not be so pretty.
Which kitchen utensils are required? Two mixing bowls, a rolling pin, Christmas cookie cutters, a whisk. A bowl and a pot are needed to melt the chocolate.
Mix all dry ingredients together except the sugar.
Separately mix butter and sugar together. Add the remaining wet ingredients and then add the wet to the dry ingredients. Stir it well!
Leave the dough to rest in the fridge for half an hour to an hour. The dough should be a little firmer so that you can work well with it.
Roll out the dough on a floured surface. Use your Christmas cookie cutters. Bake the cookies for about 10 to 12 minutes.
The cookies should cool down first. Melt the chocolate, preferably in a water bath. Now you can get creative with decorating the cookies. This is my favorite part ?
More delicious vegan recipes for the Christmas season:

How do you like this recipe?

I would be very happy to get feedback from you! If you try this peanut butter cookie recipe, please leave me a comment with a ⭐️ rating. Are you active on Instagram? If you post a picture of these peanut butter cookies, please link to me with @plantiful.heart so I can see your creation! ?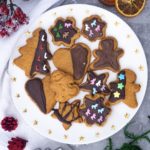 Ingredients
160

gr

Spelt Flour

200

gr

Peanut Butter

115

gr

vegan Butter

60

ml

Oat Milk

70

gr

brown Sugar

30

gr

refined Zucker

1

tsp

Baking Powder

1

tsp

Cornstarch

1

pinch

of Salt
Instructions
In a mixing bowl combine spelt flour, baking powder, cornstarch, and salt. In a separate mixing bowl mix butter with sugar. Then add the peanut butter and oat milk and stir again.

Leave the dough to rest in the fridge for half an hour or even better for another hour so that you can work well with the peanut butter dough.

Now roll out the dough thicker with a rolling pin and some flour. The dough should not be too thin. Otherwise, the shapes will break easily. Use the cookie cutters and bake the cookies for 8 – 10 minutes.

Now you can be creative and coat the cookies with chocolate or use sprinkles. Be sure to let the cookies cool down.
Are you active on Pinterest? and do you like this recipe? Then you can pin the following picture ? You can find the Pinterest Button under the picture.