Healthy Vegan Chocolate Oatmeal Cookies
Jump to Recipe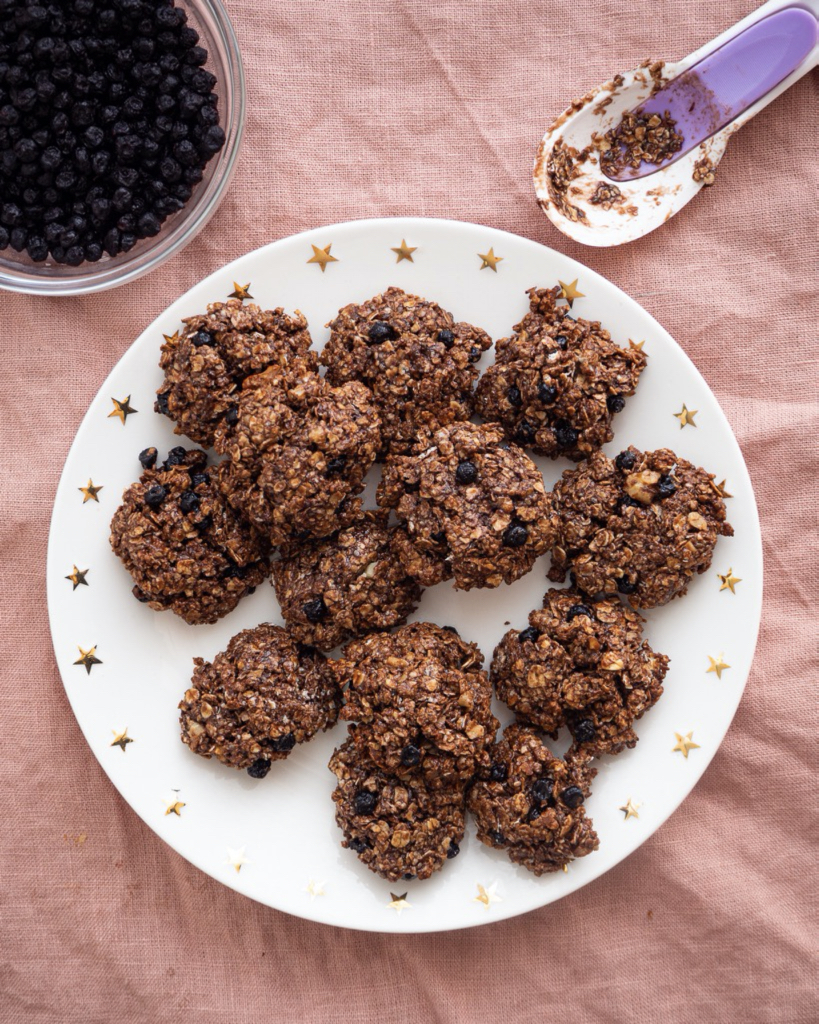 Finally, I have a new recipe for you 🙂 I was on vacation for two weeks now. Actually, I had planned to continue working on my blog but then I mostly relaxed and really enjoyed the time abroad. That was really good, however, from now on there will be new recipes on a regular basis. I am especially looking forward to the autumn season because since last year I love to try new pumpkin as well as apple recipes. Is it the same for you? I hope so because I would be very happy if you try my recipes 😀
At the moment I would like to bake less with sugar as I have eaten more sugar recently as well as processed products containing sugar. I simply notice that it is not good for my body. That's why I want to make sure I use less sugar and occasionally prepare some gluten-free snacks that are quick and easy to make. They should definitely be suitable for everyday life. I admit it, I quickly become addicted when it comes to wheat and sugar-containing food. For that matter, I don't want to demonize it. Nevertheless, you should pay attention to the amount you eat every day.
So today I have a very simple and tasty recipe for you. These chocolate oatmeal cookies are gluten and sugar-free.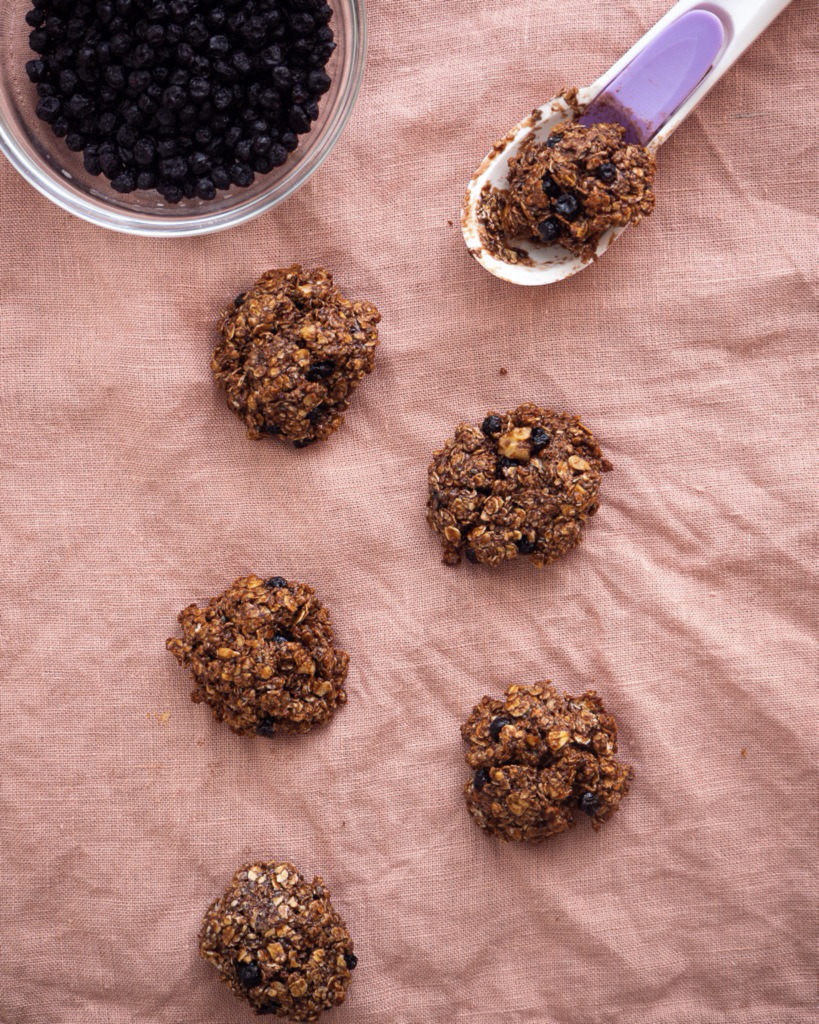 How to prepare healthy vegan chocolate oatmeal cookies?

For this recipe, I actually used a Chia egg for the first time and it worked very well. So if you want to use an egg substitute, I can highly recommend the Chia-Egg 🙂 You can also replace eggs with flax seeds.
For a Chia egg, you need 1 tablespoon of Chia seeds and mix them with 3 tablespoons of water. You need to let your Chia Egg rest for about 15 minutes. This creates a gel-like consistency.
Otherwise, this recipe is really quick and easy to make. For these healthy oatmeal chocolate cookies, you'll also need rolled oats as well as nut butter. This means you don't need butter for this recipe. Nut butter is definitely a healthier alternative. I have used cashew butter, it´s my favorite.
Of course, chocolate is particularly important to me. As you know, I can't live without it ;-)))) This time I used a pure chocolate powder without any additives. Make sure that the chocolate powder does not contain any extra sugar or milk powder.
Other ingredients I have added are cinnamon, some salt, agave syrup, vanilla extract, baking powder, walnuts, and dried blueberries.
I don't like raisins a lot. If you like them, you can use them instead of dried blueberries or I personally love dried cranberries. You can also skip walnuts and dried fruits completely. That is entirely up to you 🙂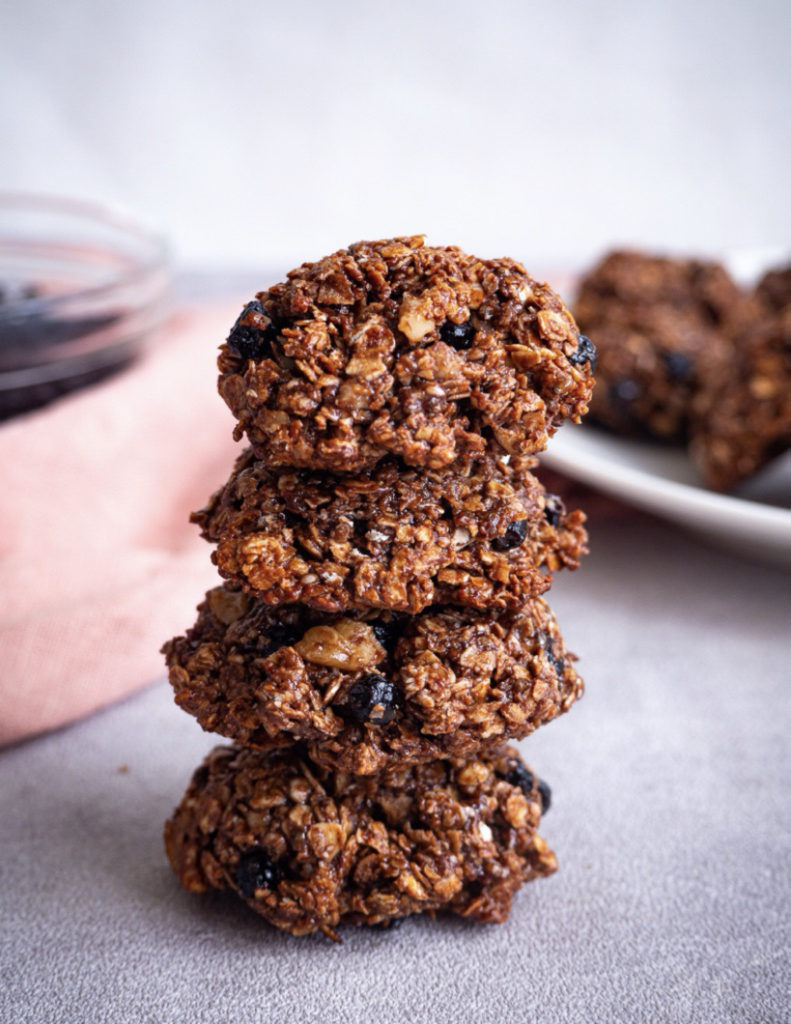 What makes these oatmeal cookies healthier than others?

These oat biscuits do not contain any dairy products which means that they are without butter and eggs. These cookies also contain no flour and the basis is actually made from oats.
A small detour: White flour contains no nutrients, does not keep you full for a long time, and is addictive. I used to eat a lot of white flour products. Nowadays I try to be more careful not to eat too much of it because I know it has no benefits for my body.
As you might already know from my favorite Oatmeal recipe, oats are very healthy and valuable for the body. Oats contain wholesome nutrients, such as fibre, minerals (especially magnesium, phosphorus, iron, and zinc), and valuable vitamins, especially vitamin B1 and B6.
Chia seeds are a real power food because they contain more calcium than milk and are rich in Omega-3 fatty acids. I like to use nut butter as a butter substitute. For example, nut butter from cashews, almonds or peanuts can replace butter. Nut butter is so delicious and healthy. Nuts have a high amount of potassium, vitamin B6, fibre and magnesium.
As a sugar substitute I used agave syrup but you can also use maple syrup or coconut sugar. By the way, the best and most natural sugar substitutes are bananas and dates. I like to use bananas as with my eggless banana bread recipe or banana chocolate muffins.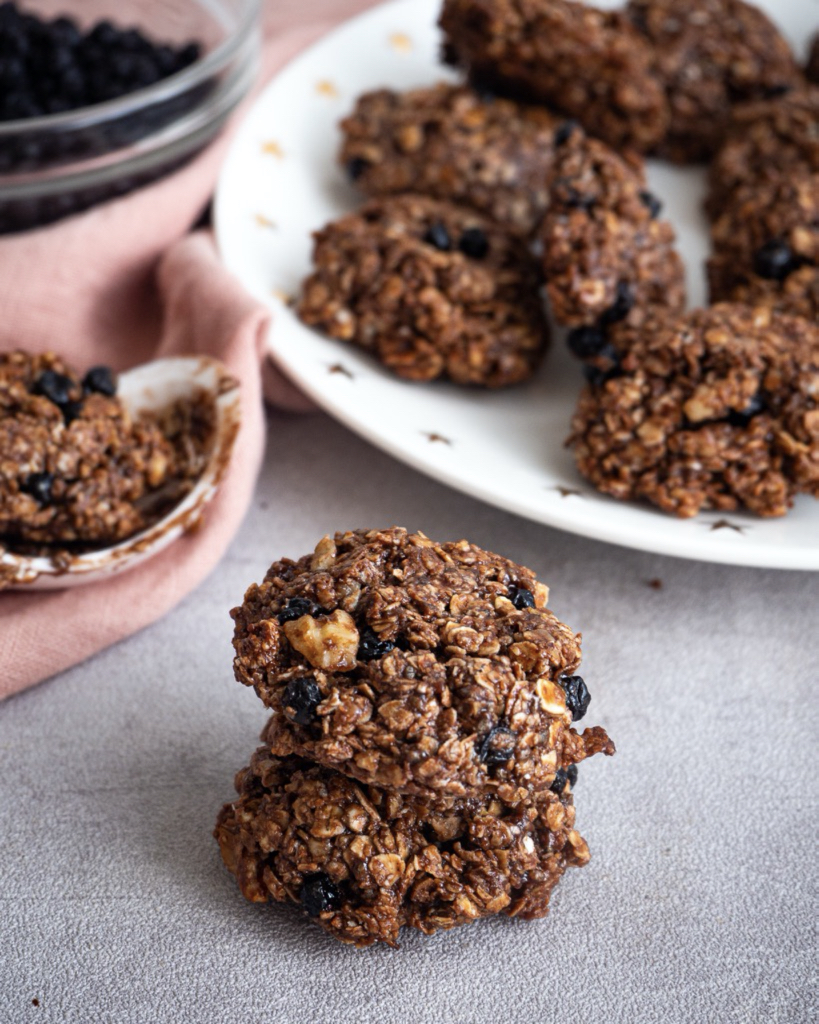 Here are some more delicious vegan snack ideas for you: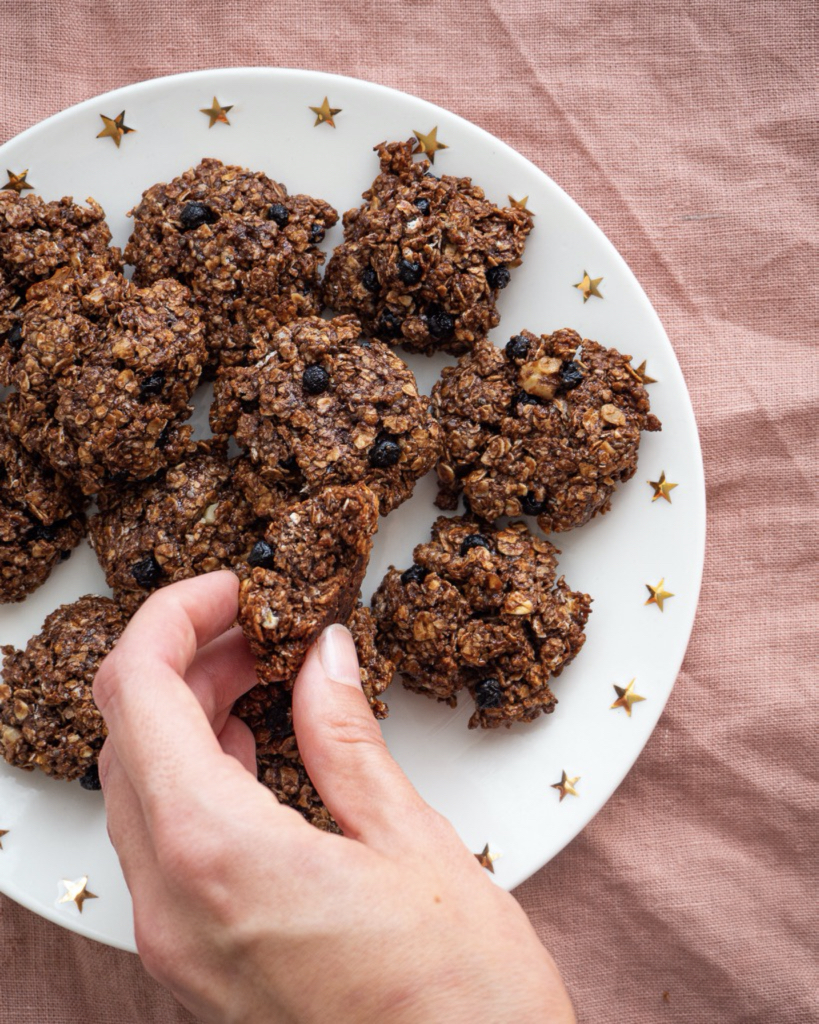 How do you like this recipe?
I would be very happy to get feedback from you! If you try these chocolate oatmeal cookies, please leave me a comment with a ⭐️ rating. Are you active on Instagram? If you post a picture of this cookie recipe, please link to me with @plantiful.heart so I can see your creation! ?
Healthy Chocolate Oatmeal Cookies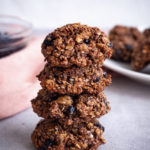 Ingredients
150

gr

Oats

1

Chia Egg

See Text Above

100

ml

Cashew Butter

80

ml

Agave Syrup

20

gr

Dried Blueberries

20

gr

Ground Walnuts

4

tbsp

Cocoa Powder

1

tbsp

Cinnamon

1

tbsp

Vanilla Extract

1

tbsp

Baking Powder

A

pinch

of Salt
Instructions
Whisk oats, baking powder, cinnamon, and vanilla extract together.

Mix cashew butter, agave syrup separately, and add your chia egg together until it is smooth.

Then add the chocolate powder, dried blueberries, and walnuts. Mix everything well again.

Pour the dry ingredients to the wet ingredients, then mix on low until combined.

Afterwards I used my hands to knead the dough properly. Now let the dough rest in the fridge for about 30 minutes.

I formed the cookies with an ice-cream scoop and put them on the baking paper.

Now bake the oat cookies in the oven for about 10 minutes at 180°.
Are you active on Pinterest? and do you like this recipe? Then you can pin the following picture ? You can find the Pinterest Button under the picture.