Healthy Edible​ Cookie Dough Recipe without eggs
Jump to Recipe
This healthy Cookie Dough recipe is made from chickpeas. Who would have thought that?! This makes this Cookie Dough version healthy, rich in protein and combined with cashew butter very creamy. The recipe is also easy to make with 7 ingredients and it is ready in 10 minutes because this recipe works without baking. So you can enjoy it directly or, like me, make crazy Cookie Dough balls out of it!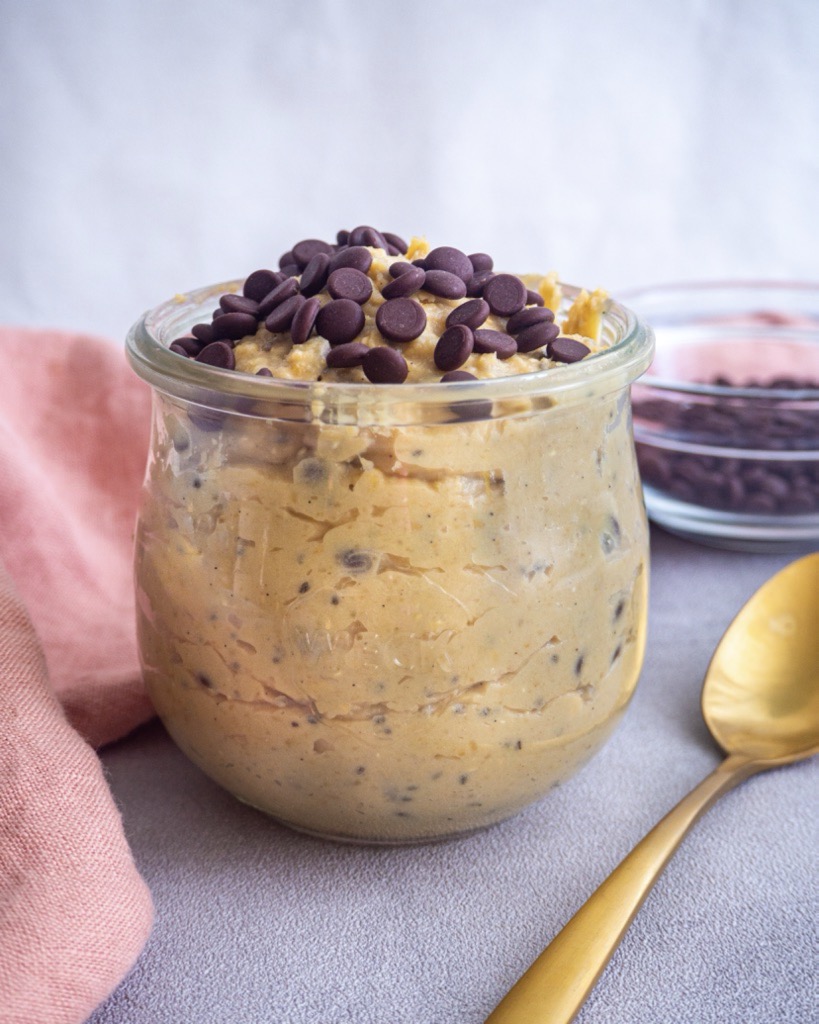 As always, I'm a little late with my Halloween snack. I just can't help it. Be curious when I will upload the first Christmas recipes! ;-)) On the one hand I didn't have to make a Halloween recipe at all but on the other hand, I like Halloween so much and since I've wanted to try a Cookie Dough recipe with chickpeas for a long time, I thought I combine it with Halloween.


What ingredients are necessary for a Cookie Dough recipe without eggs?


For this Cookie Dough recipe, you only need 7 ingredients. The main ingredient, of course, are the chickpeas. You can choose either dried chickpeas or canned chickpeas. If you choose the dried version, soak chickpeas in water preferably for 12 – 24 hours. Then boil chickpeas in fresh water (don´t use the water from soaking) for about 1 – 2 hours until they are soft. These chickpeas have even less taste than the canned ones. That's why I recommend you to use dried chickpeas. However, if you want it to be quick, the cookie dough also works well with canned chickpeas. However, you have to rinse the chickpeas and also use a paper towel to dry them.


This cookie dough without eggs consists mainly of chickpeas and nut butter. I chose cashew butter but you can also choose another kind of nut butter. Peanut or almond butter are also very delicious and I think both would fit perfectly in this cookie dough. My healthy vegan chocolate oatmeal cookies also consist mainly of nut butter and oats.


This Cookie Dough recipe is gluten-free, so it is completely made without flour. However, I added some oats to make the dough a little firmer. You can also add almond flour or coconut flour, as in my Cookie Dough Bites recipe. The edible cookie dough should have a nice creamy consistency but if you want to make balls out of it the dough needs to be firmer. Then add more oats and less nut butter or use almond flour.


Additionally, you need a sweetener. I didn't use refined sugar, I used agave syrup. You can also use maple syrup, coconut blossom sugar or another sugar substitute. If you use canned chickpeas, I recommend that you use a little more of the sweetener and adjust to your taste.


Other ingredients you will need for this Edible Cookie Dough: Vanilla extract, chia seeds, and chocolate chips.


How to prepare edible cookie dough?


So this cookie dough recipe is pretty quick and easy to make. You only need about 10 minutes to prepare this recipe, as you make it without baking. But it's important to let the chickpeas drain and use a paper towel to dry them so that you don't have the taste of the chickpeas in your Cookie Dough.


For this cookie dough recipe without eggs, you need a blender, a mixing bowl, a whisk and a jar for your Cookie Dough. If you want to make balls, I recommend using an ice cream former. However, this recipe is not very suitable for Cookie Dough balls because they have to be firmer. I have already described how you could solve the problem under the topic ingredients if you want to make Cookie Dough Bites. By putting the balls in the fridge and coating them with chocolate, it worked quite well but otherwise, I wouldn't recommend it.


Put all your ingredients except the chocolate chips in a blender and mix until your Cookie Dough reaches a creamy consistency. When you remove the skin from the chickpeas the consistency becomes even softer.


Stir everything well again in a mixing bowl and then add chocolate chips. Process the chocolate chips well into your dough. Then you can enjoy the Cookie Dough!


Why is this Cookie Dough recipe so healthy?


This cookie dough without eggs is healthier than other Cookie Dough alternatives because it is mainly made of chickpeas and nut butter. Usually, the cookie dough consists of dough, sugar, and butter.


I am a big fan of chickpeas and can only encourage you to include them more often in your meals, especially as a vegan and vegetarian. Chickpeas not only satiate well, but they are also rich in protein and therefore the perfect meat substitute. Chickpeas also contain plenty of minerals and fibre. You can do so much with chickpeas, whether it's hummus, falafel, curry, or simply add them to your pasta sauce, Buddha Bowl, etc. And even better now you can make a healthy sweet snack with them! It couldn't be better. I would also say that chickpeas have helped me to really get into the vegan diet. By the way, my vegan yellow curry with tofu is ready in 15 minutes and the recipe also contains chickpeas.


By adding cashew butter, this Cookie Dough recipe becomes a real energizer. Cashews are a good source of magnesium and phosphorus. Magnesium strengthens bones and teeth. Cashew nuts are also rich in protein and vitamins and have a positive effect on the heart. Many people ask themselves "Do nuts make you fat?" or are afraid to eat them because of their fat content. In moderation, nuts definitely don't make you fat. They are even more likely to prevent hunger attacks. In addition, they are a sustainable source of satiety and energy. That's why I suggest you eat a small portion of nuts every day. Or try this delicious raw vegan blueberry cheesecake. This cake consists mainly of cashew nuts.


Cookie Dough Recipe – Halloween Edition
As I wanted to try out a healthy Cookie Dough recipe for a long time, I thought I combine it with Halloween. That's why I made Cookie Dough balls. I let them rest in the fridge for about 1 hour. Then I melted dark and Matcha chocolate and coated the Cookie Dough balls with chocolate. By the way, this is how the Cookie Dough tastes like pralines, super delicious! Then I just attached the eyes on the chocolate, made licorice hair and Frankenstein was born 😀 If you want to create bats, you can cut Oreo cookies in half and press them into your Cookie Dough.


You can keep your Cookie Dough in the fridge for about 7 days.


I would be very happy to get feedback from you! If you try this Edible Cooke Dough recipe, please leave me a comment with a ⭐️ rating. Are you active on Instagram or Facebook? If you post a picture of this Cookie Dough, please link to me with @plantiful.heart so I can see your creation! 🤩


Under the recipe, you'll find a picture I made especially for Pinterest to pin. With the red P (desktop view: left side, mobile phone view: bottom right) you can also simply pin a picture of your choice. If you like this recipe, you can pin it on your Pinterest board.


Ingredients
250

gr

Chickpeas

100

gr

Cashew Butter

45

gr

Chocolate Chips

3 – 5

tbsp

Agave Syrup

As you like

3

tbsp

Oats

1

tbsp

Chia Seeds

2

tbsp

Vanilla Extract
Instructions
Rinse and drain chickpeas. You can easily dry them with a paper towel.

Put all your ingredients except the chocolate chips in a blender and mix until your Cookie Dough reaches a creamy consistency. 

Stir everything well again in a mixing bowl and then add chocolate chips. Process the chocolate chips well into your dough.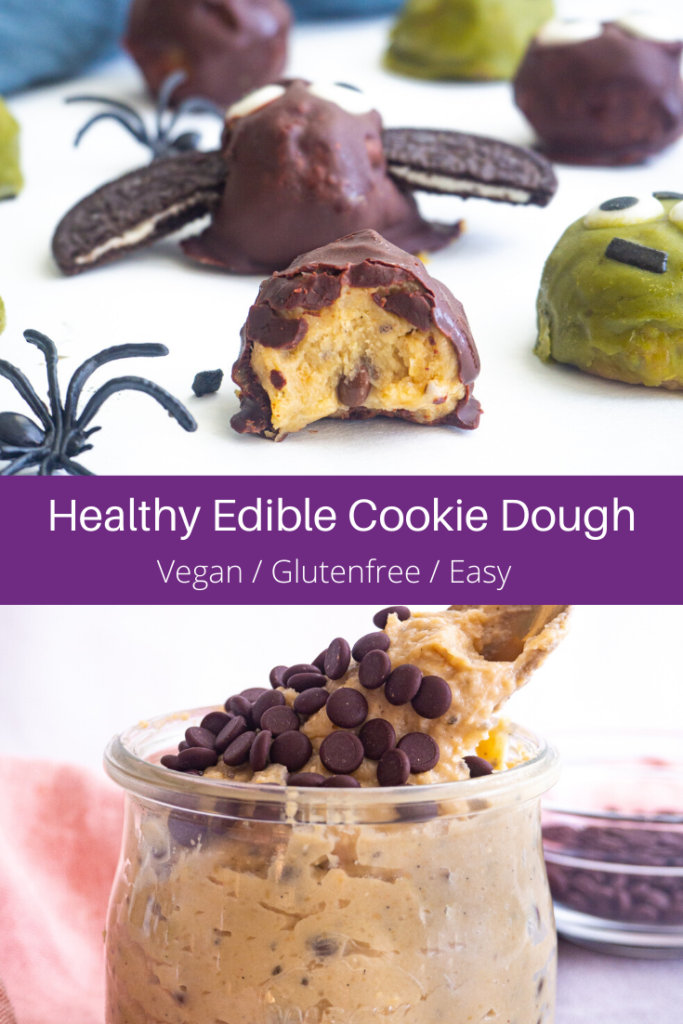 *This page contains affiliate links. When you order a product from these links I get a small commission. Of course, there are no additional costs for you.
---
---