Healthy Peanut Butter Cookies Recipe (Vegan)
Jump to Recipe
These Peanut Butter Cookies not only taste incredibly delicious, but they are also healthy. With a few simple ingredients, they can be mixed together very quickly. Furthermore, the cookies are not only vegan but also gluten-free. They are without refined sugar and they are also very filling due to the addition of peanut butter. So if you want a quick snack, these healthy peanut butter cookies are perfect!
I currently love to create healthy and filling snacks. Often people think it is so complicated to create healthy snacks. But it can also be quite simple. I would like to show you how easy it is to make healthy snacks at home without much effort. I have already created some delicious healthy snack recipes like Strawberry Oatmeal Bars, Energy Balls with Dates and Raspberries as well as Cookie Dough made of chickpeas. All recipes are without sugar and flour. Besides, they are made as easy and quick as these healthy Peanut Butter Cookies. The cookies are made with simple ingredients. I particularly love the combination of peanut butter and chocolate. That's why I have added a few more chocolate chips. The cookies are without flour.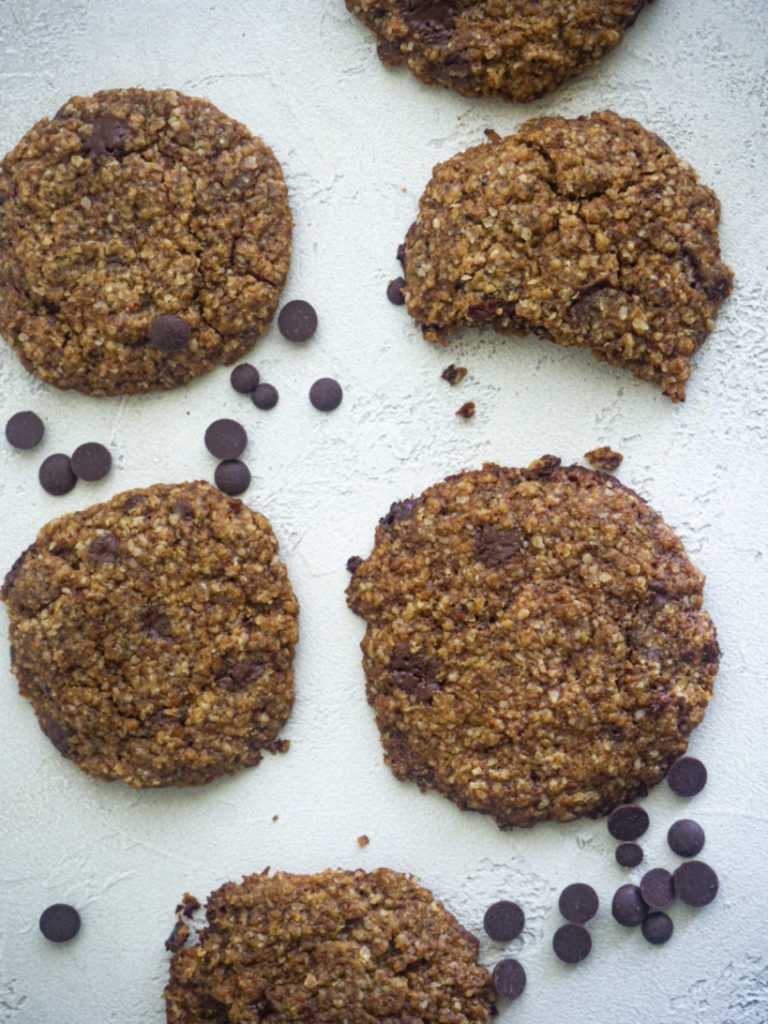 Ingredients Healthy Peanut Butter Cookies
These healthy cookies with peanut butter are suitable for the whole family. You only need a total of 8 ingredients for the recipe which you probably already have stored in the pantry!
Peanut Butter: When buying peanut butter make sure that it is peanut butter without any other additives like sugar. Do you not like peanut butter? You can also replace it with cashew or almond butter.


Oat Flour: You can easily make oat flour yourself. Use fine oats, put them into a chopper and you have oat flour. For gluten-free preparation, make sure you use gluten-free oats or almond flour.


Coconut Blossom Sugar: The slight caramel taste of the coconut blossom sugar goes perfectly with the Peanut Butter Cookies. Of course, you can also use another sugar alternative such as maple, date, or rice syrup. Would you prefer to use sugar? Then I recommend using brown sugar.


Chia-Egg: I used the Chia-Egg as an egg substitute. But you can also use flaxseed eggs.


Oat Milk: To make the dough a little more flexible, add some plant-based milk or water.


More Ingredients: Baking powder, salt, vanilla extract, chocolate chips (optional).
Easy preparation of vegan Peanut Butter Cookies
Step 1: First make the chia or flax seed egg. Make oat flour by putting fine oats into a chopper.
Step 2: Place all the dry ingredients in a mixing bowl and mix with a whisk. Mix the liquid ingredients separately in a mixing bowl.
Step 3: Combine the ingredients together. Knead the dough with your hands until you have a firm mass.
Step 4: Take a heaped tablespoon, shape the dough into balls or use an ice-cream scoop and press the balls down. Don't press the cookie dough too flat because the cookies should remain soft and chewy after baking. If you want to make more crispy cookies, the dough has to be thinner and longer baking time will make the cookies crispy.
How to store vegan Peanut Butter Cookies?

You can keep the cookies for 7 days in an airtight container in the kitchen. For longer storage, keep the cookies in the fridge or freeze them.

Are you looking for more plant-based snacks to-go? Then you might also like the following recipes:
How do you like this recipe?

I would be very happy to get feedback from you! If you try these Peanut Butter Cookies, please leave me a comment with a ⭐️ rating. Are you active on Instagram? If you post a picture of this recipe, please link it to me with @plantiful.heart so I can see your creation! ?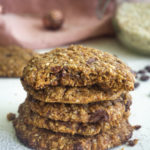 Ingredients
200

gr

Peanut Butter

50-100

gr

Coconut Blossom Sugar

As you like

80

gr

Oat Flour

50

gr

Chocolate Chips

OPTIONAL

30

ml

Oat Milk

1

tbsp

Chia-Egg

1 tbsp Chia Seeds / 3 tbsp Water

1

tbsp

Vanilla Extract

1

tsp

Baking Powder

1/2

tsp

Salt
Instructions
Make the chia egg first. Mix 1 tbsp of chia seeds with 3 tbsp of water and let the chia egg rest for about 15 minutes to get a gel-like consistency. Grind the oats in a blender.

Add all dry ingredients into a mixing bowl: Oat flour, coconut blossom sugar, vanilla extract, baking powder, and salt and mix it together.

Mix the liquid ingredients: peanut butter, oat milk, and the chia egg, separately in a mixing bowl.

Combine the ingredients together. Now add chocolate chips. Knead the dough with your hands until you get a thick mass.

Take a heaped tablespoon, shape the dough into balls, or use an ice cream scoop. Put the balls on a baking tray lined with baking paper and press the cookies down.

The cookies should rather be soft and chewy, so let the cookies bake for about 9-10 minutes. Do you prefer the cookies to be crispier? Then the dough balls should be a little thinner and bake the cookies a little longer (up to 15 minutes).

The cookies must cool down for a few minutes. Otherwise, they will be too soft.
Are you active on Pinterest? and do you like this recipe? Then you can pin the following picture ? You can find the Pinterest Button under the picture.