Vegan Gingerbread Cupcakes with Buttercream Frosting
Jump to Recipe
These moist vegan gingerbread cupcakes are perfect for the Christmas season. These cupcakes are very flavorful because of the gingerbread spice. Together with the creamy rich buttercream Frosting, this dessert tastes heavenly. Designed as reindeer they are also a real eye-catcher ?
My Christmas bakery has opened. The entire December I will only create Christmas recipes. First I start with this sweet reindeer cupcakes recipe. The gingerbread cupcakes are not for weak nerves because they are very rich due to the buttercream Frosting. But this recipe is definitely something for chocolate lovers and gourmets. These Cupcakes, as well as the Frosting, are very easy to make but the recipe is still more time-consuming because of the baking time and the preparation of the Frosting. It's definitely worth trying this Christmas recipe because it's fun to make these cupcakes and they taste like homemade gingerbread.
Vegan Cupcakes with Frosting

For this vegan chocolate cupcake recipe, you mainly need basic ingredients that you often already have at home. I used spelt flour for the dough. This is my absolute favorite flour and as you may already know, I use it very often for my baking recipes. Spelt flour has a slightly nutty taste and it is also richer than wheat flour. I've also used it to make this vegan Zucchini Lemon Muffins recipe and the Apple Pie recipe.
I additionally used oat milk and neutral coconut oil. The coconut oil makes the cupcakes moist. So that this recipe does not contain too much sugar, I decided to mix agave syrup with brown sugar. Because of the sweet buttercream Frosting, you don't need that much sugar. Therefore you can also try to use less sugar or replace it completely with coconut blossom sugar, maple syrup or agave syrup, depending on how you like it most.
Other ingredients you need for these cupcakes are Cocoa powder, baking powder, apple cider vinegar, gingerbread spice, a pinch of salt.
For the Gingerbread Buttercream Frosting, you only need 4 ingredients. The Frosting consists of icing sugar, butter, molasses, and gingerbread spice. These Cupcakes may taste a little bit too much like gingerbread, so I recommend you to replace the gingerbread spice with vanilla extract or cinnamon.
You can also use this basic recipe for other cupcake varieties or simply to make delicious moist chocolate muffins. You can also change the Frosting by adding other spices such as vanilla or cinnamon. You can mix the Frosting with chocolate powder or peanut butter like my Bat Cupcake recipe.
If you're trying another variation of this cupcake recipe, please let me know in the comments!
How to make Gingerbread Cupcakes?
The vegan gingerbread cupcakes are very easy to make but they are time-consuming because of the baking time and the preparation of the frosting. So you have to bring some time!
For these gingerbread cupcakes, you need two mixing bowls, a whisk, and a muffin tin. For the frosting, you need a sieve, a piping bag, and a bowl. I recommend that you use a 12 cup muffin tin, so you only have to bake the cupcakes once in the oven.
First, you take care of the cupcake batter. Put all dry ingredients in a bowl and put the liquid ingredients separately in an extra mixing bowl. Stir everything well. Then, while stirring constantly, mix the liquid ingredients into the dry ingredients. The result is a delicious chocolate mixture that you can try. I admit it, I love to snack the batter 😀 This way you can also check if you still need some sugar.
While the muffins are baking you can prepare the Frosting.
Melt butter in the microwave. Add molasses and sieve the icing sugar into the bowl. It is important that you add icing sugar until the frosting is slightly firmer. Nevertheless, it should remain creamy. Then fill everything into the piping bag and apply the buttercream evenly. I first made a test run to see if the frosting is firm enough and then applied everything.
Now the cute reindeer styling of the cupcakes is still missing. Use pretzels and sugar eyes. For the nose, I used dried currants. You can also decorate the cupcakes with Christmas sugar decorations or put cute Christmas cookies on the buttercream.
These vegan gingerbread cupcakes are
Fluffy
Moist
with Buttercream
Vegan
Perfect for Christmas season
Easy
cute Reindeer
Storage of Cupcakes with Frosting
Because of the buttercream frosting, these cupcakes must be kept in the refrigerator. You should use a storage container to keep the cupcakes fresh. They last about 4 – 5 days. Of course, it is best if you eat cupcakes as soon as possible. The longer you store them the drier they get.
Freezing Cupcakes? In general, you can freeze cupcakes without topping and preserve them for a longer time. But it's different with a frosting. I recommend that you freeze the cupcakes, make the frosting separately and keep it in the fridge. The frosting will last there for several days.
Other delicious vegan chocolate recipes:

How do you like this recipe?

I would be very happy to get feedback from you! If you try this gingerbread cupcakes recipe, please leave me a comment with a ⭐️ rating. Are you active on Instagram? If you post a picture of these cupcakes, please link to me with @plantiful.heart so I can see your creation! ?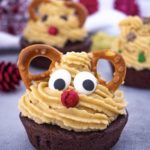 Ingredients
For Cupcakes:
175

gr

Spelt Flour

150

ml

Oat Milk

70

ml

Agave Syrup

70

gr

Brown Sugar

60

ml

Coconut Oil

40

gr

Cocoa Powder

1

tsp

Baking Powder

1

tbsp

Apple Cider Vinegar

1

tbsp

Gingerbread Spice

1

Pinch

of Salt
For Frosting:
350

gr

Powdered Sugar

150

gr

Butter

1

tbsp

Molasses

1-2

tsp

Gingerbread Spice
Instructions
For Cupcakes:
Put spelt flour, brown sugar, cocoa powder, baking powder, gingerbread spice and a pinch of salt in a mixing bowl. Stir everything well.

Mix oat milk, agave syrup, melted coconut oil and apple cider vinegar in a separate mixing bowl.

Then mix the liquid ingredients into the dry ingredients, stirring constantly.

Grease the moulds of your muffin tin and then pour the chocolate dough directly into the muffin moulds.

Bake cupcakes for about 15 – 20 minutes (or do the toothpick test – as soon as it comes out clean, the cupcakes are ready).
For Buttercream Frosting:
Melt butter and place in a bowl. Mix butter with molasses and gingerbread spice.

Sieve the icing sugar bit by bit into the bowl. Mix well. If the buttercream is too soft, add more icing sugar. If the buttercream is too firm, add some milk.

Then fill everything into the piping bag and spread the buttercream evenly on top.
Are you active on Pinterest? and do you like this recipe? Then you can pin the following picture ? You can find the Pinterest Button under the picture.