Raspberry Chocolate Coconut Bars (Bountys) (gluten-free)
Jump to Recipe
Valentine´s Day


Do you guys celebrate Valentine's Day? Basically we don't celebrate this day. I think you shouldn´t just show your love on a certain day but every now and then when you feel like it. But it's nice to give away (not only on Valentine's Day) homemade treats 🙂


Coconut Bars


Actually I didn't want to create a snack for Valentine's Day at all but when I saw coconut bars, inspired by Pinterest, I thought why not?! I like coconut very much (are you also coconut fans?) and then covered with chocolate, that's the perfect snack for me. To make it perfect for Valentine's Day, I've prepared a raspberry version of the coconut bars.


About the Coconut


This bar consists mainly of coconut products. Therefore it doesn't contain flour, soy or nuts. The coconut is a very popular superfood. That is why there are many coconut products on the market today. Coconut is healthy because it contains a lot of fibre and minerals (such as calcium, iron, sodium, potassium). However, coconuts have a high fat content.

I regularly eat coconut products. I prefer to use coconut oil in oatmeal, coconut milk in curry dishes or coconut chips in my bowls (my favorite are chocolate chips – surprise :-)). What are your favourite coconut products?


Preparation


You can prepare this snack very quickly. But you have to let the coconut mass rest for about 3 hours. Nevertheless, it is worth making coconut bars yourself because they taste so delicious, especially mixed with raspberries. I can only recommend it! A good and filling snack for in between.

Raspberry Chocolate Coconut Bars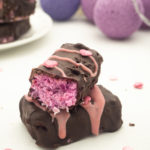 Ingredients
130

gr

desiccated coconut

25

gr

coconut oil

100

gr

coconut milk

(only the fat)

40

gr

frozen raspberries

2

tbsp

agave syrup

1

tsp

vanilla extract

100

gr

dark chocolate

1

pinch of

salt
Instructions
Put all the ingredients in a pot and cook briefly over medium heat.

Once all the ingredients have melted and the mixture is well combined remove the pot from the heat.

Spread the coconut mixture evenly in a bread tin lined with baking paper.

Let the bars rest in a freezer for about 2 hours.

Melt the chocolate and cover bars with chocolate.

Let the bars rest in the fridge for about an hour.