Vegan Lemon Zucchini Muffins
Jump to Recipe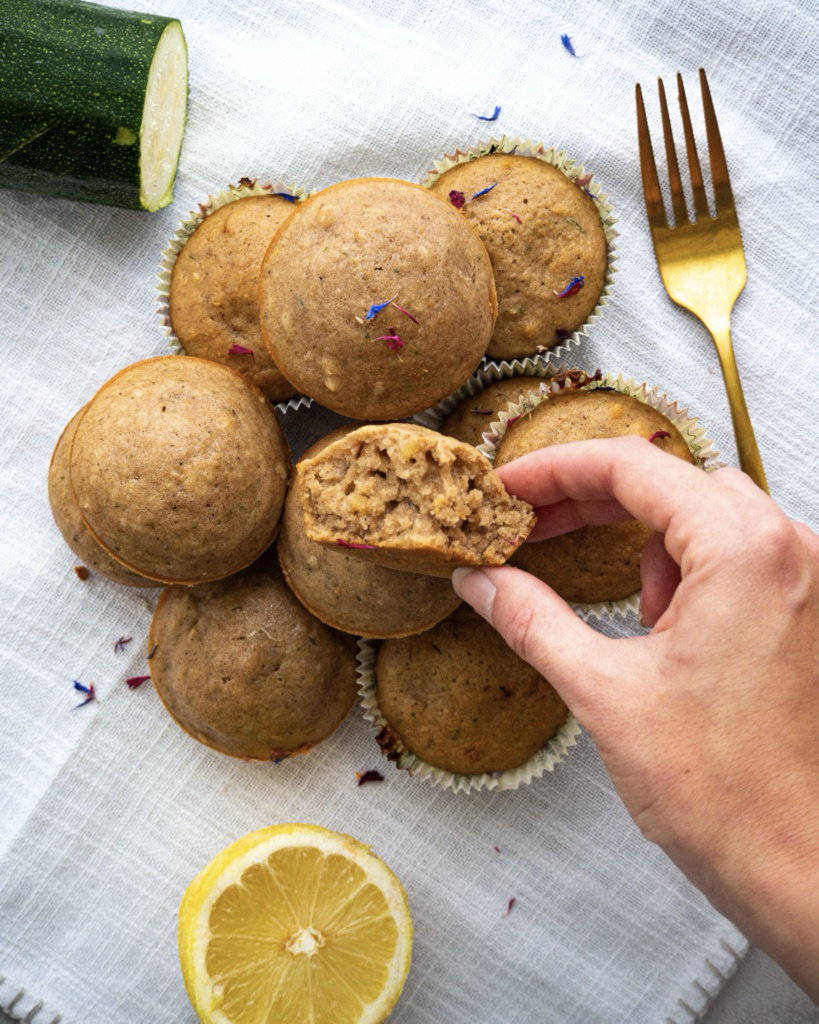 For the first time, I tried a sweet recipe with zucchini and lemon. I hadn't used either for baking before. I definitely missed something because the lemon flavor is refreshing, delicious and the kitchen had a heavenly scent. From now on there will definitely be more recipes with lemon. In combination with zucchini, the muffins get a juicy consistency and a fresh aroma.
Vegan Muffins – Basic Recipe

For this recipe, you only need a few basic ingredients that you often already have at home. This vegan muffin recipe doesn't need a banana as a base ingredient this time. Even if I love bananas for baking you don't always have them at home or you do not want to have the banana taste at all. I usually don't find it so strong when I use them for baking but you can still taste them slightly. If you want to try the banana-based dough then have a look at my Banana Chocolate Chip Muffins recipe!
The dough is made with plant-based milk. I used oat milk like in all my other recipes. I added spelt flour, my absolute favorite! In combination with baking powder and neutral coconut oil, because I did not want the coconut taste in this muffin recipe, this is my basic muffin recipe. The coconut oil and the zucchini give the muffins a moist consistency. That's why I love baking with oil. So you don't need any butter for this recipe and because of that, it is healthier.
I personally love caramel flavor and therefore often use brown sugar in my recipes. By the way, the good thing about bananas is that they give the recipe a natural sweetness which is a big advantage. I mainly used this for my eggless banana bread. But for this recipe, you definitely need a sweetener. That's why I recommend using maple syrup or coconut blossom sugar if you want it to be completely sugar-free.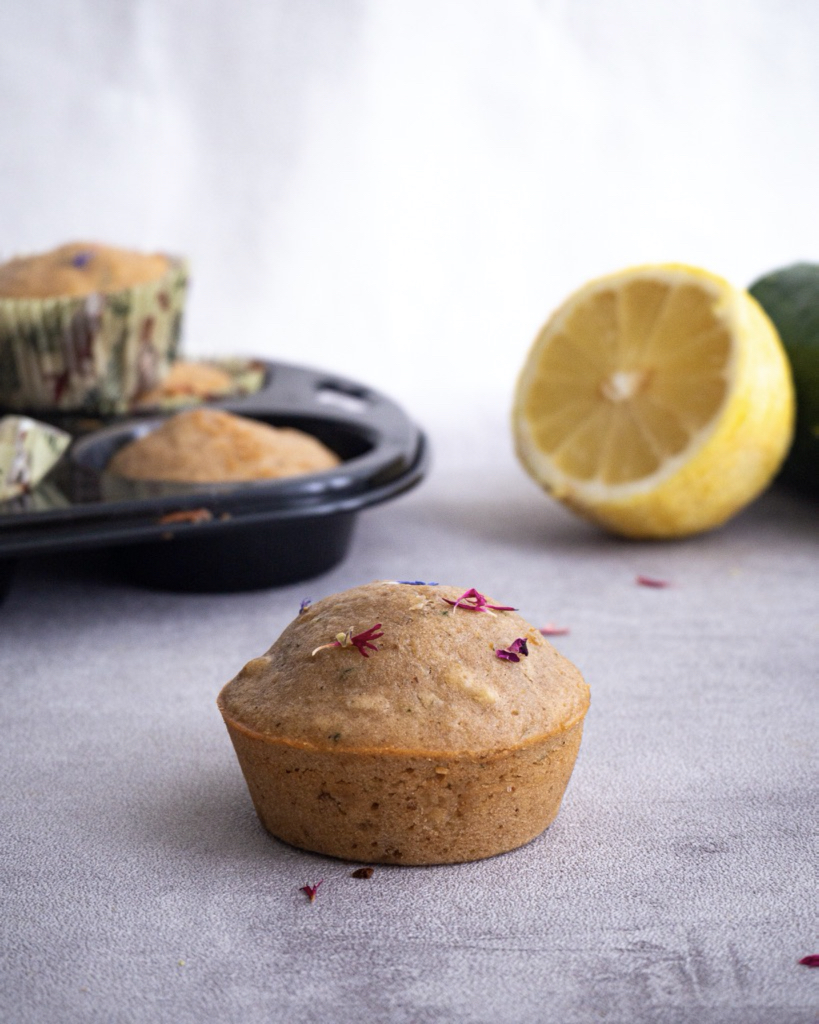 How do you make zucchini lemon muffins?

For this zucchini lemon muffin recipe, you need bowls and very importantly a grater for the zucchini and lemon peel. They have to be shredded small so that they can be easily processed into the dough. For grinding nuts, I use a mortar. This is very quick and easy to use. Otherwise, you also need a muffin tin which is available with 6 or 12 cups. I recommend the 12 cup muffin tin because usually you'll always have more than 6 muffins or cupcakes.
First grate zucchini and lemon zest finely, grind walnuts into small pieces and squeeze out the zucchini shreds so that you don't have too much liquid in the dough.
Mix dry ingredients together and liquid ingredients separately including zucchini and lemon shreds. Then mix liquid ingredients with dry ingredients while stirring constantly.
I learned something during this baking process and I would like to pass it on to you 🙂 It is best not to use paper cups. On the one hand, it is unnecessary trash, on the other hand, the muffins often stick to it and they are actually not quite as juicy. But I only noticed that because I first used the paper cups and then tried it completely without them. You can simply grease the moulds and then put your dough directly into the muffin cups.
Healthy baking – is that possible?

Definitely yes, you can at least make cakes and muffins healthier. There are so many ways to bake healthy nowadays and it's so much healthier than buying a muffin or cake on the road or ready to eat at the supermarket. The finished products often contain a lot of sugar, butter, and other additives.
That's why I recommend that you just try out different recipes in the kitchen and find out what tastes good for you. The addition of vegetables and fruit of course also brings an advantage but it doesn't make pastries directly healthy. It depends on the combination. It is important which flour you use or if you use flour at all, how much sugar you add (if at all – there are so many ways to bake without sugar) and which oil you use. The addition of fruit or vegetables automatically makes your pastries juicier and richer in vitamins like my vegan carrot cake with cream cheese frosting, strawberry banana bread with glaze or raw vegan blueberry cheesecake.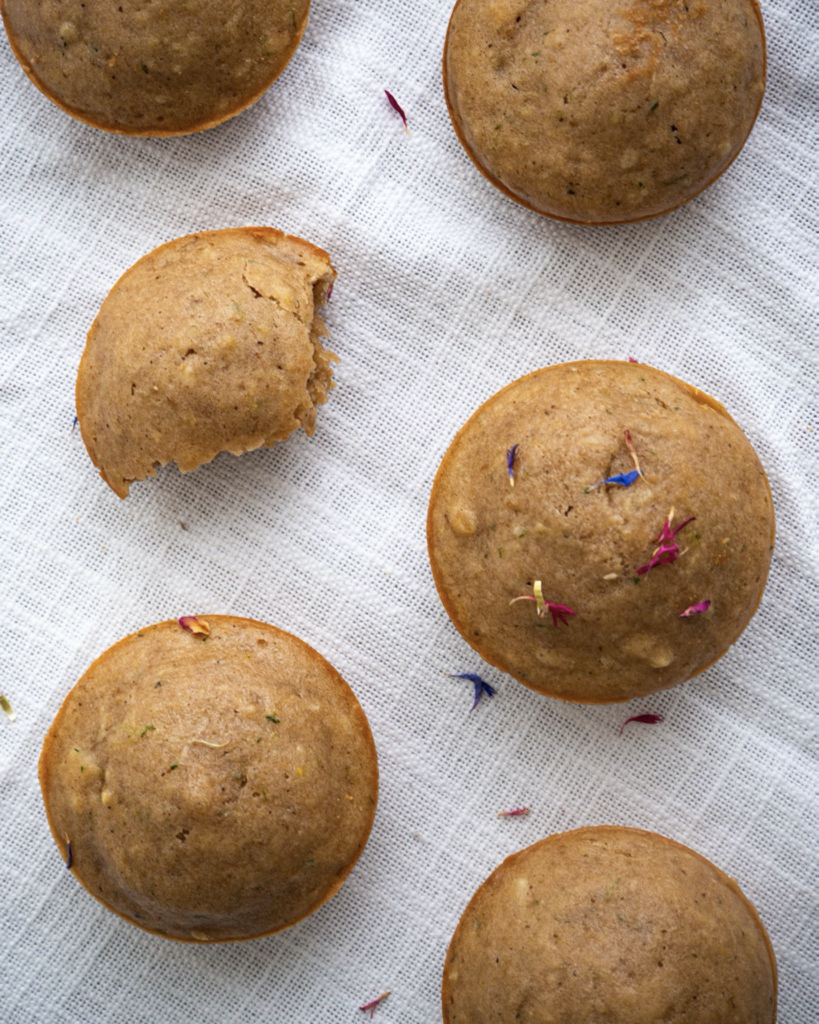 Be sure to try these zucchini lemon muffins because they are

Egg-free
vegan
Moist
Easy and quick to make
Perfect for breakfast or as a snack
Crunchy because of walnuts
Super delicious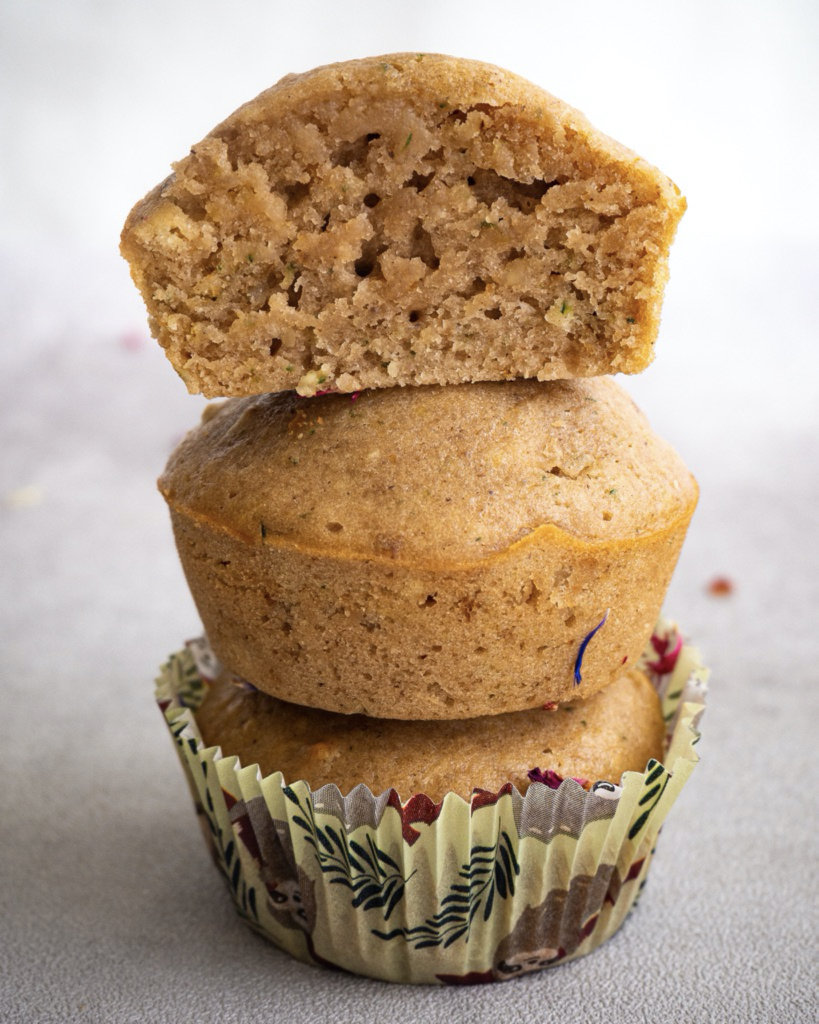 How do you like this recipe?
I would be very happy to get feedback from you! If you try these Zucchini Lemon Muffins, please leave me a comment with a ⭐️ rating. Are you active on Instagram? If you post a picture of this recipe, please link it to me with @plantiful.heart so I can see your creation! ?
Vegan Zucchini Lemon Muffins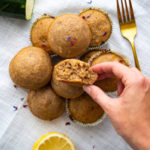 Ingredients
270

ml

Oat Milk

240

gr

Spelt Flour

1/2 – 1

Zucchini

1

Lemon

30

gr

Walnuts

2

tbsp

Baking Powder

100

gr

Brown Sugar

Healthy Alternative: Maple or Agave Syrup, Coconut Sugar

65

ml

Coconut Oil

1

tbsp

Vanilla Extract

1

pinch of

Salt
Instructions
Grind nuts, grate Zucchini and Lemon Zest -> Squeeze zucchini shreds, so you don't have too much liquid in the dough.

Mix spelt flour, walnuts, baking powder, brown sugar, vanilla extract, and salt together and oat milk as well as coconut oil separately including zucchini and lemon shreds.

Then stir wet ingredients into dry ingredients.

Divide batter into muffin tin and bake the muffins for about 15 – 20 minutes (or do the toothpick test – as soon as it comes out clean the muffins are ready).
Are you active on Pinterest? and do you like this recipe? Then you can pin the following picture ? You can find the Pinterest Button under the picture.