Healthy Pumpkin Bars with Chocolate Chips
Jump to Recipe
These pumpkin bars with chocolate chips are moist, fluffy and super delicious. In addition, they consist mainly of healthy ingredients and are easy to make. Pumpkin Spice makes them very aromatic. This is the perfect snack for autumn!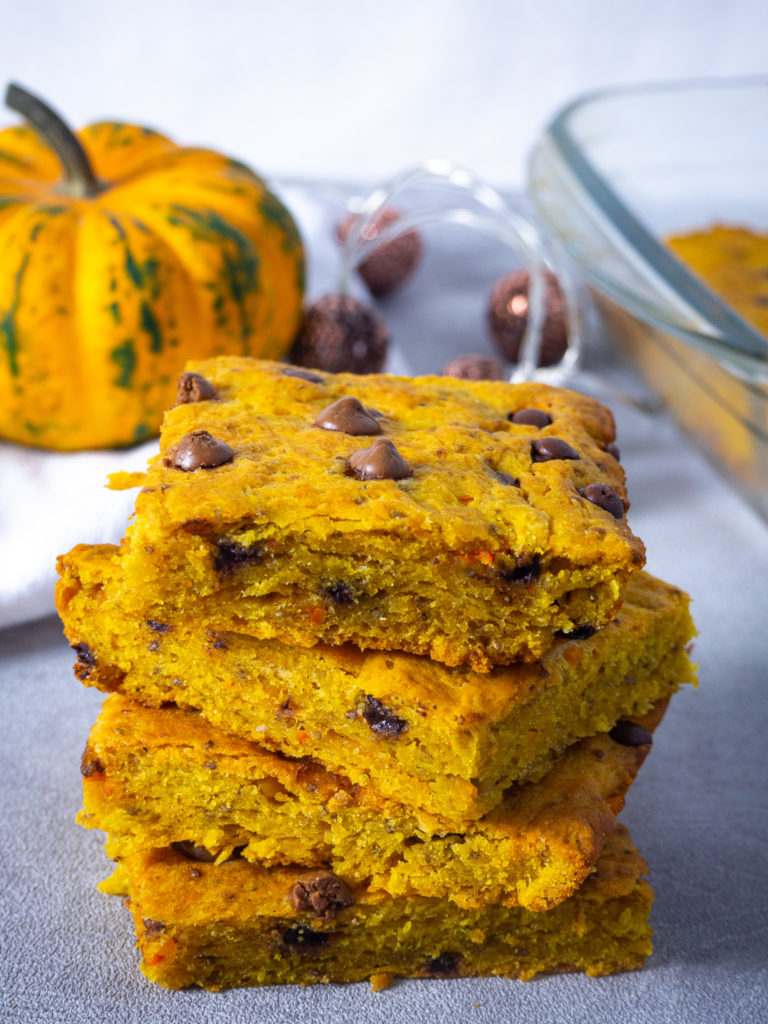 Right now I'm in a pumpkin baking and cooking fever. That's why I made pumpkin bars with chocolate chips this time. A healthy autumn snack for in between or for a quick breakfast. These bars are very filling because of the pumpkin puree and in combination with chocolate chips they simply taste heavenly.


Which ingredients do you need for these pumpkin bars with chocolate chips?


For these healthy pumpkin bars with chocolate chips, you need pumpkin puree. By the way, you can prepare it yourself very quickly. Either you cook your pumpkin pieces in salted water for about 15 minutes, as already described in my pumpkin pancakes recipe. Or you can do it almost without cutting because you can simply cut the pumpkin into two halves and remove the seeds. Spread your pumpkin halves with oil and roast them in the oven for about 30 minutes. I also used the Hokkaido pumpkin for this recipe. You can use the peel as well. However, I recommend removing the peel for this recipe because it remains harder than the pumpkin meat and therefore it is more difficult to process it into a puree.


In addition, you will need flour. I have decided to use spelt flour. As you may already know, I prefer to use this flour. I love the nutty taste and it is more nutritious than white flour. Of course, you can use flour of your choice. If you want to prepare these pumpkin bars with chocolate chips gluten-free, you can use a mixture of ground oats (about 200 gr) and almonds (50 gr) or gluten-free flour.


You will need two Chia eggs but theoretically, you can also use 1 1/2 TL baking powder and 1 TL cider vinegar. This is how I made pumpkin bars last time. The Chia egg makes these pumpkin bars even fluffier and healthier because Chia seeds are rich in omega-3 fatty acids. You can find out how to make a Chia egg in my healthy vegan chocolate oatmeal cookies recipe.


Oil is also important for these pumpkin bars with chocolate chip, making them moister. For this recipe, I used neutral coconut oil so they don't have a coconut flavor.


I used agave syrup as a sugar substitute. You can also use coconut blossom sugar, maple syrup or date syrup as a healthier alternative to sugar.


Other ingredients you'll need: Baking powder, Chocolate chips, Pumpkin Spice, Vanilla extract and Salt.


Preparation of healthy pumpkin bars with chocolate chips


Pumpkin bars with chocolate chips are quick and easy to make especially if you still have pumpkin puree left. For this recipe you only need two mixing bowls, a baking dish and a whisk. Alternatively, you can use a hand mixer.
In a mixing bowl whisk together flour, salt, baking powder, and vanilla extract. Combine all wet ingredients separately in a bowl. Melt coconut oil and pour oil together with agave syrup into the bowl. Add your Chia eggs and whisk it all together. Then add your pumpkin puree and the chocolate drops, mix again and then slowly add your wet ingredients to the dry ingredients while stirring.


Knead the dough with your hands and spread it evenly in a baking dish. Then put your pumpkin cake blondies in the oven for about 20 – 25 minutes.


Pumpkin Spice – easy to mix at home: You can make Pumpkin Spice quick and easy at home. You only need 5 spices. Mix 4 tsp cinnamon with 2 tsp ginger, 1 tsp nutmeg, 1 tsp cloves, and 1 tsp allspice.


Storing and Serving Pumpkin Bars with Chocolate Chips


The pumpkin bars with chocolate chips get dry quite fast, so I recommend to eat them within 3 days. You don't need to keep your bars in the fridge, just store them covered in the kitchen.


You can also serve your pumpkin bars with a Cream Cheese Frosting. You can find this Frosting in my vegan carrot cake with cream cheese frosting recipe. Then I advise you to keep your blondies in a box refrigerated. This will last up to 4 days.


You can also serve these pumpkin bars with whipped cream or a delicious vanilla ice cream. Additionally, enjoy it with a cup of coffee and the perfect autumn snack is served :-).


Be sure to try these pumpkin bars with chocolate chips because they are


Healthy
Vegan
Delicious
Perfect for Autumn
Easy
with Chocolate
Comfort-Food
Fluffy
I would be very happy to get feedback from you! If you try this Pumpkin Bar recipe, please leave me a comment with a ⭐️ rating. Are you active on Instagram or Facebook? If you post a picture of these pumpkin bars, please link to me with @plantiful.heart so I can see your creation! 🤩


Under the recipe, you'll find a picture I made especially for Pinterest to pin. With the red P (desktop view: left side, mobile phone view: bottom right) you can also simply pin a picture of your choice. If you like this recipe, you can pin it on your Pinterest board.


Pumpkin Bars with Chocolate Chips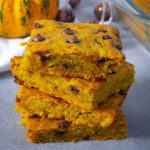 Ingredients
250

gr

Spelt Flour

200

gr

Pumpkin Puree

100

ml

Agave Syrup

100

ml

Coconut Oil

50

gr

Chocolate Chips

2

Chia Eggs

1 1/2

tsp

Baking Powder

1

tsp

Pumpkin Spice

*You can find the recipe in the text above

1

tsp

Vanilla Extract

1

pinch of

Salt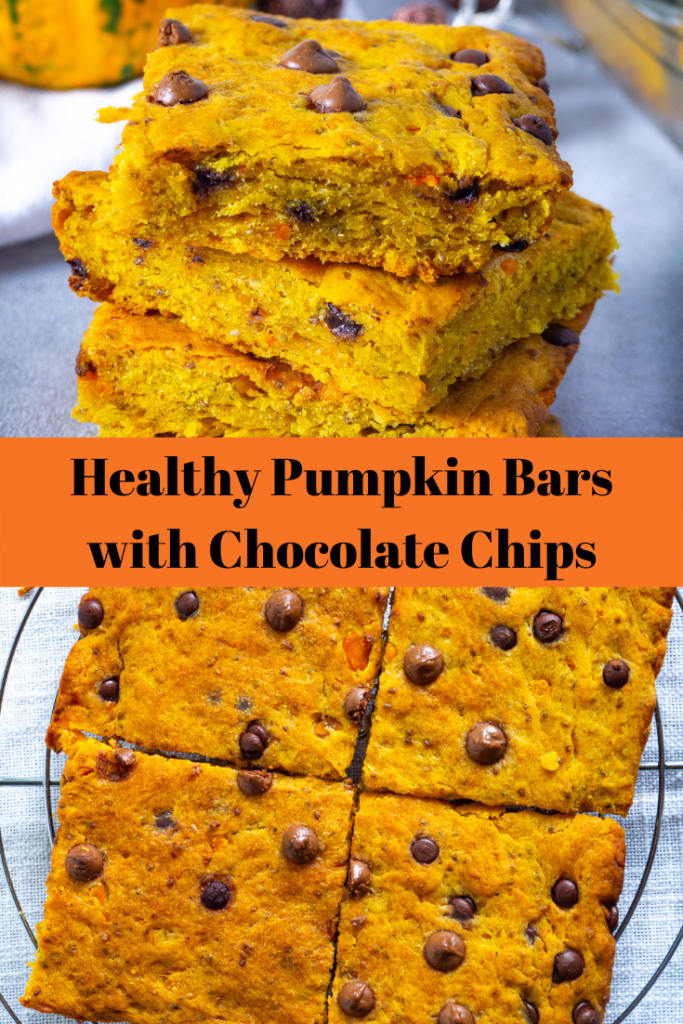 *This page contains affiliate links. When you order a product from these links I get a small commission. Of course, there are no additional costs for you.
---
---