Healthy Vegan Pasta Salad with Pesto Rosso
Jump to Recipe
This pasta salad with Pesto Rosso is perfect for barbecue season. The salad is a refreshing delicious side dish or also suitable as a main dish and it is ready in 15 minutes. The Pesto Rosso is super quick to make and very easy to prepare with just a few ingredients. A healthy and plant-based recipe.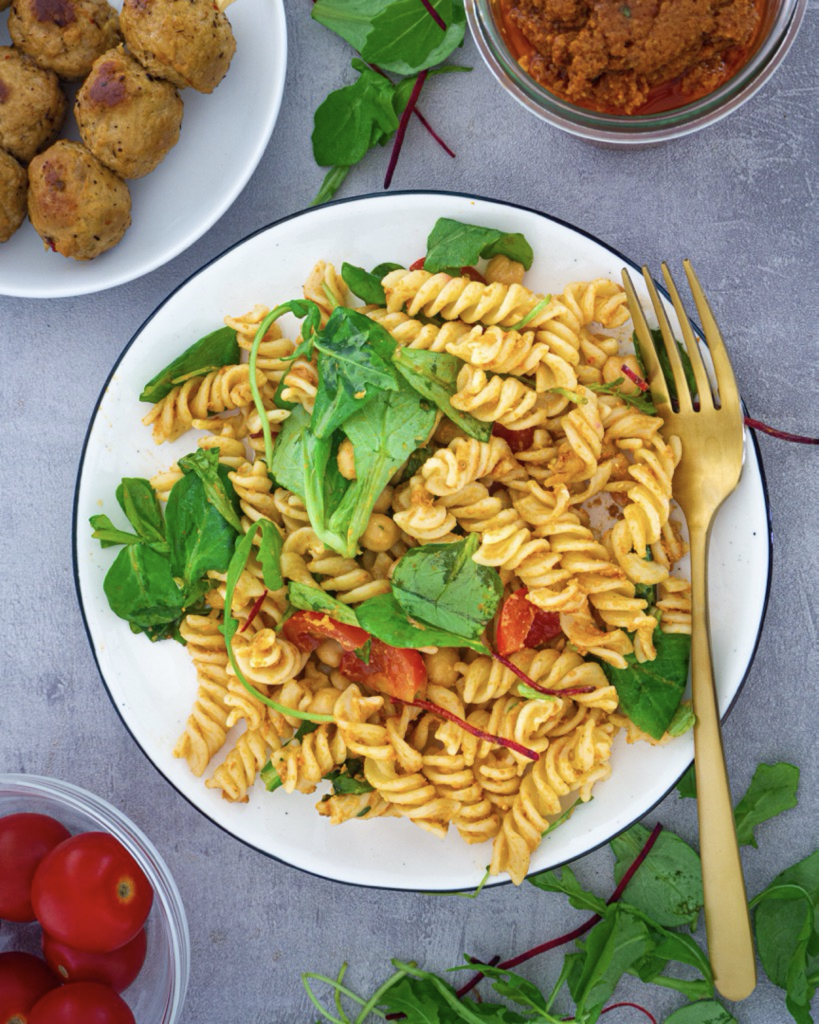 During the barbecue season, delicious plant-based side dishes and meals should not be missing. So this time I have a pasta salad recipe for you which you can use perfectly as a side dish. When I stopped eating meat, I thought the barbecue season would be less exciting for me but I was wrong. There are so many delicious ways to grill vegetables. Since I have been living without meat I try out much more in the kitchen, and even barbecuing has become much more delicious for me. There are so many different salad variations and nowadays there is an enormous variety of meat substitutes so that you don't have to miss anything. If you don't like using meat substitutes, you can also make delicious vegetable skewers and use tofu or tempeh for example.
What do I love most about this salad? First of all, PASTA, as you might have noticed, I am a huge pasta fan :-D. In addition, I really like the combination of rocket and Pesto Rosso. This Pesto is very flavorful and the best thing is that you will have a lot of the pesto leftover and you can use it for several meals!
Would you like to try more pesto varieties? Then I can recommend my Avocado Pesto or the slightly spicy Pesto Calabrese.
Ingredients Pasta Salad with Pesto Rosso

You don't need many ingredients for this vegan pasta salad with Pesto Rosso. It's very easy to make and also super delicious! By the way, would you like to make this dish gluten-free? Then just use corn or legume pasta. The Pesto Rosso is gluten-free.
Which type of pasta goes best with the Pesto Rosso? For this pasta salad, I prefer either fusilli or penne. To make the salad even more nutritious, use spelt or wholegrain pasta.
Other ingredients:
Rocket salad tastes very good in this salad because it is aromatic and slightly nutty. This complements the Pesto Rosso perfectly. But you can also use a salad mixture.


Tomatoes make the salad even more refreshing. That's why I recommend adding a few pieces of fresh tomatoes.


You need dried tomatoes for this pesto. They are aromatic and sweet, so the dried tomatoes are an important flavor component. Keep the oil because it is needed later for the pesto.


Pine nuts taste incredibly delicious when roasted. This is what makes a very intense nutty aroma. Therefore I recommend that you fry the pine nuts briefly in a pan.


Olive oil makes the pesto nice and smooth and also lengthens its shelf life.


Nutritional yeast gives the pesto a slightly cheesy taste. But you can also skip it.


Spices: Basil, garlic, salt, pepper, and Sriracha (optional).
If you try another variation of the pasta salad, please let me know in the comments!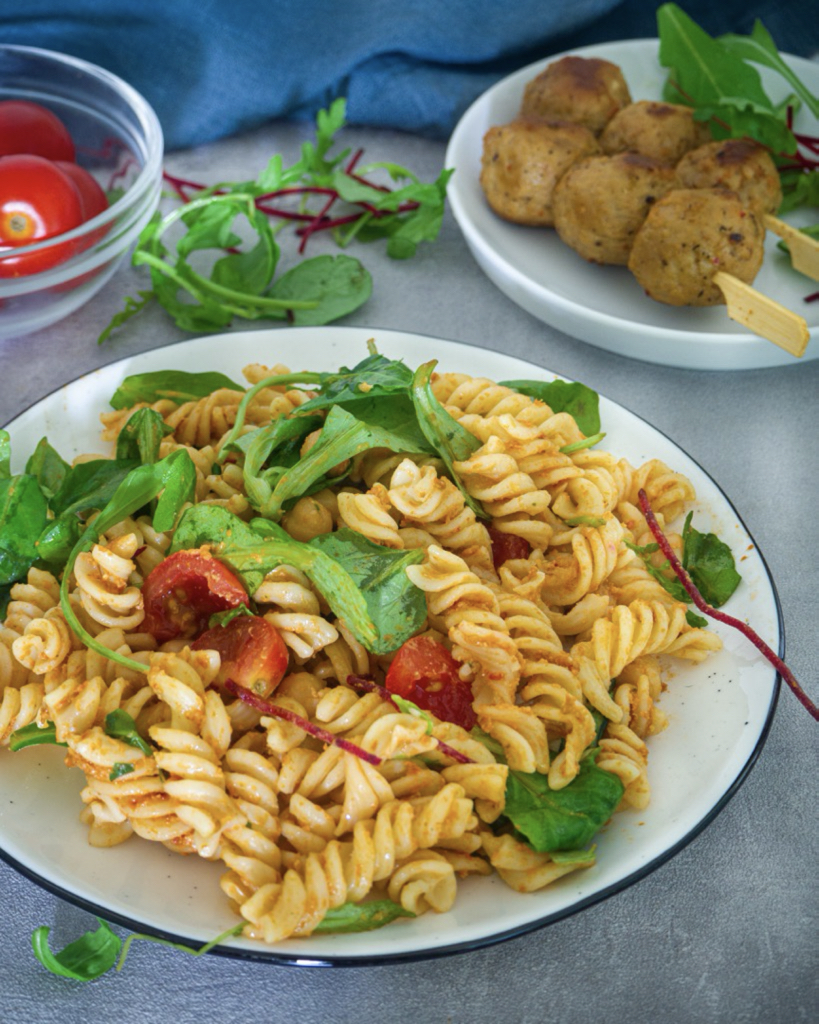 Pasta salad – Healthy and delicious preparation

That pasta salad will be ready in 15 minutes. While you cook the pasta al dente, you can already prepare the Pesto Rosso. Briefly roast the pine nuts in a pan until they are golden brown. Then put all ingredients for the pesto in a blender. Mix all ingredients to a creamy mixture. Check if you have added enough spices to the pesto. If not, add some more.
Why is the dish so healthy? The combination of seeds, spices and vegetables makes the dish healthy and nutritious.
Eating tomatoes regularly is worth it because they contain a lot of vitamin C as well as B vitamins. This improves concentration. Tomatoes also contain important nutrients such as potassium and folic acid. The lycopene contained in the tomato skin is particularly good for us because it has a positive effect on heart health.
Pine nuts are also rich in B vitamins and vitamin A. They contain a lot of fat but that shouldn't scare you off because most of the fats are healthy, unsaturated fatty acids! Pine nuts are a real superfood because they also contain a high amount of magnesium and supply the body with zinc, iron, and iodine.
Rocket salad is not only delicious but is also full of vitamin C, folic acid, magnesium, beta-carotene, and iron. Therefore, the green salad leaves should not be underestimated!
How to store Pesto Rosso: Since you will have a lot of pesto left, I suggest you put the rest in an airtight jar and put a layer of oil on the pesto. This will guarantee the pesto's shelf life for about 4 weeks.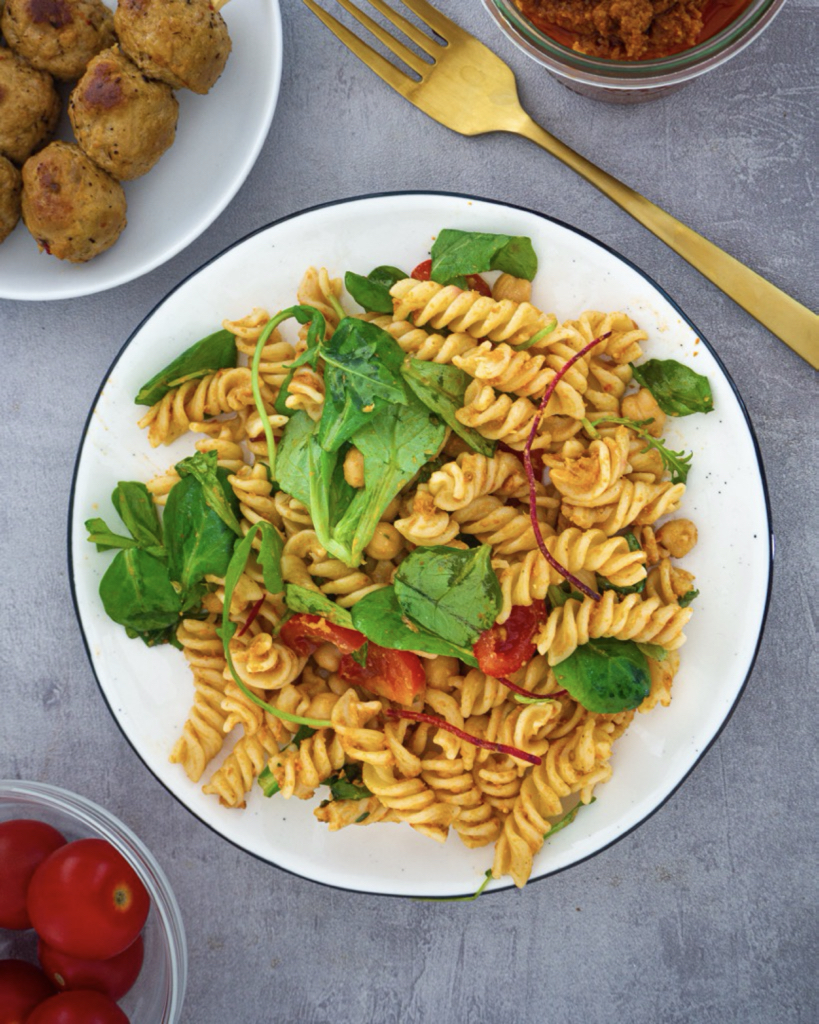 This healthy vegan pasta salad with pesto rosso is
simple
ready in 15 minutes
healthy
very tasty
the perfect side dish for barbecue season
aromatic
filling
savory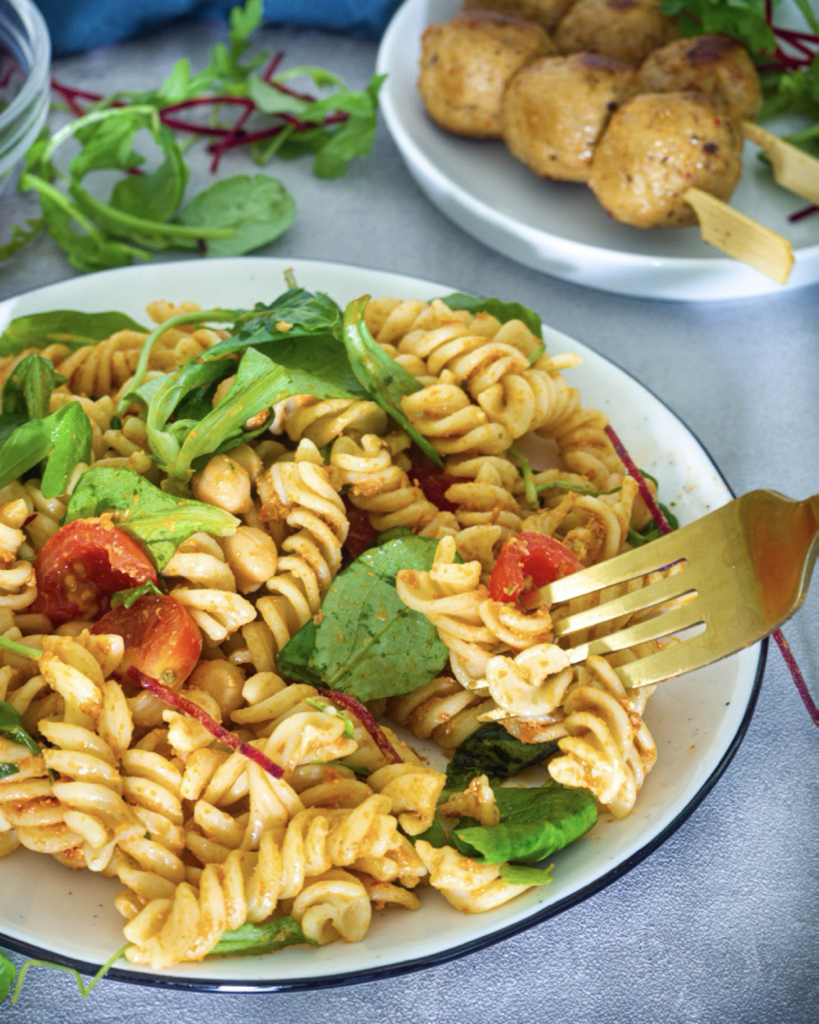 Do you need more delicious and healthy plant-based inspiration for lunch or dinner? Then you might also like the following recipes:

How do you like this recipe?
I would be very happy to get feedback from you! If you try this pasta salad, please leave me a comment with a ⭐️ rating. Are you active on Instagram? If you post a picture of this recipe, please link it to me with @plantiful.heart so I can see your creation! ?
Pasta Salad with Pesto Rosso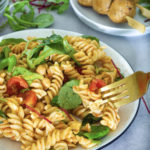 Ingredients
350

gr

Pasta

6

Cherry Tomatoes

2

handfuls

Rocket

1

jar

Dried Tomatoes (in Oil)

80

ml

Olive Oil

incl. oil from dried tomatoes

50

gr

Pine Nuts

30

gr

Nutritional Yeast

1

Garlic Clove

1 – 2

tsp

Sriracha

Optional

Spices: Basil, Salt and Pepper

As you like
Instructions
Cook the pasta al dente according to the instructions on the packet.

Cut the tomatoes in half and roast the pine nuts briefly in a pan until they are golden brown.

Now put the seeds, dried tomatoes, garlic clove, and nutritional yeast into a food processor and chop everything finely.

Add Sriracha, spices as well as oil. Stir well and season to taste.

Rinse the noodles in cold water and mix everything together in a large bowl.
Are you active on Pinterest? and do you like this recipe? Then you can pin the following picture ? You can find the Pinterest Button under the picture.