How to make vegan Tzatziki? (with a Pita recipe)
Jump to Recipe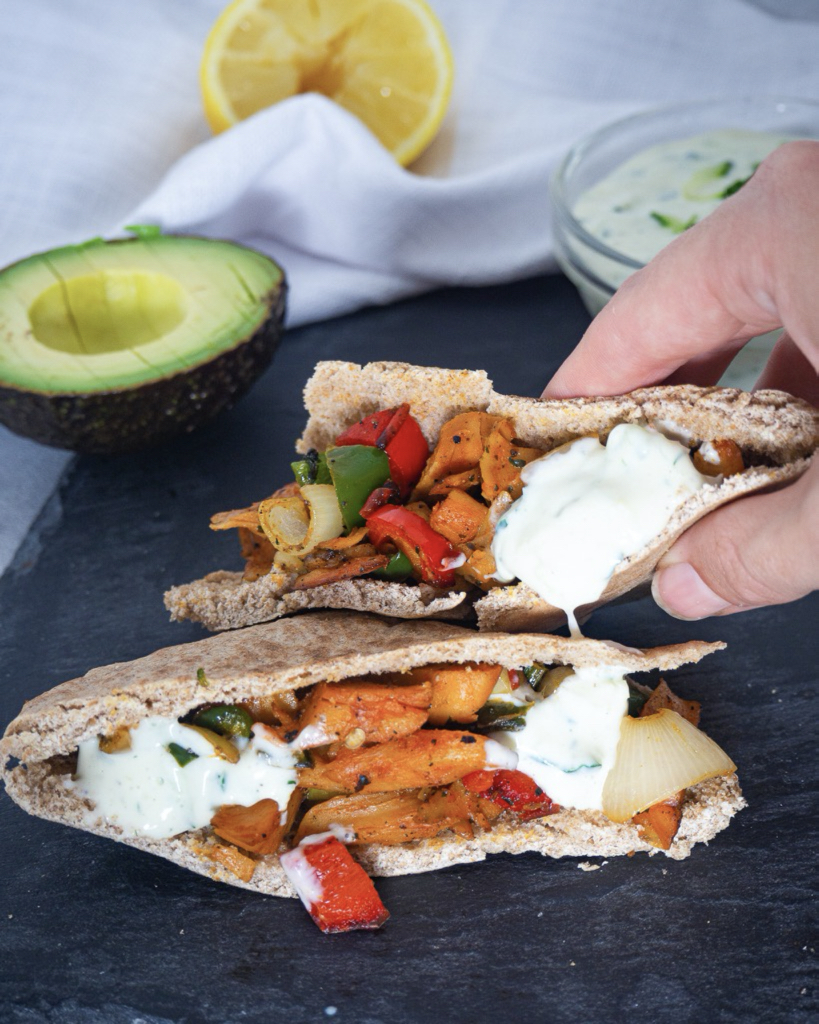 I have been a vegetarian since 2009 and have not eaten a single Greek dish since. I thought it is not possible because the Greek cuisine is very meat-heavy. Since I had wanted to try Tzatziki for a long time I decided to make a complete traditional Greek dish vegan and this is no longer a problem today. Thanks to the meat substitute products, there is such a large choice and possibility to recreate most dishes with meat. I personally think it's really helpful with these products to switch to a vegetarian or vegan diet if you've eaten meat before (which was definitely the case with me) and I've found the transformation with meat substitutes so much easier. Nowadays I don't use them so often because after a while you don't need them anymore. You already know some recipes without meat or how to use Tofu/Tempeh. I'm a big Tofu fan btw. My focus is on a healthy diet and the meat substitutes aren't quite as beneficial. But it is all about balance. I think it's ok to occasionally use meat substitutes.
Now I get back to the recipe. Tzatziki is one of the most famous Greek dishes worldwide and you can buy it in almost every supermarket. But why not make it yourself? This vegan Tzatziki recipe is very simple and with only 6 ingredients very quick to make. It is also a good way to make a simple dip. I think Tzatziki could also be called cucumber garlic dip and who doesn't love a garlic dip?! In any case, I can't get enough of it 😀 In addition to the Tzatziki, I have a vegetable gyros mix with a pita recipe for you.
How to make vegan tzatziki?

Vegan Tzatziki is really quick and easy to make. You only need a few ingredients which you often already have at home. That's why it's worth preparing Tzatziki at home whether it's vegan or not. For the non-vegan version, you can use Natural yogurt or Skyr yogurt. I made two versions because my boyfriend has a soy allergy. So I made Tzatziki with Skyr for him. You can also use Greek yogurt.
What's the difference between Skyr and Natural yogurt? Skyr is from the consistency more like curd. This makes it creamier and tastes a bit sourer. Skyr contains almost no fat as it is made from skimmed milk and is also high in protein. The same goes for vegan skyr which is also rich in protein and is not made from milk but from soybeans.
Since vegan skyr is not everywhere available you can simply use natural soy yogurt. Dill and garlic are important for the flavor. The cucumber shouldn't be forgotten either. For the cucumber, you need a grater because it has to be shredded. Then you should squeeze the water out of the grated cucumber (by hand). Otherwise, your Tzatziki becomes too watery. You can grind dill and garlic cloves with a mortar or use a garlic press for the garlic. Apart from that you only need a bit of lemon juice, olive oil and season your Tzatziki with salt & pepper.
Stuffed pita bread with vegan tzatziki

So what goes best with Tzatziki especially if you want to create a complete Greek dish? Definitely pita bread with gyros 🙂 This dish is also very quick to make as I bought gyros as a meat substitute and this one is already very well seasoned. We fried it with onions. Since we still had Jalapenos at home, we added green and red to it. You can also add red and/or green pepper instead. Finally, we added fresh avocado. This dish is healthy, delicious and ready in 10 minutes. So you should definitely give it a try 🙂
You´ll definitely have some leftovers, so you can store Tzatziki in the fridge for up to 5 days. Preferably in a food container.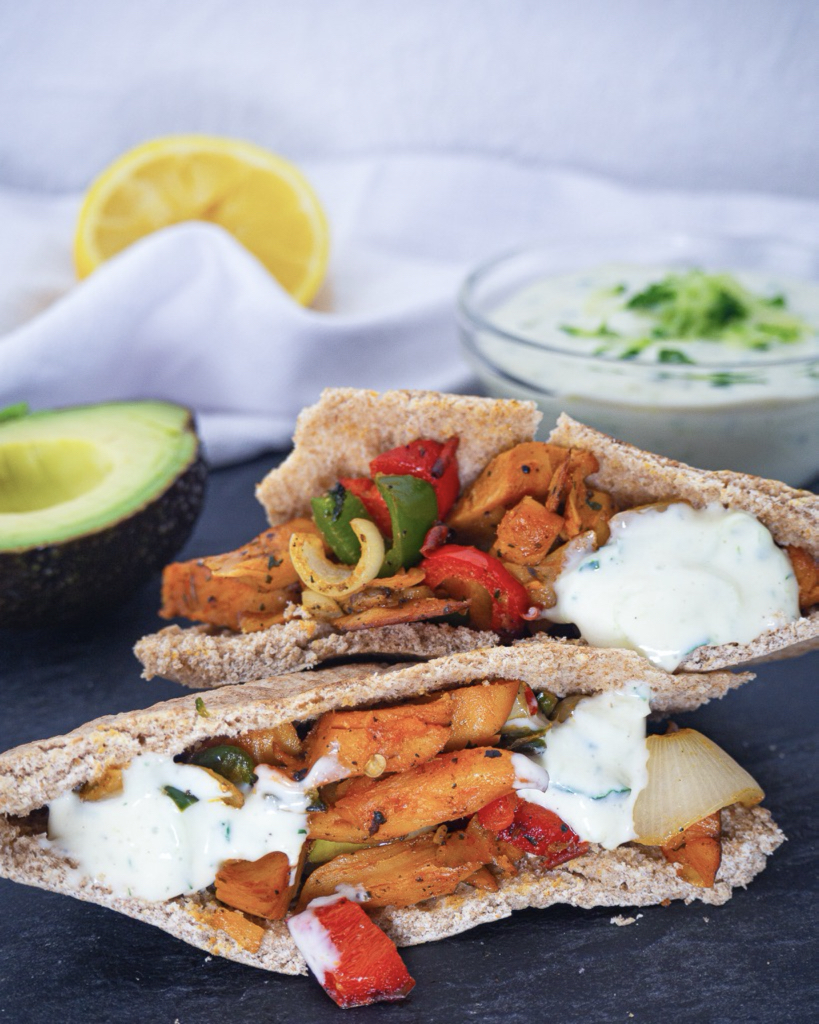 What foods taste good with Tzatziki?

Definitely everything with potatoes
– fried potatoes, boiled potatoes, baked potatoes
Oven Roasted Vegetables
Zucchini Fritters
Pita Bread
Couscous Salad
Samosas
French fries/Nachos
Falafel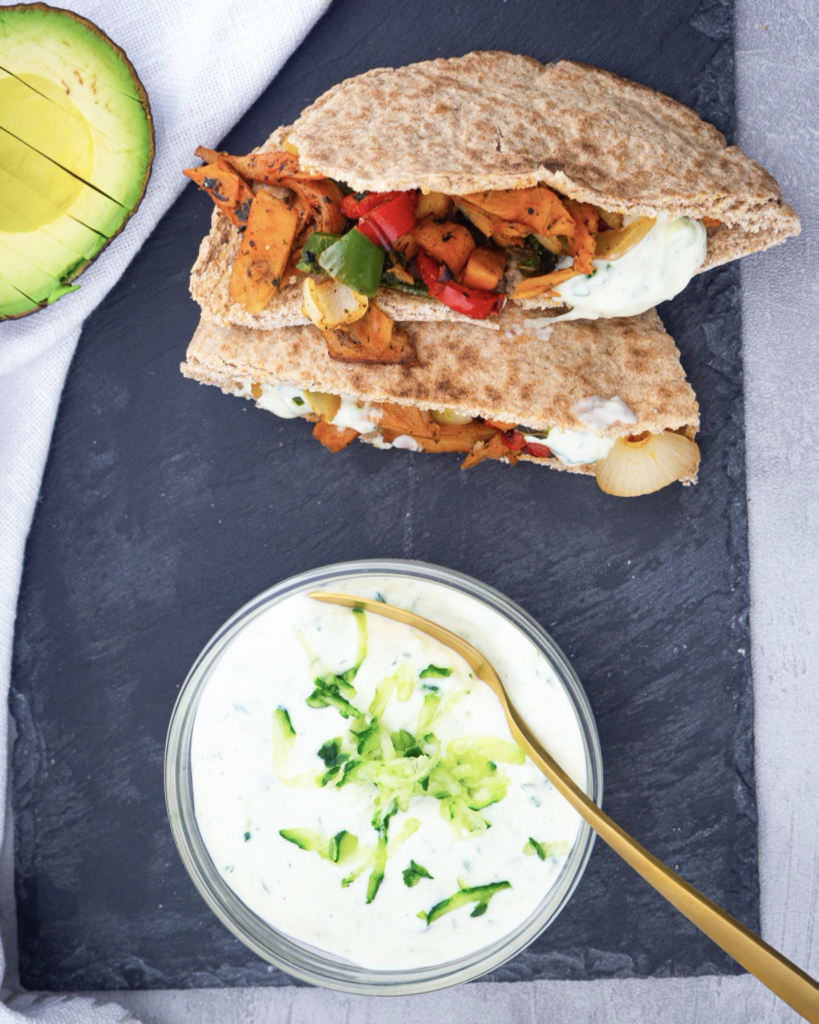 Are you looking for more dinner ideas? Then check out following recipes:

How do you like this recipe?

I would be very happy to get feedback from you! If you try this vegan Tzatziki recipe, please leave me a comment with a ⭐️ rating. Are you active on Instagram or Facebook? If you post a picture of this Tzatziki, please link to me with @plantiful.heart so I can see your creation! 🤩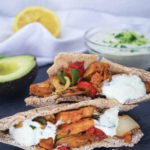 Ingredients
Tzatziki
400

gr

Skyr Soy Yogurt

Alternative: Natural Soy Yogurt

1/2

Cucumber

2-3

Garlic Cloves

2

Dill Stems

1

tbsp

Lemon Juice

2

tbsp

Olive Oil

Salt & Pepper
Stuffed Pita
1

pack

Gyros meat-free alternative

1

Onion

1

Garlic Clove

1

Red or Green Pepper

1/2

Cucumber

1

Avocado

Salt & Pepper
Instructions
Peel garlic cloves, cut them into small pieces and grind with dill in a mortar, grate cucumber -> squeeze cucumber shreds out so that you don't have too much liquid in your Tzatziki.

Put yogurt in a small bowl, add garlic and dill. Stir well.

Now add cucumber to the yogurt and stir it in. Then press lemon juice into your yogurt mixture and add oil. Mix everything again.

Let your Tzatziki rest a little so that the flavor can unfold. Season your Tzatziki with salt and pepper.
Stuffed Pita
Peel onion and garlic clove, then chop into small pieces. Heat some olive oil in a pan. Add onions and garlic and fry a little.

Then add your vegan gyros and peppers. Fry everything until your gyros is crispy. Season your dish with salt and pepper.

Toast your pita bread or briefly heat them in a pan.
Are you active on Pinterest? and do you like this recipe? Then you can pin the following picture 😀 You can find the Pinterest Button under the picture.