Vegan Tikka Masala with Tofu
Jump to Recipe
Tikka Masala is a traditional dish from the Indian kitchen. This recipe contains a great variety of spices and is therefore very flavourful and unique. The creamy curry tastes super delicious in combination with the marinated tofu ( marinated in a yogurt-spice mixture) and the spicy tomato sauce.
Tikka Masala with Tofu (Indian Curry)

I am a big fan of Indian food and I love to try new dishes. I wanted to try Tikka Masala for a long time without any convenience paste from the supermarket and now I have tried it. The result has turned out very delicious and I hope you like the recipe as much as I do! Tikka Masala consists of a spicy tomato sauce and as a marinade, a yogurt mixture is used. The traditional Tikka Masala is prepared with chicken. I replaced the chicken with classic tofu. Therefore this recipe is completely vegan and also gluten-free.
Tofu Tikka Masala – Which ingredients do you need?

For this Tofu Tikka Masala recipe, you need the ingredients for the marinade as well as ingredients for the spicy tomato sauce. As a meat substitute, I have decided to use tofu but the texture is not comparable to chicken. You can also try soy chunks or buy vegan chicken slices if a similar texture is important to you. Tofu is the healthier option and tastes great in combination with the yogurt marinade and sauce. An important step, however, is to squeeze the tofu before preparation so that it is not too soft and the tofu, soaked in the liquid, cannot absorb marinade or spices.
Yogurt is necessary for the tofu marinade. You can easily replace the yogurt with a soy or coconut alternative. The consistency is the same.
The spices are essential in this dish! Some spices are needed for the marinade as well as the sauce. You can find special spices for example online or in the Asia Market. Garam Masala is an Indian spice mixture that is necessary for this dish. Other spices you need: turmeric, salt, pepper, paprika, cumin. Cardamom, cinnamon stick, and curry leaves are optional. Sriracha and the chili garlic paste are also not essential. I love to use these two products and they are a must-have in my curry. You can add the amount of the chili products according to your taste. Depending on how hot you want to have this curry.
The sauce consists of tomatoes, spices, garlic cloves, onion, chili, ginger, pureed tomatoes, coriander, and a cashew puree. You do not have to add the cashew puree but I highly recommend it. It makes the sauce even creamier and richer. It is also the healthier version because cream is often used in the classic Tikka Masala dish.
Are you as addicted to curry as I am? Then you might also be interested in the following curry dishes: Yellow curry with tofu, green coconut Thai curry, Roasted cauliflower with curry or Indian curry madras.
How do you like this Tikka Masala recipe?

I would be very happy to get feedback from you! If you try this Tikka Masala recipe, please leave me a comment with a ⭐️ rating. Are you active on Instagram? If you post a picture of this recipe, please link it to me with @plantiful.heart so I can see your creation! ?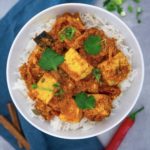 Ingredients
For the Marinade:
1

Tofu

150

gr

Soy Yogurt

1

tsp

grated Ginger

1/2

tsp

Turmeric

1/2

tsp

Garam Masala

1

tsp

Salt

1

tsp

Sriracha and Chili Garlic Paste

OPTIONAL

1

tsp

Paprika Powder
For the Sauce:
5

Tomatoes

or 1 can of diced tomatoes

4

tbsp

Tomato Puree

2

Onions

3

Garlic Cloves

5 – 10

gr

Coriander

As much as you like

1/2 – 1

Chilli Pepper

Depending on preferred hotness

1

tsp

grated Ginger

1

tsp

Garam Masala

1/2

tsp

Turmeric

Salt & Pepper

5

Curry Leaves

OPTIONAL

3

Cardamom

OPTIONAL

1

Cinnamon Stick

OPTIONAL
For the Cashew puree:
60

gr

Cashews

60

ml

Oat milk
Instructions
Marinade:
Cut the tofu into larger square pieces. Grate the ginger and mix everything together with soy yogurt, turmeric, garam masala, salt, and paprika powder. Optionally you can add Sriracha and/or chili garlic paste.

Place the marinated tofu in a lunch box in the refrigerator for 3 hours to allow the spices to soak into the tofu. You can also put the marinated tofu in the fridge overnight.
Cashew puree:
Soak the cashews in a plant-based milk overnight or for at least 3 hours.

Put the soaked cashews in a food processor and puree them.
Sauce:
Peel and cut onion and garlic into small pieces. Also, cut the tomatoes and the chili pepper into small pieces.

Add 3 tablespoons of oil to the pan or wok and add cinnamon stick, cardamom, and curry leaves.

Add the onion and chili and fry for a few minutes.

Add the garlic cloves, ginger, the tomatoes or diced tomatoes as well as the tomato puree and coriander. Let everything simmer for 10 minutes.

Now add the remaining spices as well as the marinated tofu and the cashew puree. If the sauce is too thick or too thin, add some water. Let everything simmer again and serve with basmati rice and naan bread.
Are you active on Pinterest? and do you like this recipe? Then you can pin the following picture ? You can find the Pinterest Button under the picture.