Healthy Vegetable Gyoza (Vegan Dumplings)
Jump to Recipe
Gyoza are Japanese dumplings filled with meat or vegetables. Actually, these dumplings originated in China but they have also become a popular dish in Japan.
Because I am very interested in Japanese cuisine and I also like dumplings very much, I wanted to try them out at home. Gyoza can be prepared in different ways. On the one hand, you can fry them this is a very popular variation. On the other hand, you can steam the vegetable dumplings or cook them in a soup. You could also steam your Gyoza and fry them after that. But I'm not allowed to write so much about it because unfortunately, we burnt the bottoms. Next time we will try it again and hopefully it will work :-). Not everything can always work out. I can only recommend you not to try a recipe out too late in the day ;-). However, the steamed Gyoza turned out very good and in combination with the vegetable filling it was really delicious!


How to prepare vegan Gyoza?


Of course, the dough for Gyoza is very important. You can either buy dumpling wrappers from the Asian Supermarket or make them yourself. The wrappers are usually cut into small round slices. Perfect to form the Gyoza. A little handwork is needed for this recipe 🙂


What's the dough made of? Basically, the dough consists of flour, hot water, and salt. This means that you could make the dough easily yourself but I actually didn't do that. I was too lazy and I have bought it (the handwork was enough for me :-D).


If you want to prepare the vegetable dumplings gluten-free, I recommend that you make the wrappers yourself, using rice flour.


In Japan, Gyoza are traditionally filled with minced meat, chives, onions, garlic, ginger, sesame oil, cabbage, and soy sauce. You could also easily imitate this with a vegan meat substitute or tofu minced meat as described in my vegan Taco recipe with Salsa Verde. But we tried a slightly different mix. It was also super tasty and healthy!


So our Gyoza filling consists of


eggplant
onion
smoked tofu
spring onions
carrots
Chinese cabbage
garlic
chili
sesame oil
Sriracha
soy sauce


As you already know, we can't live without chili so we had to put it in our Gyoza filling. But this is optional and also not traditional. So you can avoid Chili and Sriracha. But If you want an extra thrill, try it out :-)))))


How does a bamboo steamer work?


This bamboo steamer was a present for my boyfriend. Steamers are really cheap, traditional and easy to use. I also think they look pretty, don't you think?! 🙂


You put thin cloths in your bamboo baskets as a base (the cloths are often included with the purchase). Then place your Gyoza on the cloths, close the lid and finally place the basket in a pot or wok. Add some water but the steamer should only be 1 centimeter in the water. Set the stove to a high temperature.


You cook your food very gently with this method. Since it has two layers, you can steam other vegetables or another load of Gyoza?! We definitely had enough Gyoza for both layers.


Which is the best dip for Gyoza?


There are several dips that are very delicious with Gyoza. Such as sesame, peanut butter or chili dips. We have decided to make a sweet and spicy chili dip. This dip is very quick to make with only 8 ingredients. We discovered this dip in a vegan cooking school.


If you want to enjoy the dip mildly, I recommend to simply skip the chili pepper.


How to store Gyoza?


You should definitely figure out how to store Gyoza because you will probably end up with a large number of dumplings. You should take your time and form some Gyoza so that you can simply reheat and enjoy them in the next few days or weeks. The work is worth it :-). You can simply freeze your dumplings and steam them directly frozen.


Tip: Spread vegetable Gyoza on a baking tray. They should have enough distance from each other. Then freeze them for about 2 hours. After that, you can put them all together in a box or bag. This procedure prevents the gyoza from sticking together.


Do you need more healthy dinner or lunch ideas?! Then check out these delicious vegan recipes:


I would be very happy to get feedback from you! If you try these vegetable Gyoza, please leave me a comment with a ⭐️ rating. Are you active on Instagram or Facebook? If you post a picture of this Gyoza recipe, please link it to me with @plantiful.heart so I can see your creation! 🤩


Under the recipe, you'll find a picture I made especially for Pinterest to pin. With the red P (desktop view: left side, mobile phone view: bottom right) you can also simply pin a picture of your choice. If you like this recipe, you can pin it on your Pinterest board.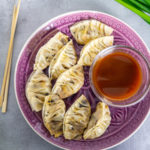 Ingredients
Vegetable Filling
1

Eggplant

1

Onion

1

Smoked Tofu

2

Spring Onions

2

Carrots

3

Garlic Cloves

1/4

Chinese Cabbage

3

tbsp

Soy Sauce

2

tbsp

Sesame Oil

1/2

Chili Pepper

OPTIONAL

3

tbsp

Sriracha

OPTIONAL
Chilidip
1/2

Chili Pepper

2

tbsp

Agave Syrup

3

tbsp

Rice Vinegar

1

Garlic Clove

1

small piece of Ginger

250

ml

Water

2

tbsp

Cornstarch

OPTIONAL
Instructions
Vegetable Filling
Cut vegetables and tofu into very small pieces. Remove seeds from the chilli pepper!

Fry tofu, onions, garlic cloves, carrots and spring onions for a few minutes in sesame oil.

Then add eggplant, cabbage, chilli pepper. Let everything simmer for about 7 – 10 minutes. The vegetables should be well cooked especially the eggplant.
Chilidip
Remove seeds from chili pepper, cut everything into small pieces.

Place all ingredients (except starch) in a pot, boil for a short time and let it simmer for approx. 10 minutes.

Then mix everything and if necessary bind lightly with starch (dissolve in cold water beforehand).
Steaming
Fill your Gyoza, form then and place them on the cloths in the bamboo baskets. Steam your Gyoza for about 10 minutes. You can simply freeze the rest of your Gyoza. They don't have to be steamed beforehand. (If you don't know exactly how the bamboo steamer works, check out the "How does a bamboo steamer work?" section).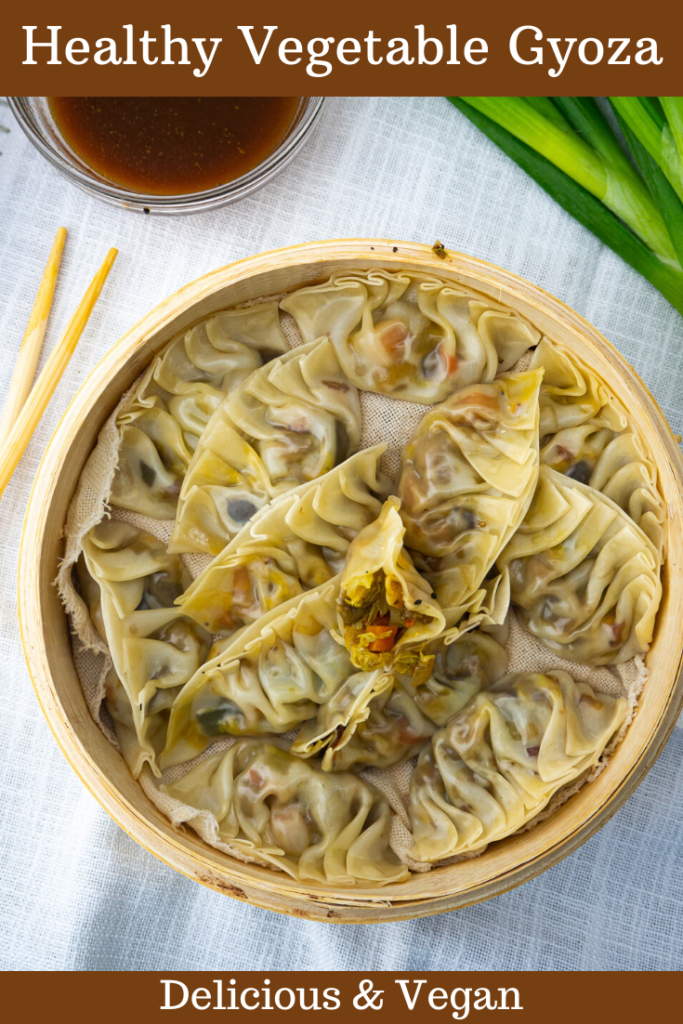 *This page contains affiliate links. When you order a product from these links I get a small commission. Of course, there are no additional costs for you.