Easy Vegan Lentil Bolognese Recipe
Jump to Recipe
This vegan lentil Bolognese is flavorful, healthy and super delicious. The sauce is very easy and quick to make. It is one of my absolute favorite recipes which I cook regularly. Besides, this recipe is perfect for Meal Prep!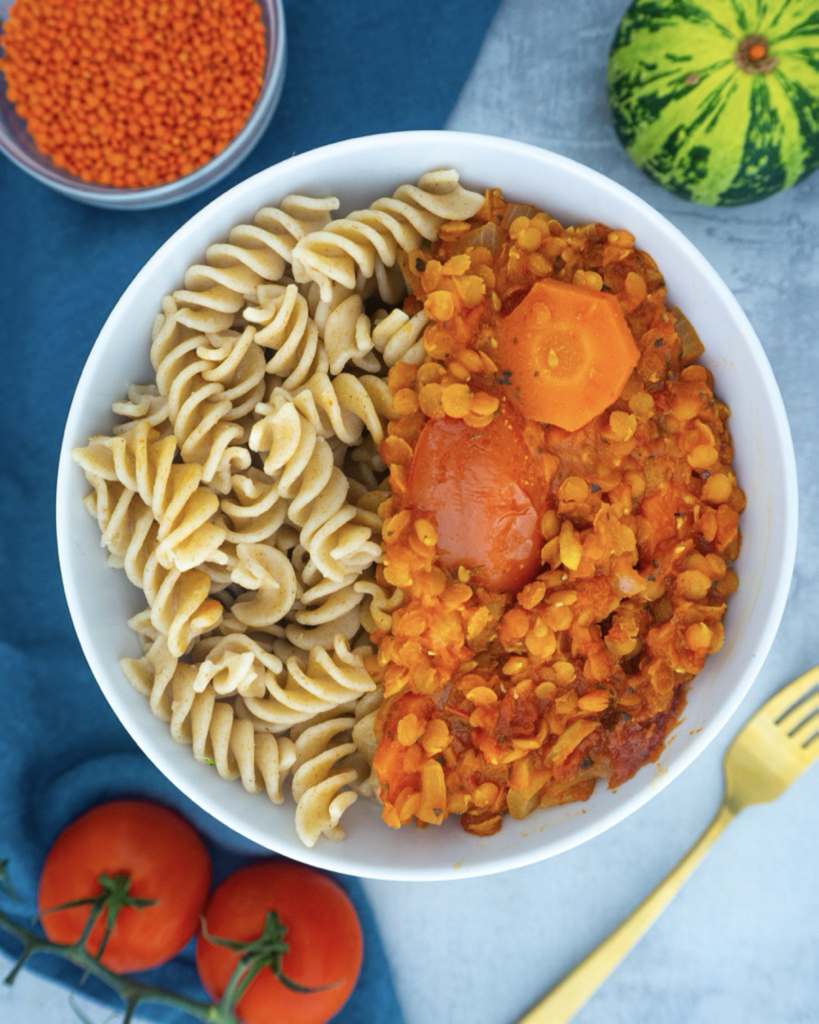 I'm honest with you, I could eat pasta bolognese every day. Back then it was one of my favorite dishes with meat and without meat, it tastes just as good or even better with cooked lentils instead of meat substitutes. This meal is also super easy and quick to make. It is perfect for anyone who has not much time but still wants to prepare something healthy. Besides, the lentil Bolognese is healthy and in combination with spelt pasta this dish tastes super delicious and it also satiates very well.
How do you make a vegan lentil bolognese?

For vegan lentil bolognese, you only need a handful of basic ingredients. Red lentils are of course essential for this Bolognese. But if you don't like red lentils, you can simply replace them with a minced meat substitute. All you have to do is fry the minced meat and let it simmer. By the way, if you add smoked tofu, it gives the Bolognese a delicious flavor!
Otherwise, for the sauce, you need tomato paste and diced tomatoes. I buy these two ingredients regularly. With them, you can easily make a simple tomato sauce too.
For an intensive taste, you should boil the lentils with vegetable broth. I always buy vegetable broth in organic quality with few additives. You can also make the vegetable broth yourself. I will make a separate blog post about that!
Now we need a suitable Pasta sort for the sauce. My favorite flour is spelt, so I love to use spelt or whole-grain pasta. No matter if it is spaghetti, penne or fusilli. Whole grain and spelt pasta fill you longer. They are richer in nutrients and I think they taste better than wheat noodles. But now I get to the point, spelt spaghetti is the best choice for this lentil Bolognese! Alternatively, Fusilli also goes very well with the sauce.
Other ingredients you'll need for this vegan lentil Bolognese: Onions, garlic, carrot, spices.
By the way, this dish is perfect for Meal Prep. You can prepare a large amount of Bolognese and either keep it in the fridge for a few days or freeze it in portions. There's nothing better than getting your dish out of the freezer and just warming it up.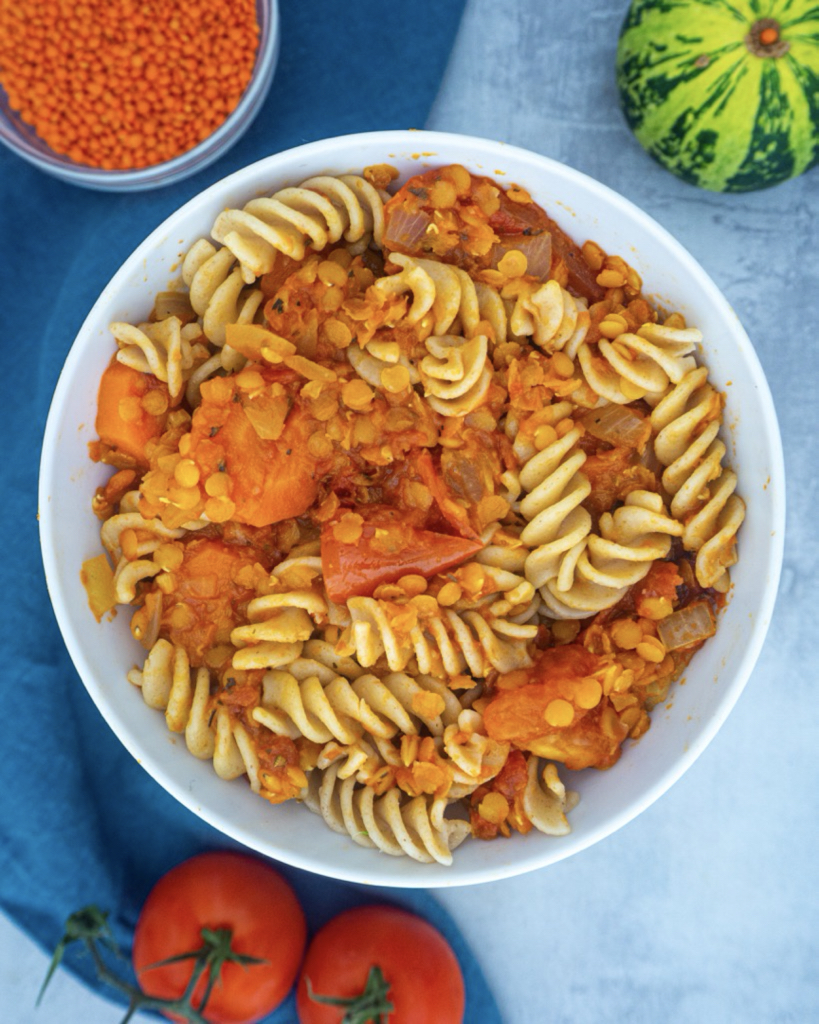 Why is this Bolognese recipe so healthy?

Lentils are healthy and nutritious. They contain more protein than any other legume. Lentils are therefore a good substitute for meat. Lentils are rich in fibre, minerals, and carbohydrates. These ensure that you stay full for a long time.
It is good to eat tomatoes regularly because they contain a lot of Vitamin C as well as B Vitamins. This improves concentration. Tomatoes also contain important nutrients such as potassium and folic acid. The lycopene contained in the tomato skin is particularly good for us because it has a positive effect on heart health and has many other positive effects!
Onion, garlic and carrot complete the dish and also have a positive effect on our health. Onions not only contain vitamins, but they are also healthy because of their many antioxidants. The red onion is particularly rich in Antioxidants. They are so important because they can neutralize free radicals in the body. Garlic also has a similar positive effect on our health. Carrots, on the other hand, contain beta-carotene, which is converted into vitamin A in our body. Vitamin A is important for the eyes and skin as well as for bones and teeth.
You have to try this Vegan Lentil Bolognese recipe because it is

Quick to make
Super delicious
Healthy
Vegan
Flavorful
Simple
Filling
Comfort Food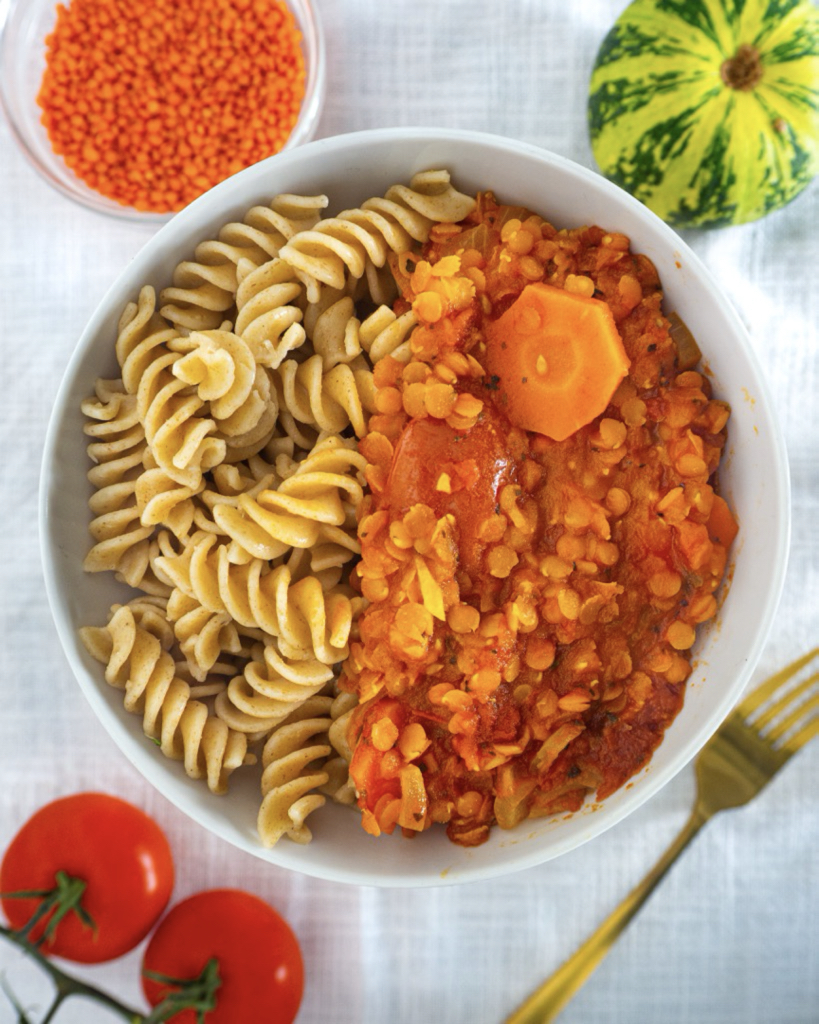 More delicious simple dinner or lunch ideas

How do you like this recipe?

I would be very happy to get feedback from you! If you try this Lentil Bolognese recipe, please leave me a comment with a ⭐️ rating. Are you active on Instagram or Facebook? If you post a picture of this Lentil Bolognese, please link to me with @plantiful.heart so I can see your creation! ?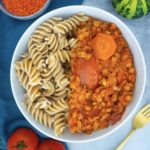 Ingredients
500

ml

Vegetable Stock

100

gr

Red Lentils

200

gr

Diced Tomatoes

5

tbsp

Tomato Paste

1

Carrot

1

Onion

1

Garlic Clove

Spices: Chili, Oregano, Salt, Pepper
Instructions
Peel and cut onion, garlic, and carrot into small pieces.

Heat olive oil in a pan. Fry onions and garlic for a few minutes.

Heat 500 ml of water and mix it with approx. 1 tablespoon of vegetable broth (according to package instructions).

Rinse red lentils with fresh water before boiling. Add carrots, lentils, and tomato paste. Shortly fry everything together.

Then add diced tomatoes and vegetable stock. Bring it to boil.

Simmer at medium heat for 10 – 15 minutes. Season to taste with spices.
Are you active on Pinterest? and do you like this recipe? Then you can pin the following picture ? You can find the Pinterest Button under the picture.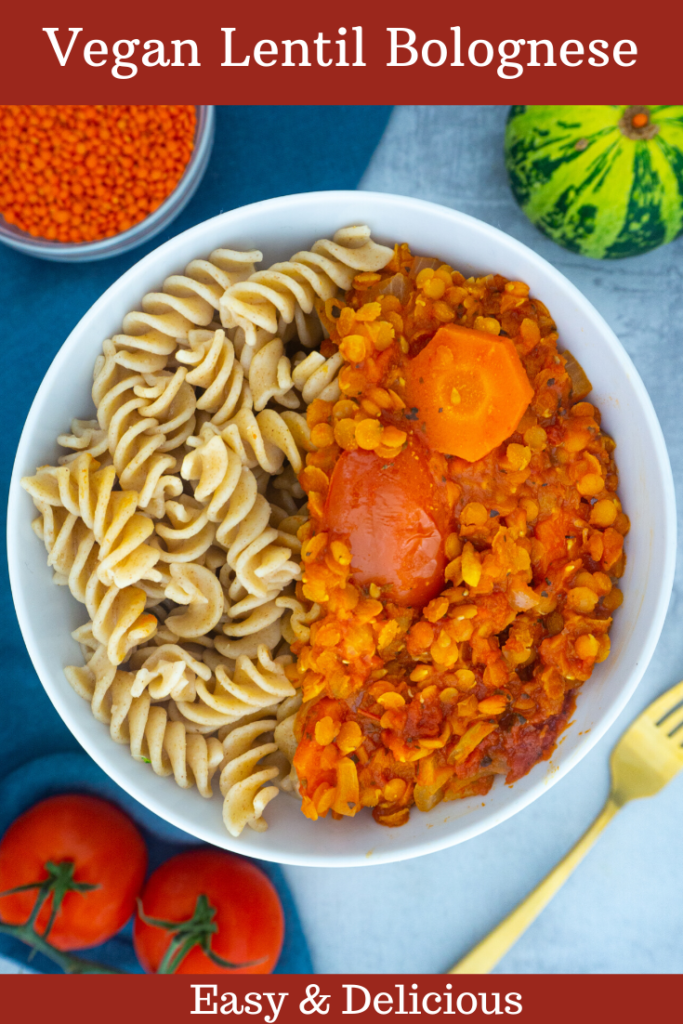 This page contains affiliate links. When you order a product from these links I get a small commission. Of course, there are no additional costs for you.