Vegan Chocolate Mousse with Silken Tofu
Jump to Recipe
Are you looking for a healthier chocolate mousse recipe? Then you have found the right recipe because this chocolate mousse consists mainly of silken tofu. This dessert is also sugar and gluten-free. Silken Tofu makes the Chocolate Mousse very creamy. With only 4 ingredients the recipe is very quick and easy to make. The perfect snack for all chocolate lovers like me!
Chocolate Mousse – A healthier version

I would never have thought that chocolate mousse could be prepared so light, fluffy and also healthier. Besides, it is quick and easy to make. You only need very few ingredients for this recipe. So if you are a fan of chocolate, I recommend trying this chocolate mousse! This vegan chocolate mousse is healthier than some other chocolate cream desserts because it is completely sugar, egg, and dairy-free. This chocolate cream consists of the following ingredients:
Silken Tofu
Dark chocolate
Agave syrup
Vanilla sugar (optional)
Lemon zest (optional)
Silken tofu is very soft and has a higher water content than natural tofu. By the way, my vegan scrambled tofu is also made with silken tofu. Due to the addition of silken tofu, the chocolate mousse is rich in protein, calcium, and iron. Tofu is also very low in calories. By the way, dark chocolate from 70% has less added sugar. Milk chocolate often contains milk powder as well as plenty of sugar and other additives. Therefore I suggest using dark chocolate. Besides, dark chocolate has a positive effect on health but of course only in moderation. Chocolate with a high cocoa content contains antioxidants that counteract oxidative stress and inflammation.
How to make this vegan chocolate mousse?

What do you need to prepare this chocolate mousse? You need a blender to make this chocolate mousse with silken tofu creamy. I melt the chocolate in a water bath first. If you're wondering how that works, check out the Peanut Butter Cups recipe. There I describe how to easily make creamy melted chocolate.
First, melt the chocolate. Place silken tofu, melted chocolate, agave syrup, some vanilla sugar or vanilla extract and lemon zest in a blender. Vanilla sugar and lemon zest are optional. The additional lemon flavor gives the cream a refreshing taste. You can also add some nut butter. It makes this vegan chocolate mousse even richer in nutrients. Mix everything to a creamy mass and put the chocolate cream in the fridge for at least an hour to get this light fluffy consistency.
How to serve and store this chocolate mousse?

I have served the chocolate mousse with coconut yogurt but you can enjoy the chocolate mousse with coconut cream or another yogurt. Nut butter also tastes great with this chocolate mousse.
You can keep the chocolate mousse in a jar in the fridge for up to 3 days.
The vegan chocolate mousse with silken tofu is

Chocolate
Creamy
Vegan
Delicious
Fluffy
Easy to make
A healthier alternative
How do you like this recipe?

I would be very happy to get feedback from you! If you try this Chocolate Mousse, please leave me a comment with a ⭐️ rating. Are you active on Instagram? If you post a picture of this recipe, please link it to me with @plantiful.heart so I can see your creation! ?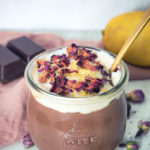 Ingredients
400

gr

Silken tofu

200

gr

Dark Chocolate

2

tbsp

Agave Syrup

2

tbsp

Vanilla Sugar

OPTIONAL

1

tsp

Lemon Zest

OPTIONAL
Instructions
Break the chocolate into small pieces and melt in a water bath.

Once the chocolate has melted stir it with a spoon.

Put all the ingredients in a blender and mix to a creamy chocolate mousse.

Pour the chocolate cream into a glass or bowl and place it in the fridge for at least 1 hour so that the chocolate mousse cools and becomes firm.
Are you active on Pinterest? and do you like this recipe? Then you can pin the following picture ? You can find the Pinterest Button under the picture.