German Vanilla Crescent Cookies
Jump to Recipe
My favorite Christmas cookies are definitely vanilla crescents! Vanilla crescents are traditional German Christmas cookies that taste very delicious and unique because of their flavorful spices. This vegan vanilla crescents recipe is also very easy to make.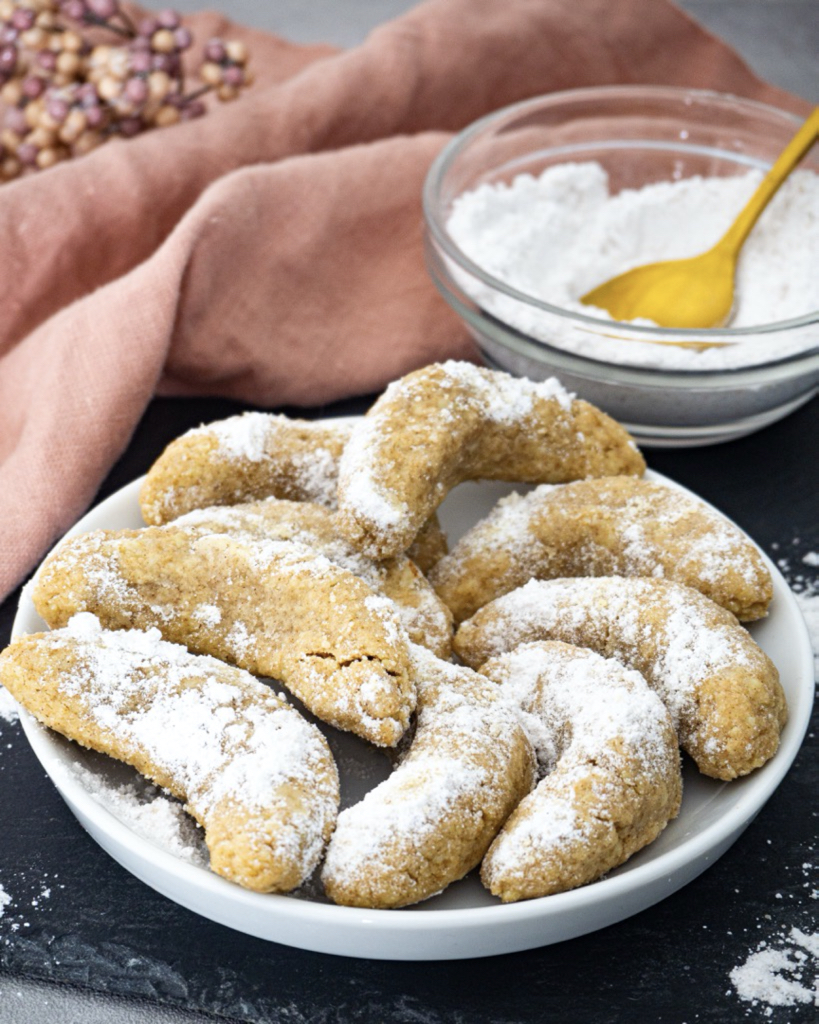 My Christmas bakery now goes into the next round 😀 Christmas without cookies is not possible. That's why I have two delicious and simple cookie recipes for you. First, I'll show you how to prepare the vanilla crescents. These vanilla crescents are soft and so delicious because of the vanilla-almond mixture. By the way, this recipe doesn't contain eggs or dairy products!
Which ingredients do you need for Vanilla Crescent Cookies?

For this vegan vanilla crescent cookie recipe, you need flour. I prefer to use spelt flour for baking like my vegan gingerbread cupcakes with buttercream frosting. Spelt flour is richer than wheat flour and spelt has a more nutty taste. But it is classic to prepare vanilla crescent cookies with wheat flour. This also makes the cookies brighter than the variation with spelt flour.
By the way, this recipe is very easy to make without gluten. Replace spelt flour with gluten-free flour.
Important ingredients for vanilla crescents are definitely ground almonds and vanilla sugar. Almonds and vanilla sugar make these cookies very aromatic. I love this combination! I also added some cinnamon. So these vanilla crescents taste a bit like cinnamon stars. It tastes delicious together and I can only recommend it.
Otherwise, I used a mixture of butter and cashew butter for these cookies. Cashew butter is my favorite among the nut butter variations. Because of the high amount of fat, it can be used as a butter substitute or you can use it additionally. Coconut oil also works very well. Both variants make the vanilla crescents recipe healthier. I have already made delicious healthy vegan chocolate oatmeal cookies based on cashew butter and oats.
You'll also need sugar for this recipe. Because vanilla crescents are traditionally dusted with icing sugar and vanilla sugar, so you don't need to use that much sugar for the dough. I chose brown sugar. You can also use coconut blossom sugar, agave or maple syrup.
Other ingredients you will need for this cookie recipe are salt, cornstarch, and water.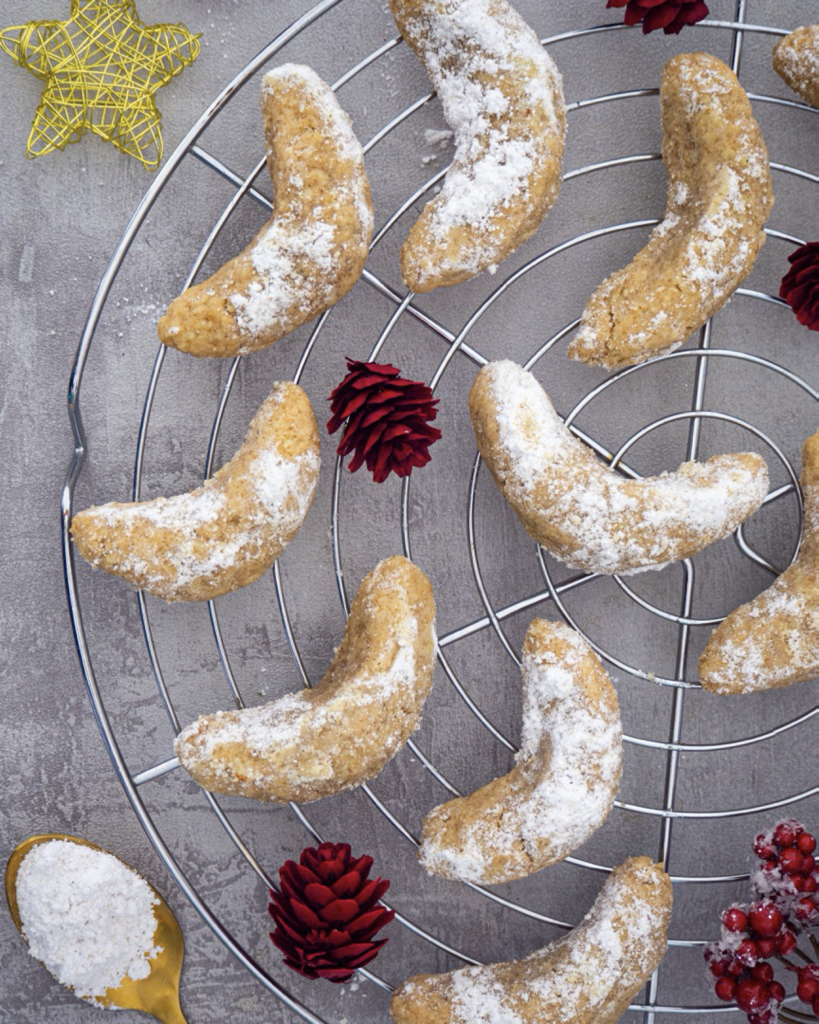 How to prepare vanilla crescent cookies?

Vanilla crescents are easy to make. However, the dough is a bit tough and crumbly, so you have to be patient with the dough :-). But it's worth it because the cookies become tender and flavorful.
All you need for this recipe is two mixing bowls, a sieve and a food container to keep it fresh.
Make the vanilla crescent dough: Mix all dry ingredients together and the liquid ingredients separately. Then mix, preferably with your hands, the liquid with the dry ingredients. The dough becomes a crumbly mixture. You have done nothing wrong, the dough should be like this. Add some more water to make the dough smoother.
Let the dough rest in the fridge: Let the cookie dough rest in the fridge for an hour so that the dough becomes a little firmer and you can work better with it.
Prepare the icing sugar: While the dough is resting in the fridge, you can prepare the icing sugar mix. Mix vanilla sugar and icing sugar together. It is best to sieve the icing sugar into a bowl so that there won't be lumps.
Shape the dough: You can roll the cookie dough. Then cut the rolls into slices and shape them into crescents.
Baking: Do not place the vanilla crescent cookies too close together on the baking paper. Bake the vanilla crescents for 10 – 12 minutes.
Dust the cookies: Dust your cookies with the icing sugar-vanilla mix. Be sure to let the vanilla crescents cool down shortly and then dust them with icing sugar quickly so that the icing sugar sticks well.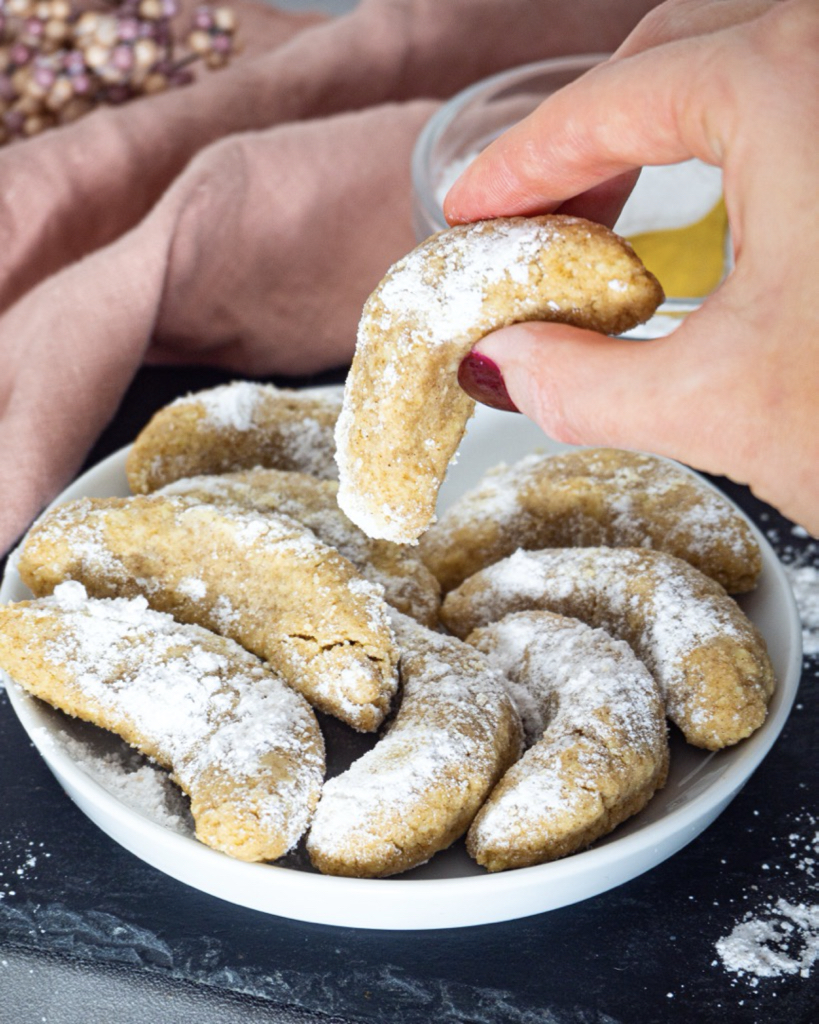 These german vanilla crescent cookies are

Soft
Without egg
Flavorful
Super delicious
Perfect for Christmas time
With Cashew butter
Easy to make
How do you like this recipe?
I would be very happy to get feedback from you! If you try this german vanilla crescent cookie recipe, please leave me a comment with a ⭐️ rating. Are you active on Instagram? If you post a picture of these vanilla crescent cookies, please link to me with @plantiful.heart so I can see your creation! 🤩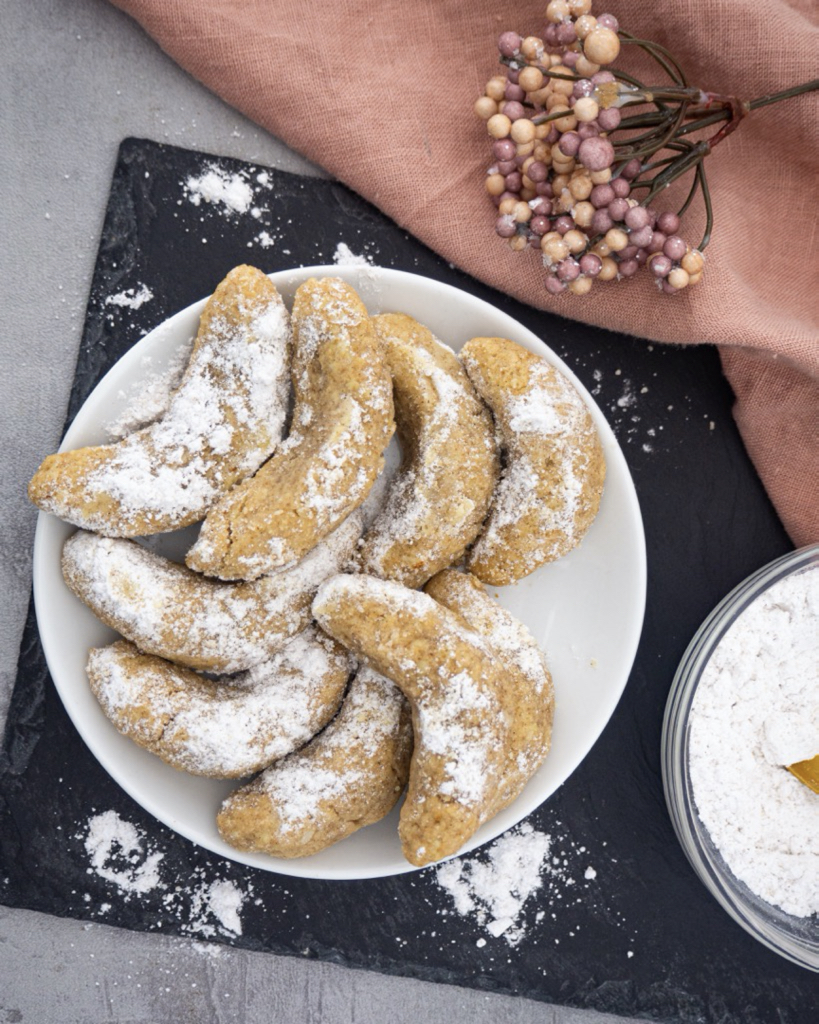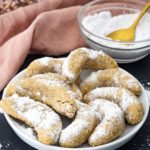 Ingredients
Vanilla Crescent Cookies
250

gr

Spelt Flour

130

gr

Vegan Butter

100

gr

Ground Almonds

80

gr

Brown Sugar

70

gr

Cashew Butter

1

packet

Vanilla Sugar

3

tbsp

Water

2

tbsp

Cinnamon

OPTIONAL

1

tbsp

Cornstarch

1

pinch

of Salt
Powdered Sugar Mixture
1/2

packet

Powdered Sugar

1

packet

Vanilla Sugar
Instructions
Mix spelt flour, ground almonds, brown sugar, vanilla sugar, cornstarch, salt, and cinnamon together in a mixing bowl. Mix melted butter and cashew butter in a separate mixing bowl.

Then mix the liquid into the dry ingredients. It is best to knead everything well with your hands.

Let the dough rest in the fridge for 1 hour.

In the meantime, sieve the icing sugar into a bowl and mix it with vanilla sugar.

Then roll the cookie dough and cut the rolls into slices. Shape the slices into crescents.

Do not place the vanilla crescents too close together on the baking paper. Bake the vanilla crescent cookies for 10 – 12 minutes.

Now let the cookies cool down shortly. Either you roll the vanilla crescents in the powdered sugar mixture or you use it to dust them from all sides. The vanilla crescents break easily when they are warm, so I think dusting is the easier option. By the way, the icing sugar does not stick well on cold vanilla crescent cookies.
Are you active on Pinterest? and do you like this recipe? Then you can pin the following picture 😀 You can find the Pinterest Button under the picture.